Milkshakes are my family's favorite treat and so today I am sharing a classic and delicious recipe for a Strawberry Banana Milkshake! While my Strawberry Milkshake is also delicious, I love the added depth of flavor you get in my Strawberry Banana Milkshake too!
Keep reading for the full recipe and all my tips and tricks so that you can master making delicious strawberry banana milkshakes at home for you and your family.

Affiliate links are included for your convenience. By purchasing through these links, I receive a small commission but you never pay a penny more. Thank you for supporting my blog.
Strawberry Banana Milkshake
Milkshakes are seriously one of my family's favorite treats! And I love that I can save time and money by making delicious homemade milkshakes myself!
I love to start with basics like Chocolate, Strawberry, Vanilla, and Banana milkshakes. But we also love expanding to more adventurous ones like Nutella, Pumpkin, Mint Chocolate Chip, Peppermint, Chocolate Banana, and Raspberry Chocolate milkshakes too!
With milkshakes, the options are endless! You just need a few yummy ingredients and your imagination to create delicious shakes anytime!
But before I get to the recipe let's chat about a few questions I get asked often.
How do I make a strawberry banana shake?
It is so easy! You will simply combine vanilla ice cream, frozen strawberries, ripe bananas, and milk in a blender. Blend all of the ingredients until it is smooth! If you like, you can top your strawberry banana milkshake with strawberry syrup, whipped cream, and fresh strawberries, and bananas!
Are banana milkshakes healthy?
I mean, no, not really. Milkshakes just aren't generally healthy for you! Smoothies are healthy for you. But the core premise of a milkshake is that it is typically made with ice cream. And while I wish it weren't true, ice cream isn't that healthy for you. Sorry. I wish it wasn't true too.
If you are looking for a yummy healthy drink, check out my Strawberry Banana Smoothie recipe HERE.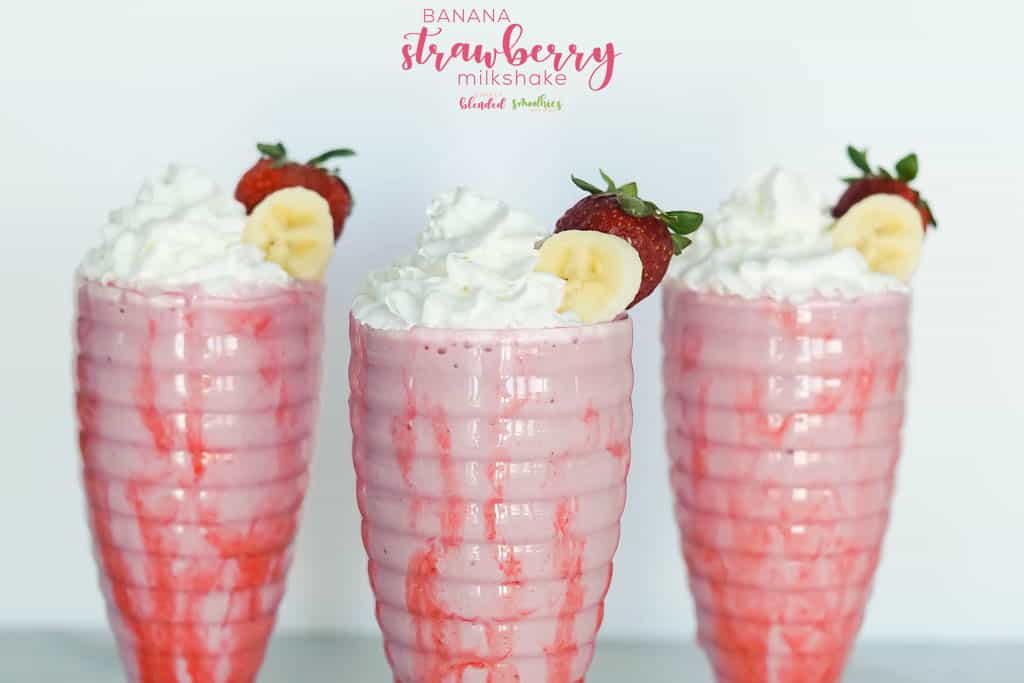 Can we drink a banana shake at night?
Here is the good news! Bananas are full of nutrients and minerals that can actually help you get a better night's sleep! If you are hoping to skip some of the calories of a banana shake though, opt for my yummy Banana Smoothie.
Is it ok to eat 2 bananas a day?
Bananas contain lots of nutrients that our bodies need including potassium, magnesium and iron. Generally speaking, most of us probably do not get enough of those every day. Eating two bananas a day will help increase your intake of those nutrients! I wouldn't eat a half a dozen bananas every day, but two bananas consumed as part of a healthy, balanced diet should be fine for most people.
What blender is best for smoothies and milkshakes?
There are many blenders you can use for making smoothies and milkshakes, but I personally own the Vitamix 780 and think it is simply the best. I get smooth, consistent results every single time which is exactly what I want for all my smoothies! You can buy your own Vitamix 780 HERE.
If you are hoping to make a milkshake and keep any bits and pieces in it, I do not recommend using a blender. I recommend snagging this milkshake maker because of its good ratings and reasonable price: Classic DrinkMaker.
It is not a commercial milkshake maker, but it gets the job done at a fraction of the cost and is better for making milkshakes then a blender if you want to keep the integrity of color and if you want a thicker shake.
Since I do not want bits of strawberry or banana in this smoothie, I decided to use my blender for this milkshake today!
Alright, are you ready to get going? This strawberry banana milkshake will blend together in just a few minutes and I love that I almost always have these ingredients on hand to make it.
Strawberry Banana Shake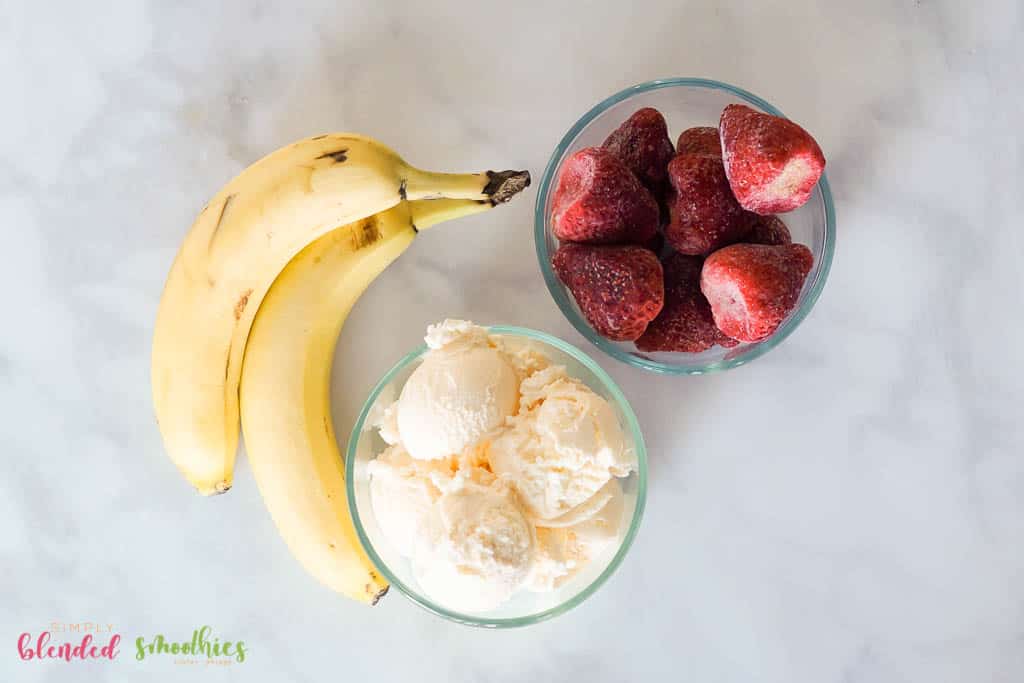 Ingredients:
2 Bananas (the riper the better)
2 cups Frozen Strawberries
6 scoops Vanilla Ice Cream
2 cups Milk
Optional Toppings: strawberry syrup, whipped cream, fresh strawberries and banana slices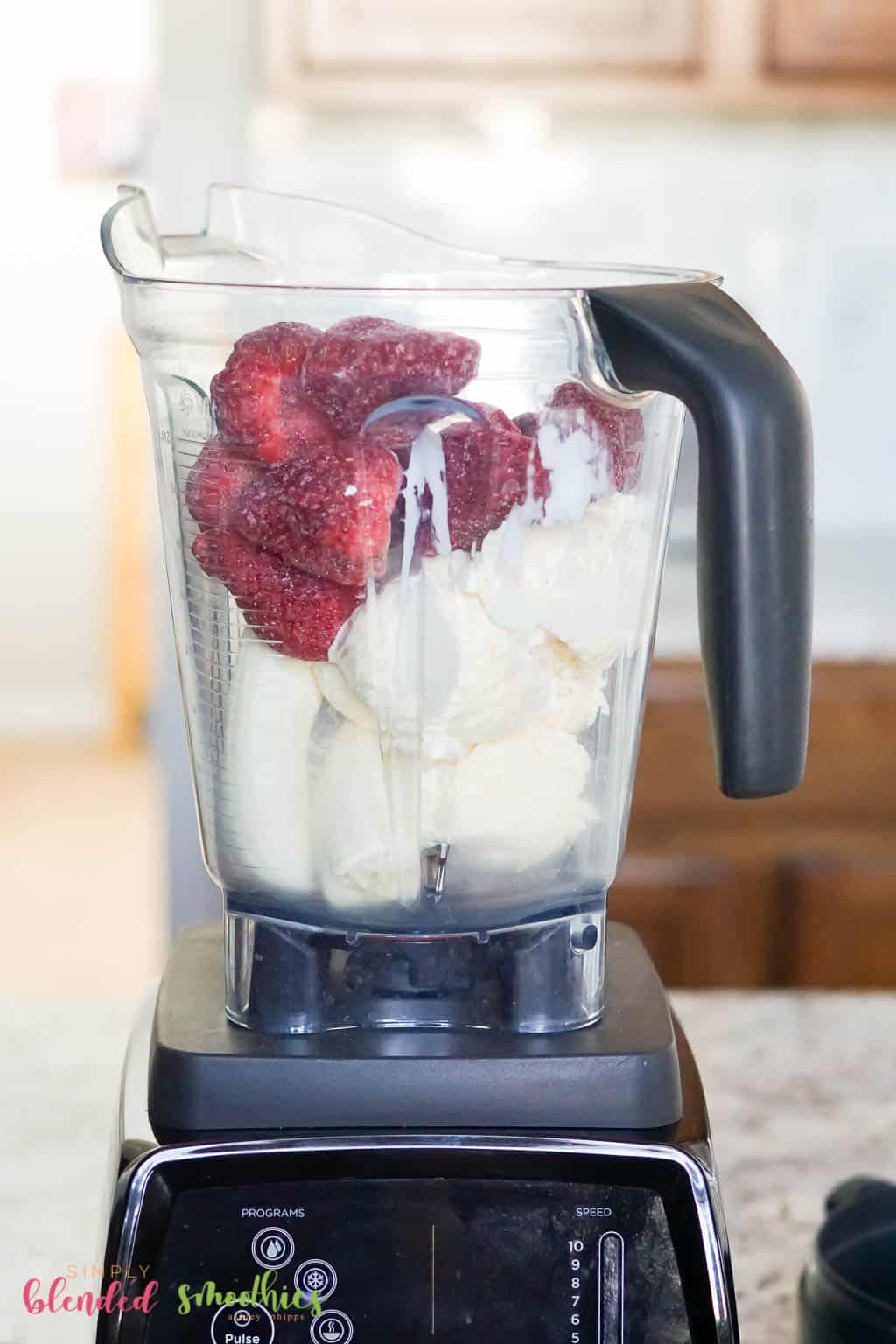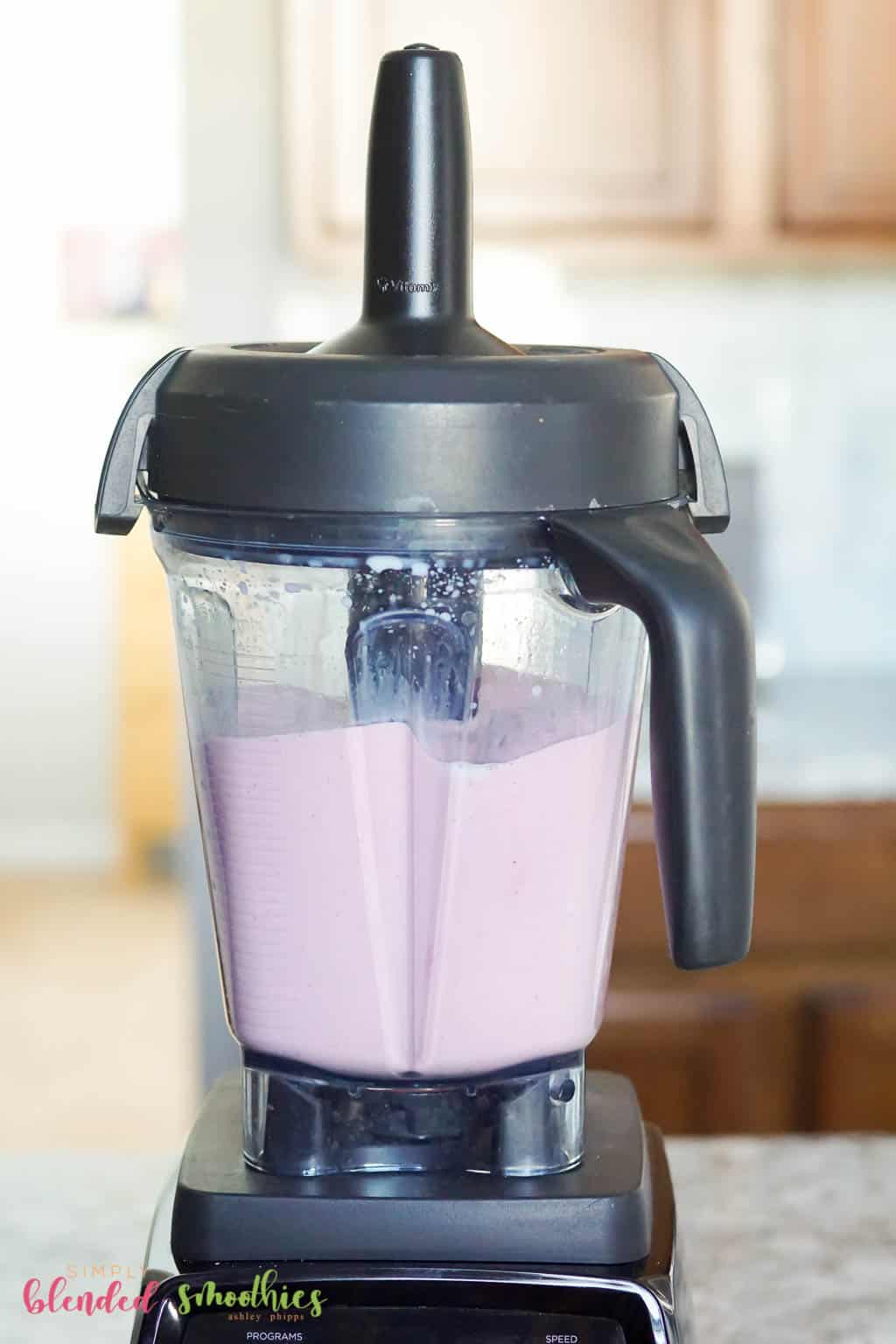 Directions:
Place all of your ingredients into your blender.
Blend until smooth.
Top with strawberry syrup, whipped cream, and fresh strawberry and banana slices if desired.
Serve immediately.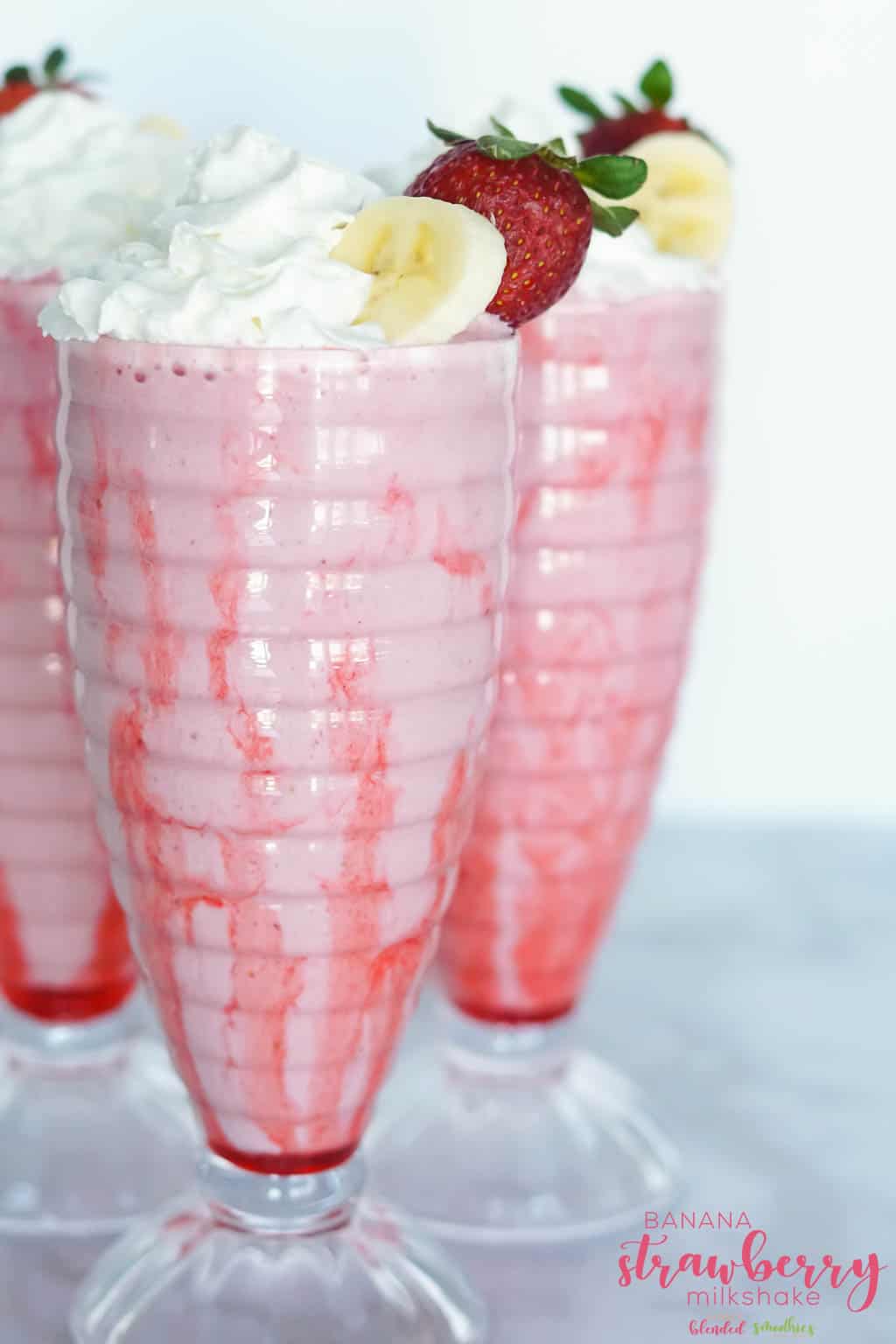 Snag the printable for this Strawberry Banana Milkshake recipe below:
You might also enjoy these recipes: