Hello my friends, I am so excited to share the best Strawberry Milkshake recipe with you today!
If you love milkshakes, you might also like my Mint Chocolate Chip Milkshake recipe or my Rasberry Chocolate Milkshake...both are delicious, but for a classic taste, you can never go wrong with a Strawberry Milkshake.
Strawberry milkshakes bring me back to my childhood.
Of course, those strawberry shakes were often filled with syrupy grossness and so I wanted to create something that was easy to make but also filled with good ingredients that would taste amazing.
So keep reading for the full recipe.

Affiliate links included for your convenience. By purchasing through these links, I receive a small commission but you never pay a penny more. Thank you for supporting my blog.
The Best Strawberry Milkshake
When choosing ingredients for this milkshake, I was really careful to choose items that contain good ingredients.
I mean a milkshake isn't exactly the most healthy thing to drink, but we definitely don't need any added corn syrup or food coloring in this.
That is why I make my milkshake recipes with Breyers Ice Cream.
Breyers ice cream ingredient list is small and easy to understand: milk, strawberries, cream, sugar, whey and vegetable gum.
Yes I know there IS sugar in here, milkshakes aren't healthy.
But these ingredients ARE better than most ice cream options out there.
I think good ingredients just taste better so that's why I use their ice cream.
However, you can choose the ice cream brand of your choice with this recipe, I just wanted to share my two cents with you first 🙂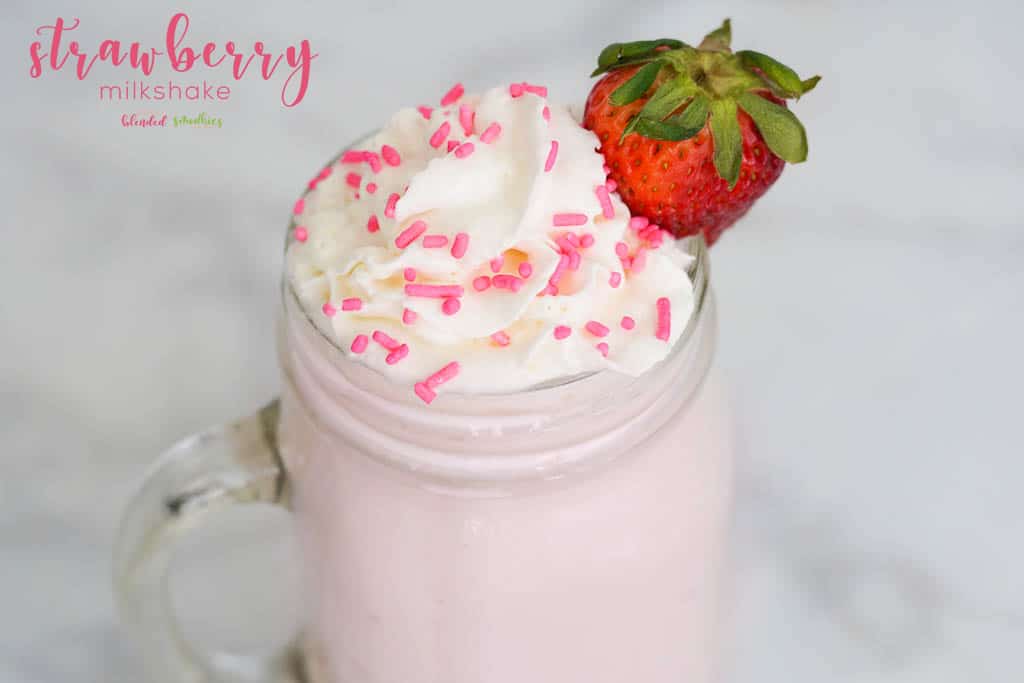 Thick Strawberry Milkshake Recipe
Nothing is better than a thick strawberry milkshake recipe, am I right?
But getting the right consistency can take a little time and practice.
More ice cream and less milk will give you a thicker consistency that may require a spoon to eat.
More milk and less ice cream will give you a thinner consistency that you could drink with a straw.
So feel free to change this recipe up to make it as thick or as thin as you like.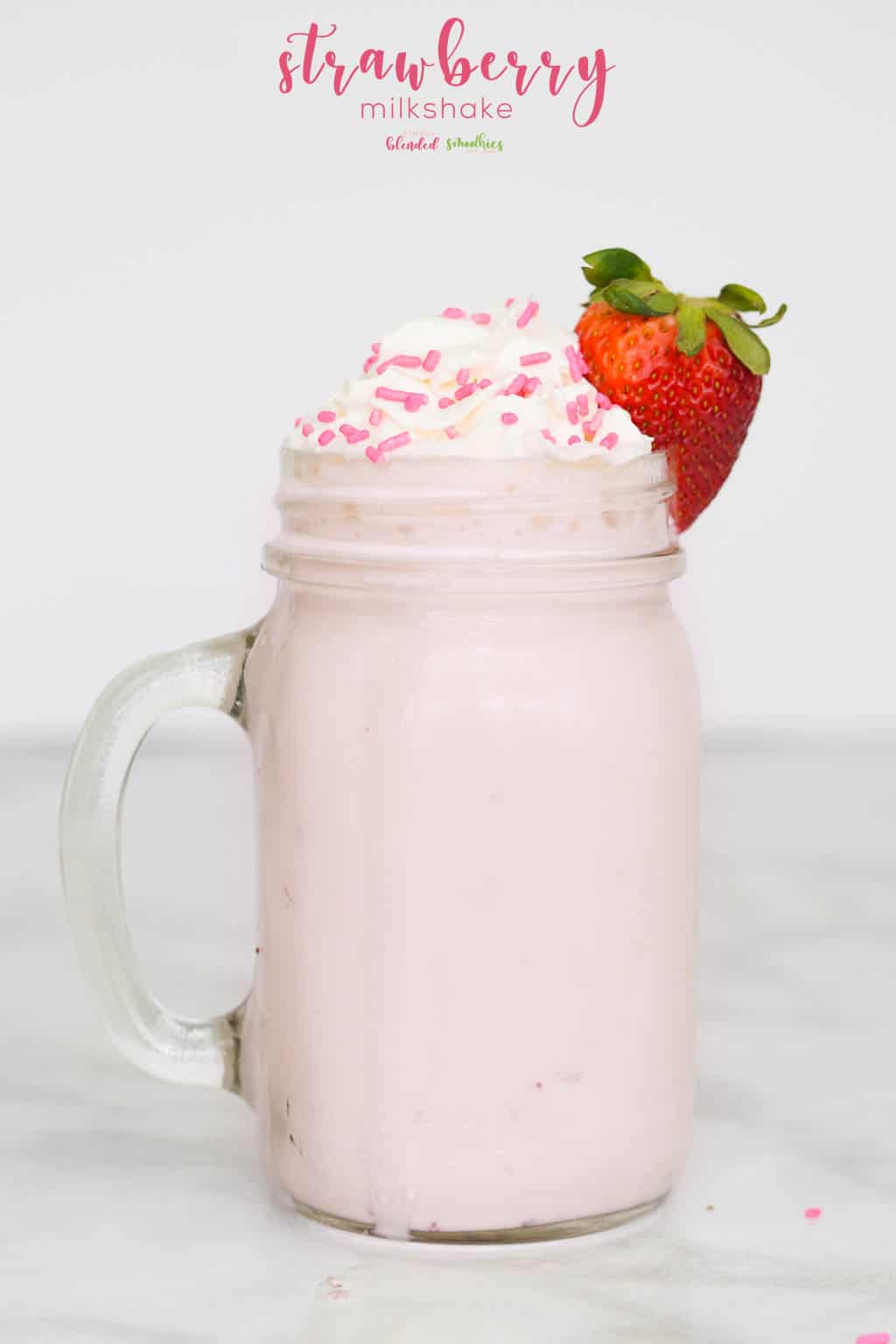 Can I Make a Strawberry Milkshake without Strawberries?
Yes. You can. But, why? Without strawberries, to get a strawberry flavor you would need to use artificial flavorings and/or syrup.
And can we all just agree that those don't taste very good and they also aren't very good for you. (I know, I am talking about milkshakes here which aren't really good for you anyway so my line of reasoning may be on shaky grounds...but let's just agree that real strawberries are best ok?)
Your milkshake will taste better if you use real strawberries or ice cream that has real strawberries in it.
So pick up that strawberry flavored syrup if you must, but ice cream with real strawberries in it will simply taste better.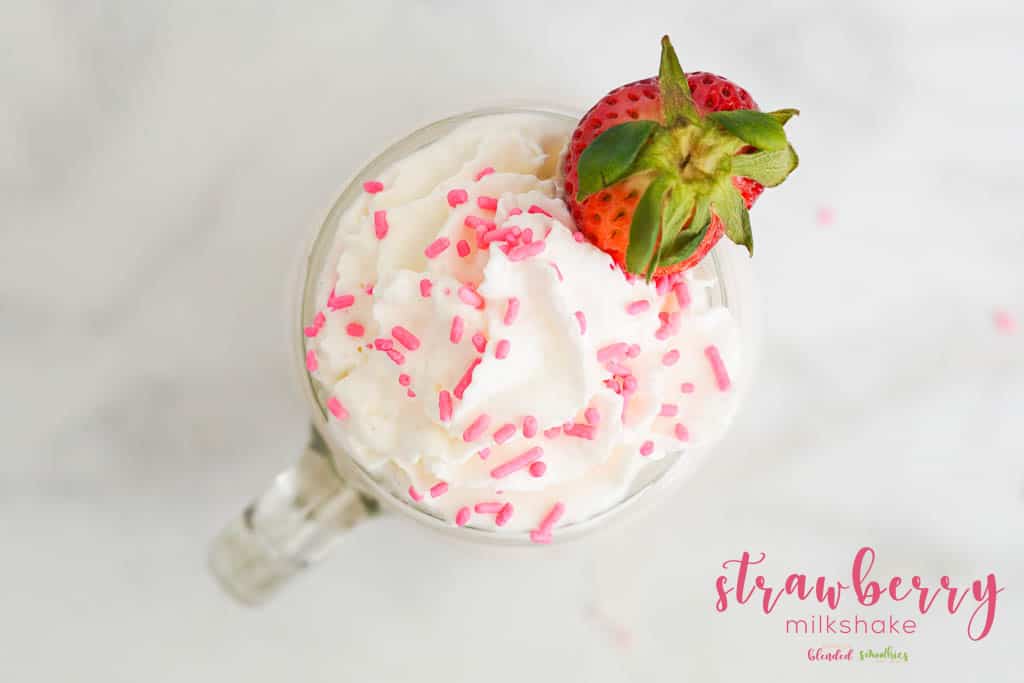 Check out my video on how to make a strawberry milkshake below:
I would LOVE it if you would take a moment to SUBSCRIBE to my YouTube Channel HERE.
There are many blenders you can use for making smoothies, but I personally own the Vitamix 780 and think it is simply the best.
I get smooth, consistent results every single time which is exactly what I want for all my smoothies!
You can buy your own Vitamix 780 HERE.
See below for the recipe.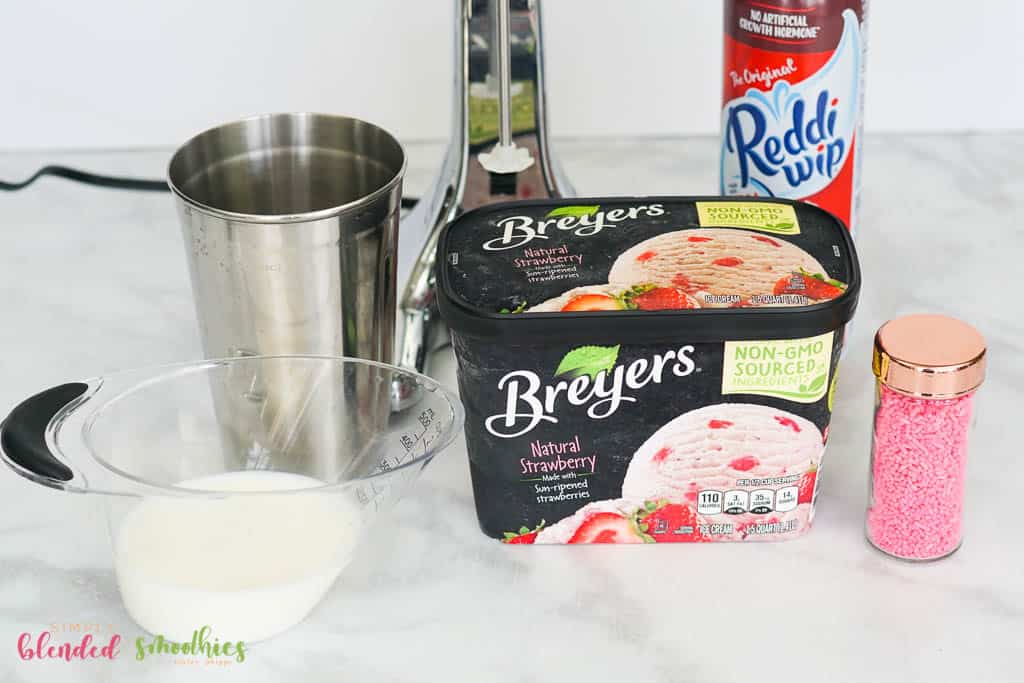 Strawberry Milkshake Recipe
Ingredients:
4-6 scoops Breyer's Strawberry Ice Cream
¾ cups Milk

Directions:
Scoop ice cream into a milkshake maker's cup
Add milk
Blend until combined
Top with whipped cream, sprinkles and a strawberry
Strawberry milkshakes are really so yummy and bring back so many childhood memories that this milkshake is definitely a staple in our house and I hope it will become a regular in your house too!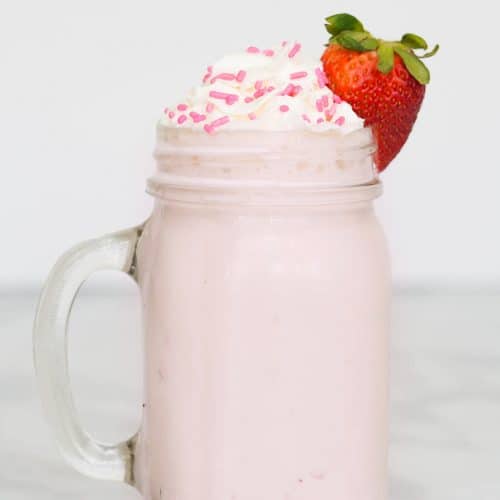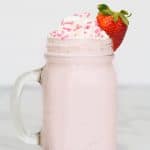 Strawberry Milkshake
Strawberry milkshakes bring me back to my childhood, and this one is a delicious alternative to a syrupy sweet shake, made with real ingredients!
Ingredients
4-6

scoops Breyer's Strawberry Ice Cream

¾

cups

Milk
Instructions
Scoop ice cream into a milkshake maker's cup

Add milk

Blend until combined

Top with whipped cream, sprinkles and a strawberry
Recipe Notes
This recipe makes enough for 1-2 people depending on how much milkshake you want.
Supplies you may want:
(Affiliate links included for your convenience. By purchasing something through this link, I earn a tiny commission, but you never pay a penny more. Thanks for supporting my blog.)
You might also enjoy: