This healthy Blueberry Smoothie is full of so much flavor, will keep you full all morning and it is full of antioxidants, vitamins, and minerals too. Keep reading for the full recipe and all my tips and tricks for making the best healthy smoothies ever!

Affiliate links included for your convenience. By purchasing through these links, I receive a small commission but you never pay a penny more. Thank you for supporting my blog.
Blueberry Smoothie
I love making healthy smoothies that are packed full of fruit, protein and often greens too and this blueberry smoothie recipe is such a great one to keep in your recipe box.
While I have already created a Strawberry Blueberry Smoothie Bowl that is extra tasty, and a Blueberry Banana Smoothie recipe that is yummy too, I wanted blueberries to be the absolute star of this smoothie!
Blueberries can have such a wonderful sweet and tart flavor and I love how it just shines through in this recipe.
Are blueberry smoothies good for you?
Depending on the ingredients you use, blueberry smoothies can be incredibly good for you. Blueberries are high in antioxidants and contain fiber, potassium, folate, vitamin C, vitamin B6, and are great for heart health too! Blueberries are such a good fruit to incorporate into your regular diet and this blueberry smoothie is a delicious and filling way to do that.
Here are a few more of my favorite blueberry smoothie recipes: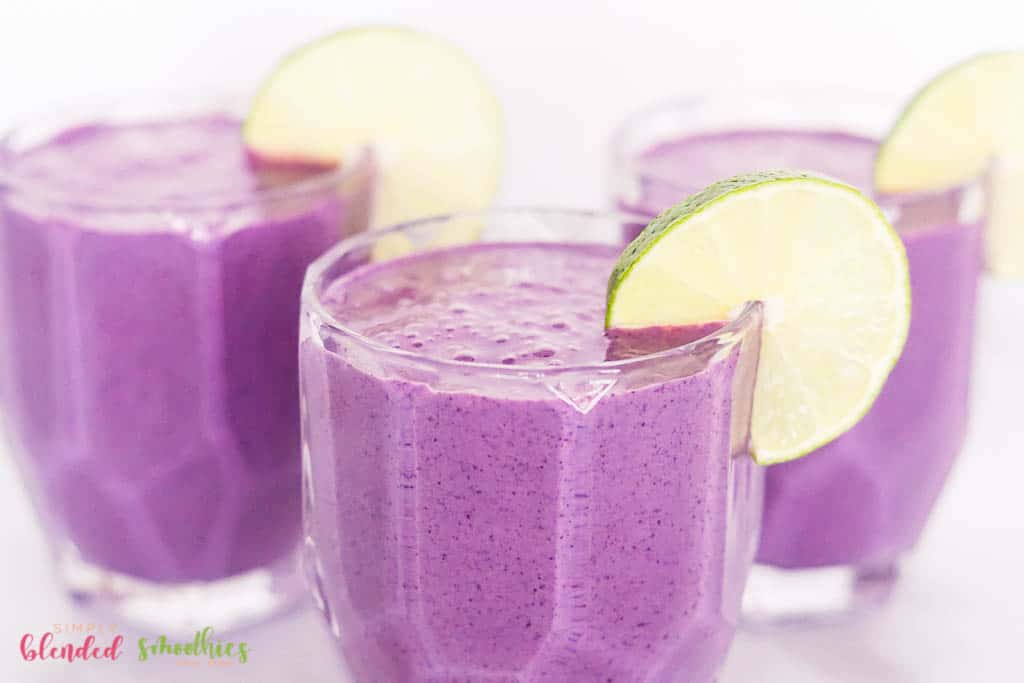 What fruit goes with blueberries?
Blueberries are sweet and tart and can be paired with many other fruits like strawberries, raspberries, blackberries, banana, mango, and even lemon!
Are smoothies good for weight loss?
If you make good choices about what fruits and vegetables go into your smoothie, smoothies can be nutrient-dense, filling, fiber-rich drinks that can help keep your belly full and your body full of nutrients it needs. While some smoothie recipes contain extra sugar and ingredients that aren't healthy for you, most of my healthy smoothie recipes are a great addition to almost any healthy eating plan.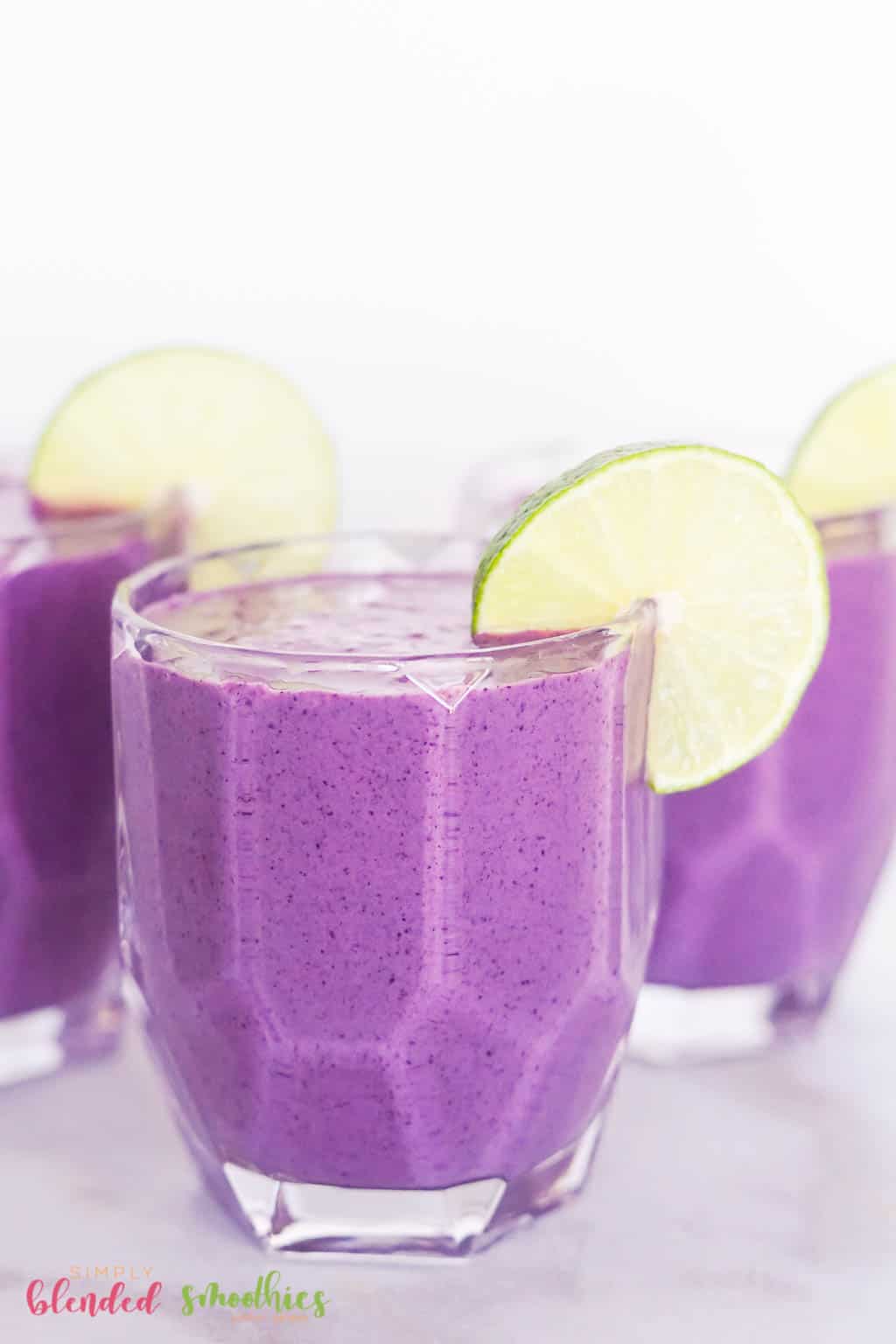 What can I do with my frozen blueberries?
Put them on ice cream
Let them thaw for a few minutes and eat them slightly frozen
Put some in sparkling water
Add them to lemonade
Top vanilla yogurt with them
Use them in muffins
Add them to your bowl of cereal
Put them in your cake batter before baking
Top your oatmeal with them
Put them in your salad
Use them in a smoothie like this Blueberry Smoothie, this Strawberry Blueberry Smoothie Bowl, or this Blueberry Banana Smoothie
Do frozen blueberries taste as good as fresh?
Because frozen blueberries are picked at their peak and fresh are often not, frozen blueberries can actually have the best flavor while maintaining all of their nutritional benefits. So yes, go ahead and pick up that frozen pack of blueberries at the grocery store. They will be great.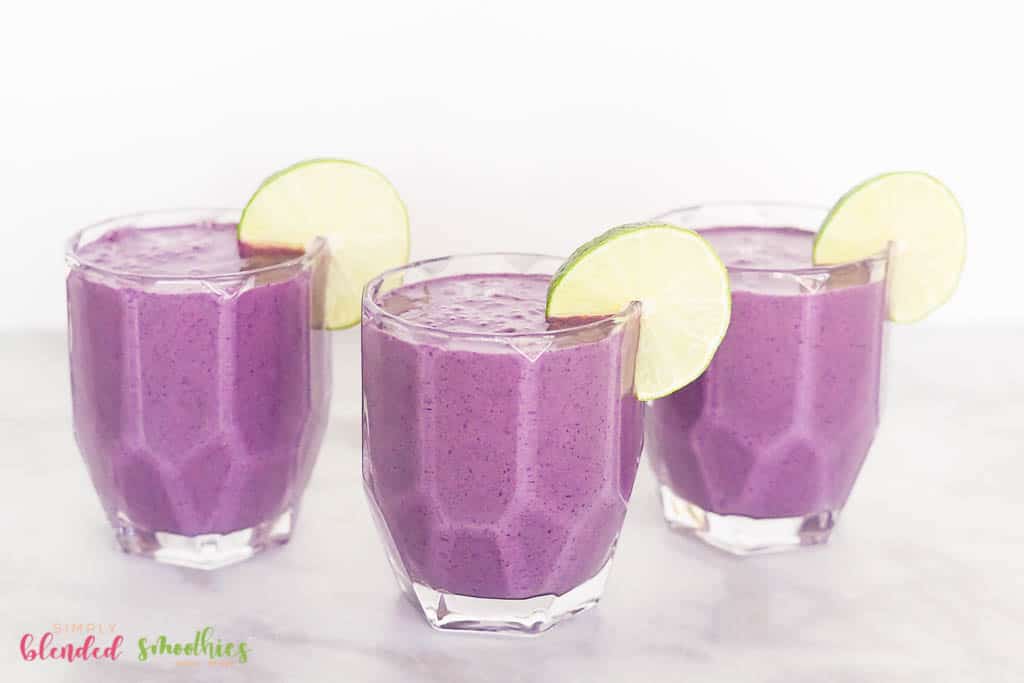 Can I use frozen blueberries instead of fresh?
Yes. Frozen blueberries actually are perfect for a smoothie! If you use fresh blueberries you will need to add more ice to your recipe to get a cold and thick smoothie. But using frozen fruit is a great way to create a cold and thick smoothie while maintaining all the nutritional benefits of fresh. And bonus, sometimes frozen berries just taste better too since they are picked at their peak ripeness.
What blender is best for smoothies and milkshakes?
There are many blenders you can use for making smoothies, milkshakes and frozen drinks, but I personally own the Vitamix 780 and think it is simply the best. I get smooth, consistent results every single time which is exactly what I want for all my drinks! You can buy your own Vitamix 780 HERE. It is my favorite and I know you will love it too!
Ready for this amazing recipe? Ok. Let's go!
Blueberry Smoothie Recipe
Ingredients:
2 cups Blueberries, frozen
1 Banana, frozen
5-6 oz container of Vanilla Yogurt
1 ½ cup Milk or Milk Alternative
Splash of Lime Juice (approximately ½ teaspoon)
Ice if needed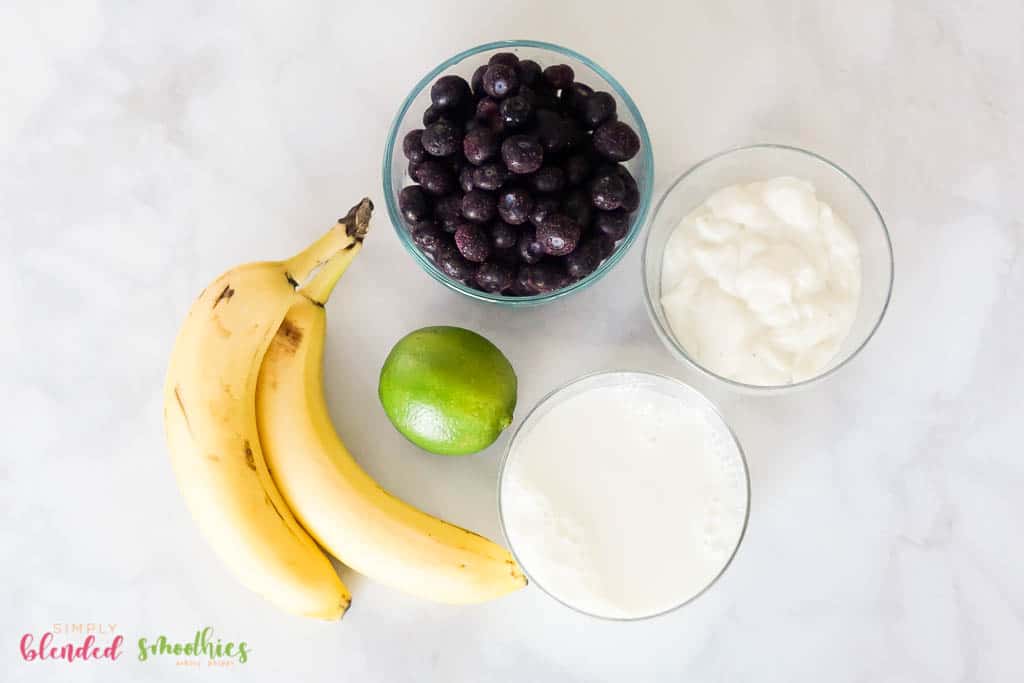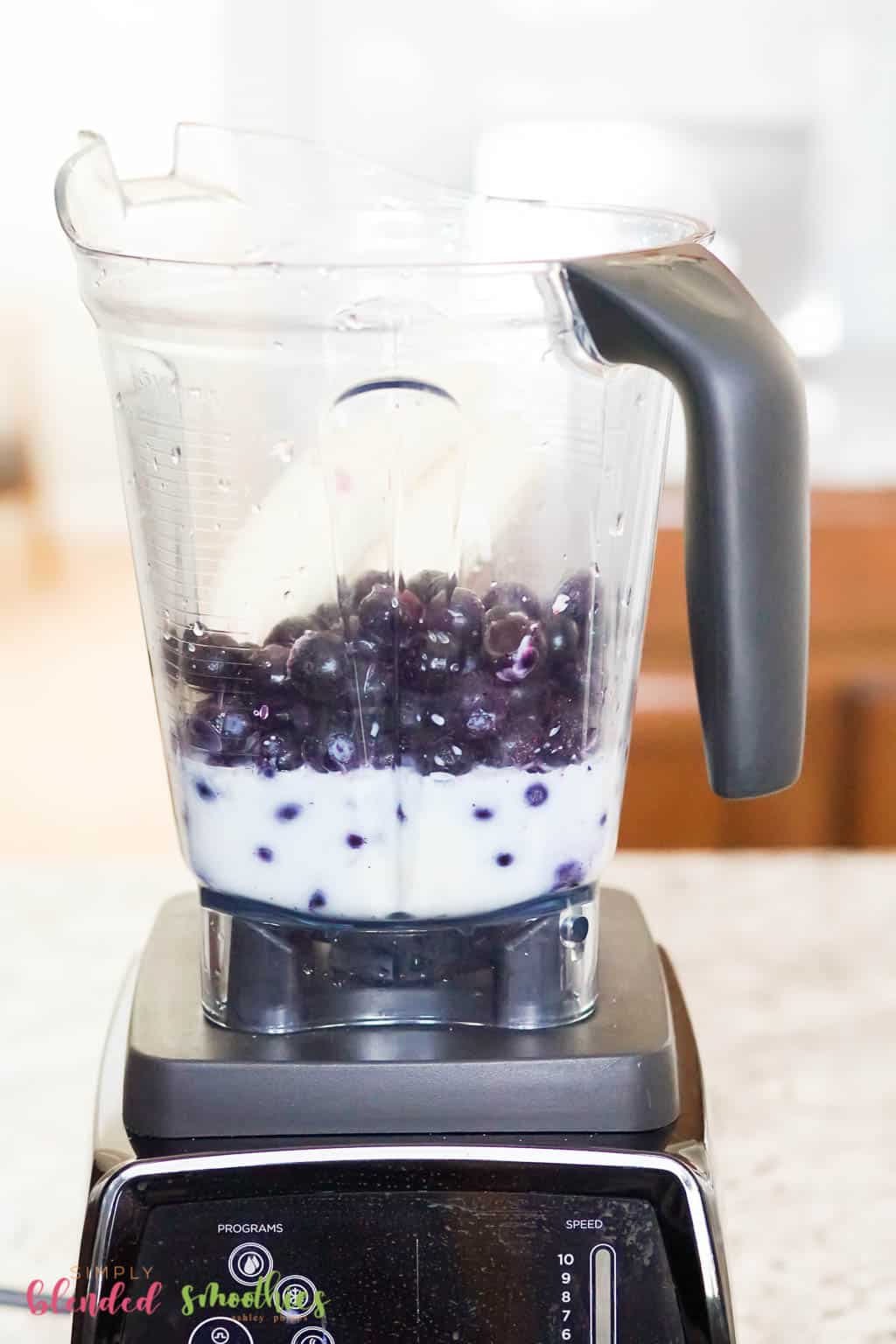 Directions:
Place blueberries, banana, yogurt, milk, and lime juice into your blender.
If you choose to use fresh blueberries and a fresh banana, you may need to add ice to your smoothie.
Blend until smooth, stopping halfway through to scrape the sides of your blender if needed.
Add ice if needed to help your smoothie be cold and thick.
Garnish with a lime slice if desired.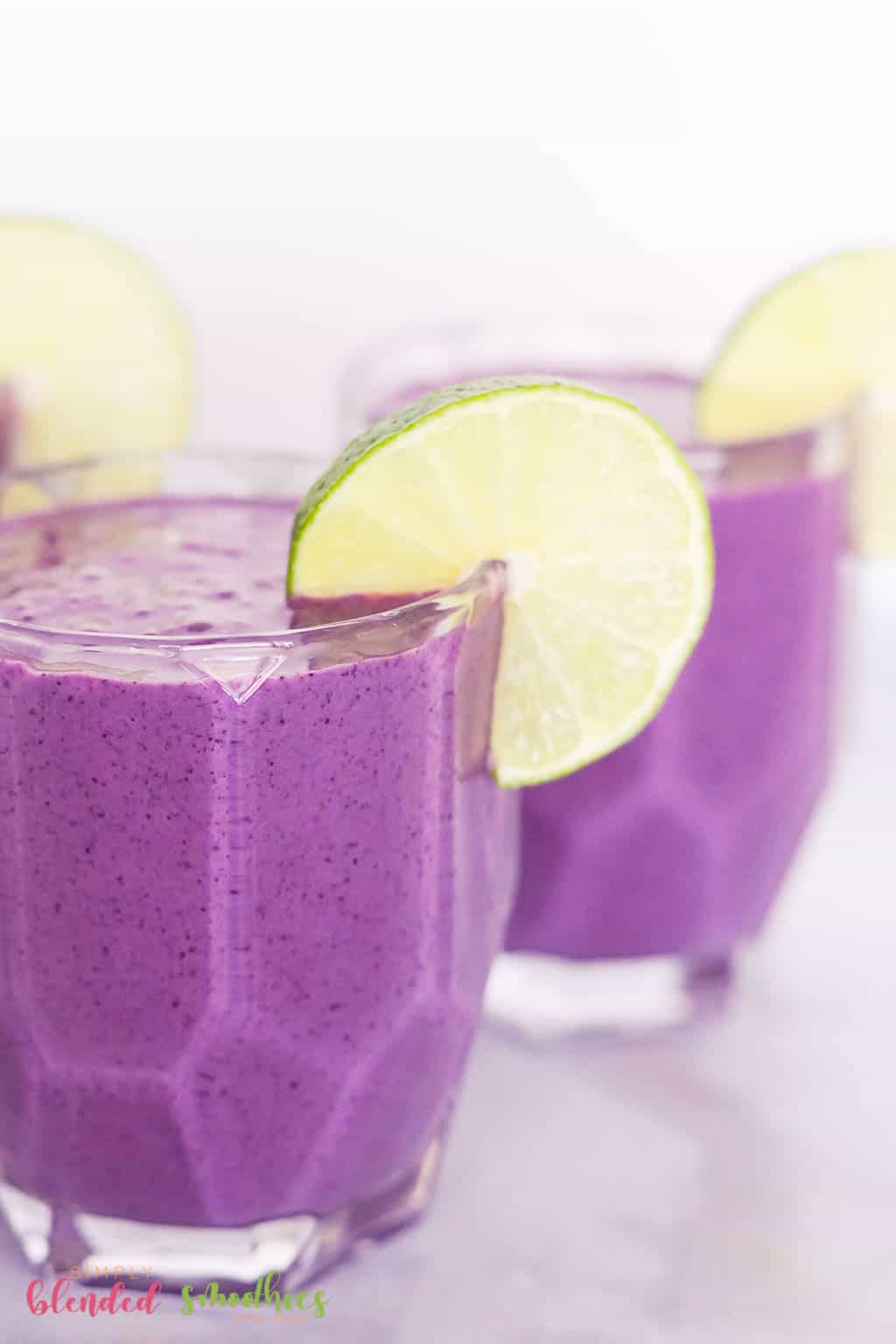 Snag the printable recipe below:

You might also enjoy these posts: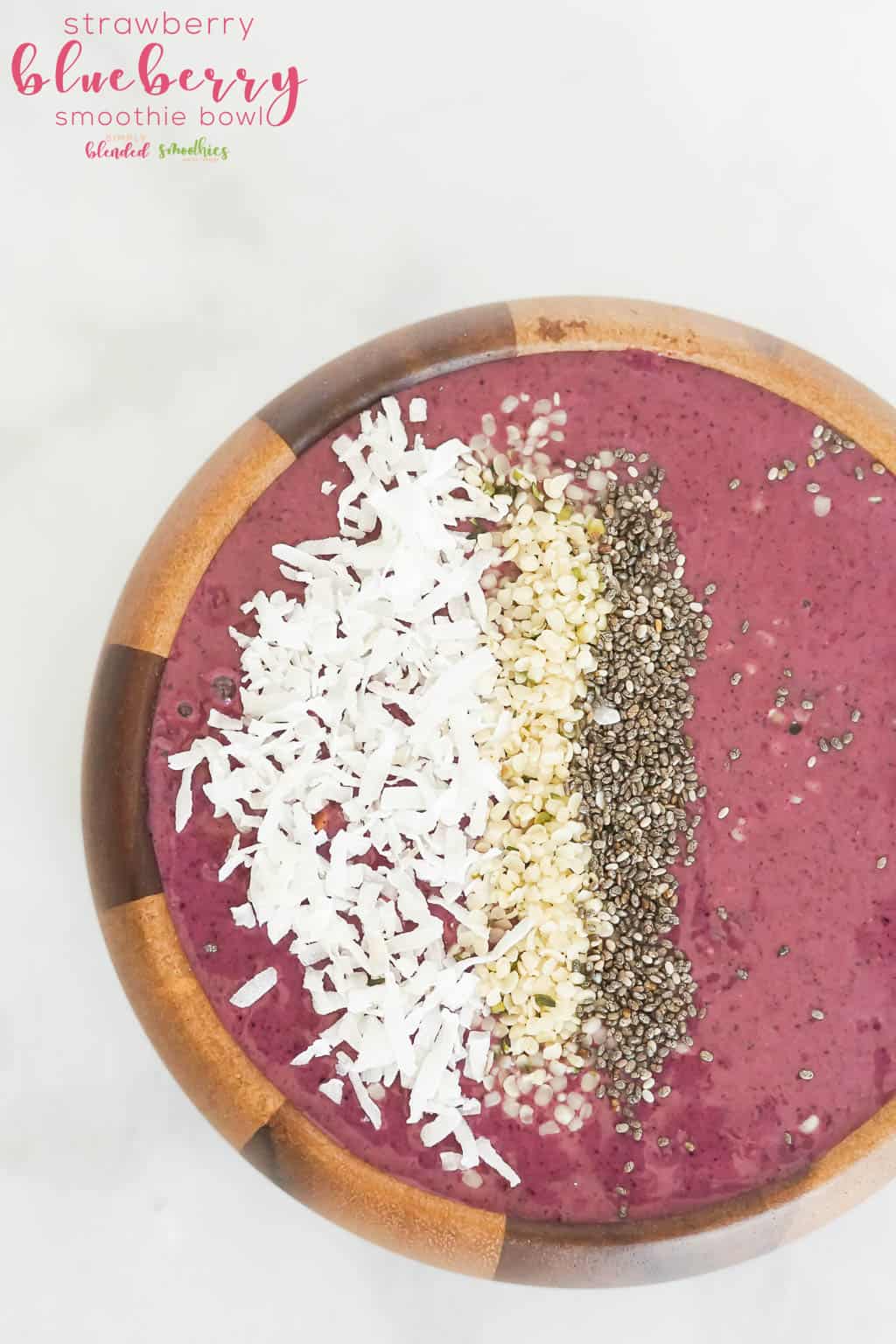 Strawberry Blueberry Smoothie Bowl