This Peach Pineapple Smoothie is a delicious smoothie that can be made with fresh, frozen, or canned fruits and is perfect for breakfast or a snack. Keep reading to learn more about this recipe and how to make it with shelf-stable fruits.

Affiliate links included for your convenience. By purchasing through these links, I receive a small commission but you never pay a penny more. Thank you for supporting my blog.
Peach Pineapple Smoothie
I have chosen to make this smoothie using canned fruit. Why? Because it is shelf-stable, inexpensive, and easy to find no matter what time of year it is. It is also easy to stock up on when it's on sale and save for later.
You can, of course, make this with fresh or frozen fruits instead. Just sub it out in equal parts.
Is this smoothie better with fresh, frozen or canned fruit?
I have made a LOT of smoothies in my life. A LOT. My favorite thing to use is frozen fruit because it is always picked and frozen at peak ripeness so it always has a lot of flavor, sometimes more flavor than fresh fruits.
It also makes finding a variety of fruits easily accessible no matter the time of year.
Plus I can easily keep frozen fruit on hand in my freezer and make smoothies any time.
It also cuts down on the amount of ice needed in my smoothies. So that is cool too.
If I can't source frozen fruit, I turn to fresh fruit. Or sometimes I choose fresh fruit because I already have it on hand or it looks amazing, or it was on sale. I really also love using fresh fruit in smoothies. Just remember you will need to add ice to your smoothie recipes.
But I have started experimenting more with canned fruits. Canned fruit is also picked and canned at peak ripeness so the fruit is always flavorful. What I don't love about canned fruit is that sometimes it comes in heavy syrup. I am not a fan of canned fruit in heavy syrup. I always look for canned fruit in juice. I will pick that every single time.
Your recipe called for canned fruit, how do I sub frozen or fresh?
It's easy! Just use a 1:1 substitute for fruit. You may need to adjust the liquid too.
How to make a peach pineapple smoothie
To make a peach pineapple smoothie you will simply combine your peaches, pineapple, juice, and ice in a blender and then blend until smooth. Serve it right away while still cold.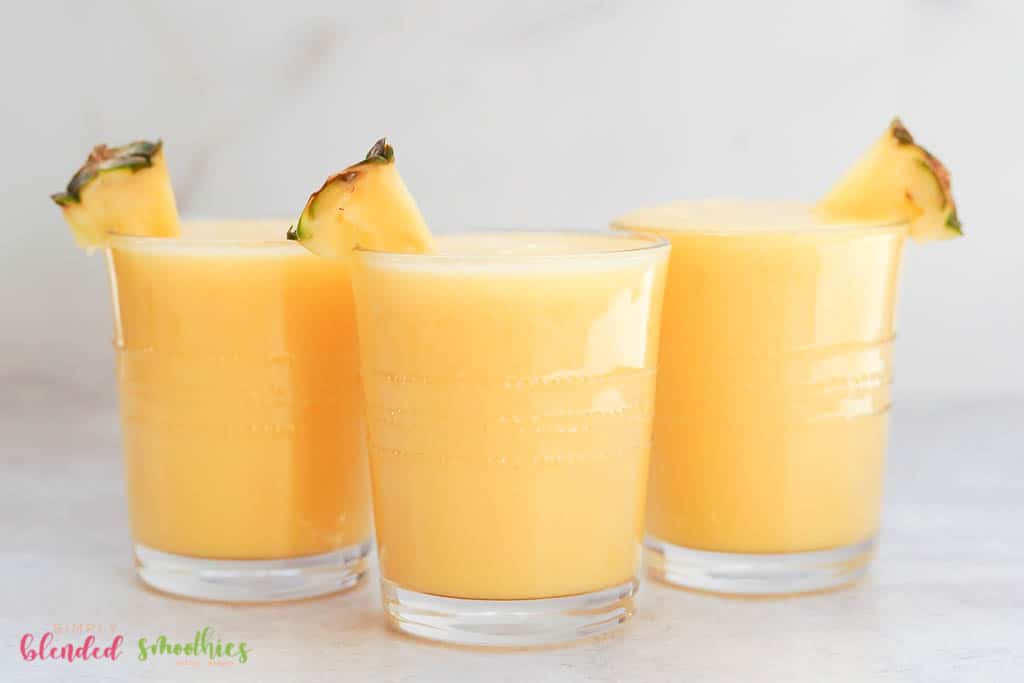 What ingredients do I need to make a peach pineapple smoothie?
Canned Peaches
Canned Pineapple
Ice
Yes, that is really all you need.
Can I make a pineapple smoothie without dairy?
Yes. There is no dairy in this smoothie recipe so it is completely dairy-free, no substitutions needed. If you want to turn any smoothie into a dairy-free smoothie, feel free to use any milk substitute you prefer or juice.
The best pineapple smoothie recipes:
Peach Pineapple Smoothie (keep reading)
More coming!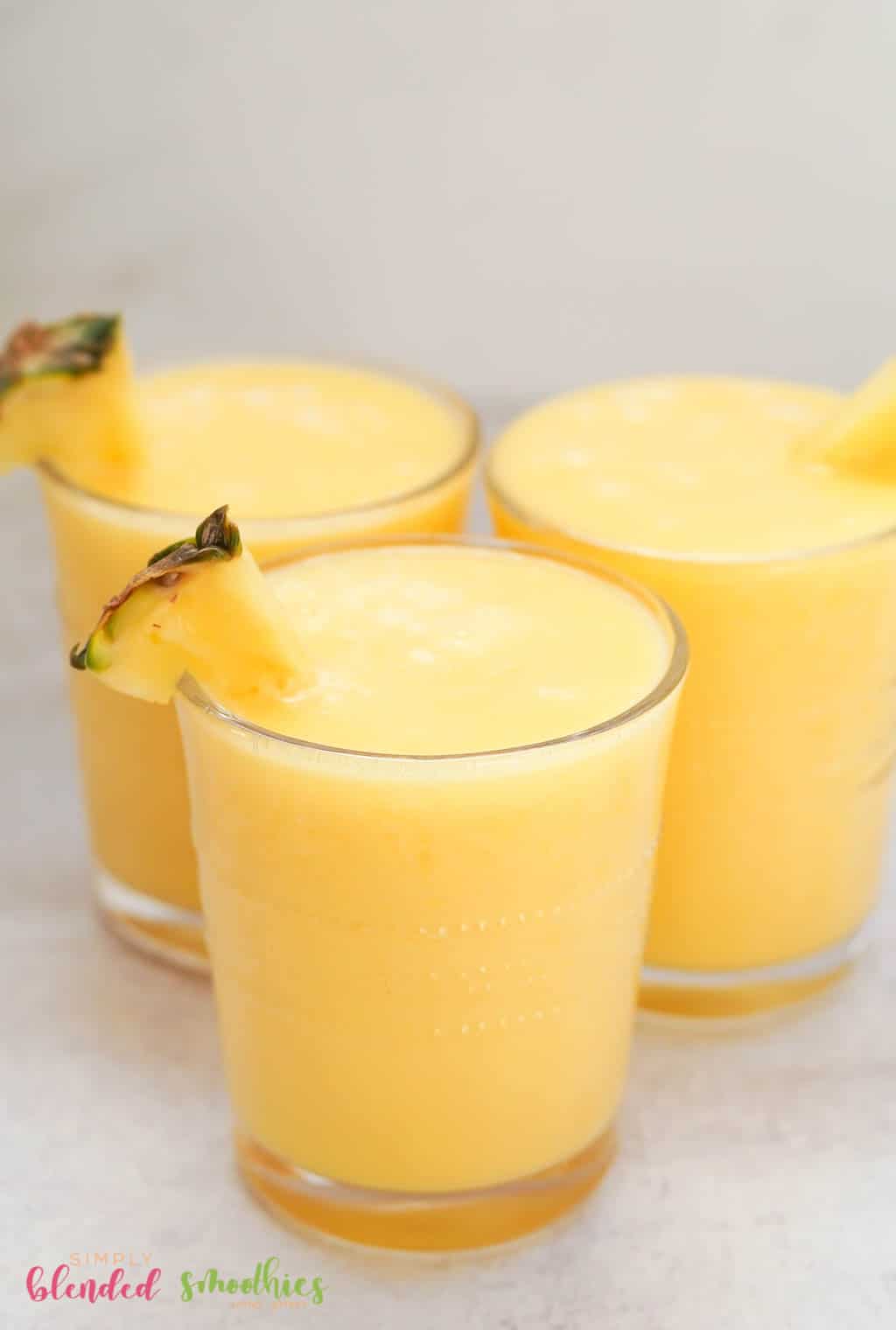 Can I store a smoothie for later?
I recommend drinking your smoothies right away. If however, you want to store some for later, feel free to put it in your fridge. It will last for about 24 hours in your fridge. You may want to re-mix it before drinking it.
What blender is best for smoothies and milkshakes?
There are many blenders you can use for making smoothies, milkshakes and frozen drinks, but I personally own the Vitamix 780 and think it is simply the best. I get smooth, consistent results every single time which is exactly what I want for all my drinks! You can buy your own Vitamix 780 HERE. It is my favorite and I know you will love it too!
Ready for this amazing recipe? Ok. Let's go!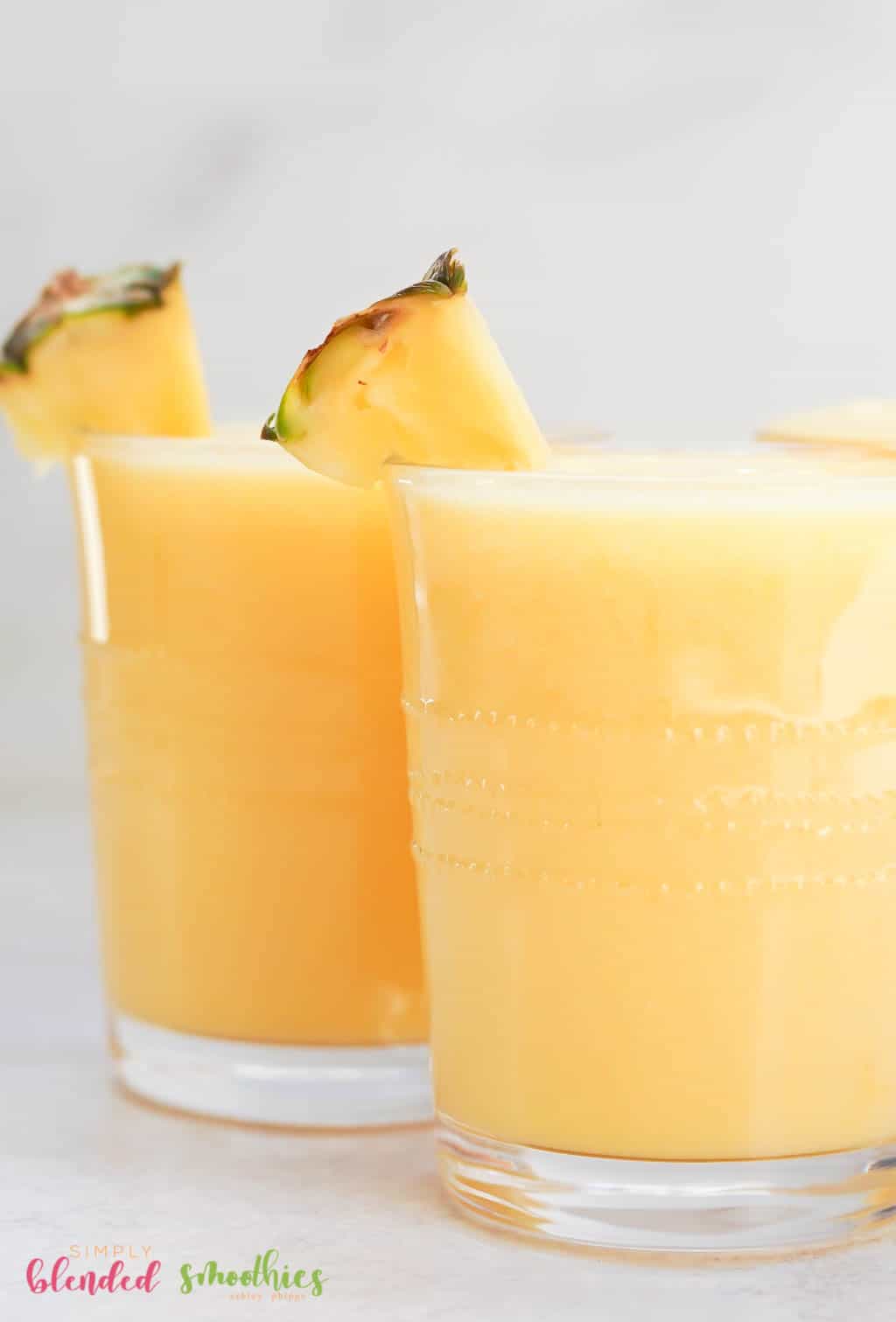 Peach Pineapple Smoothie Recipe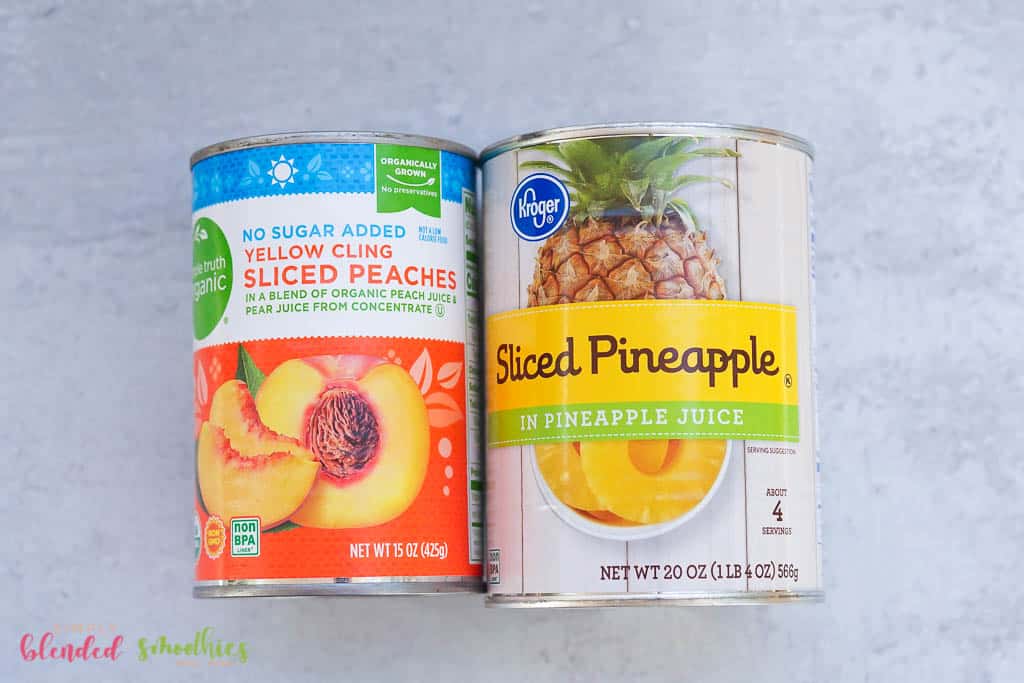 Ingredients:
15oz canned Peaches, in juice
20oz canned Pineapple, in juice
Ice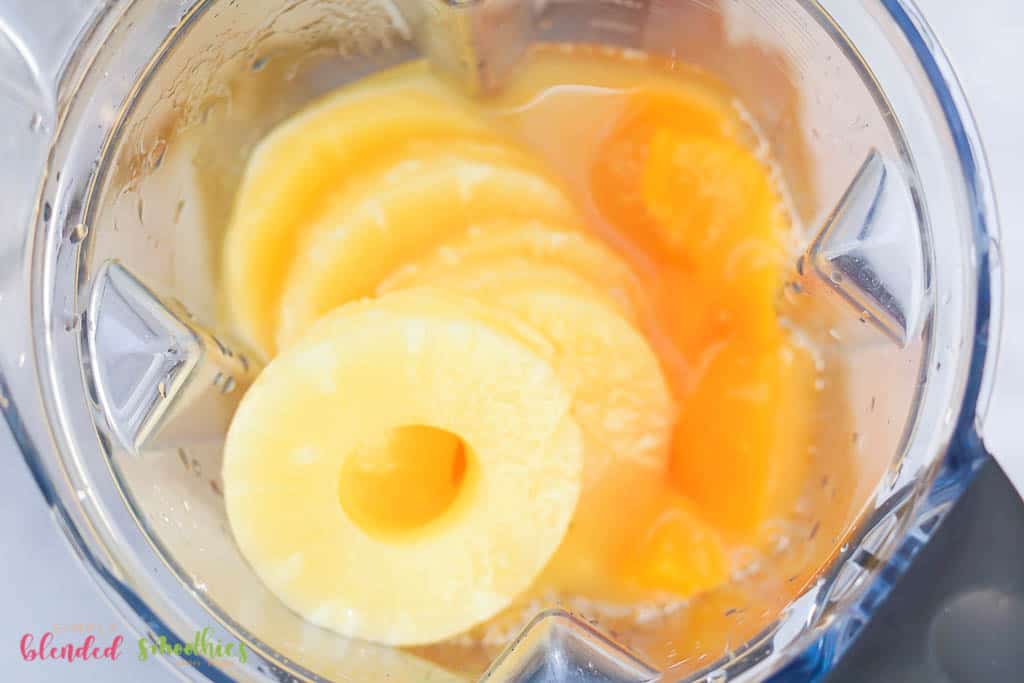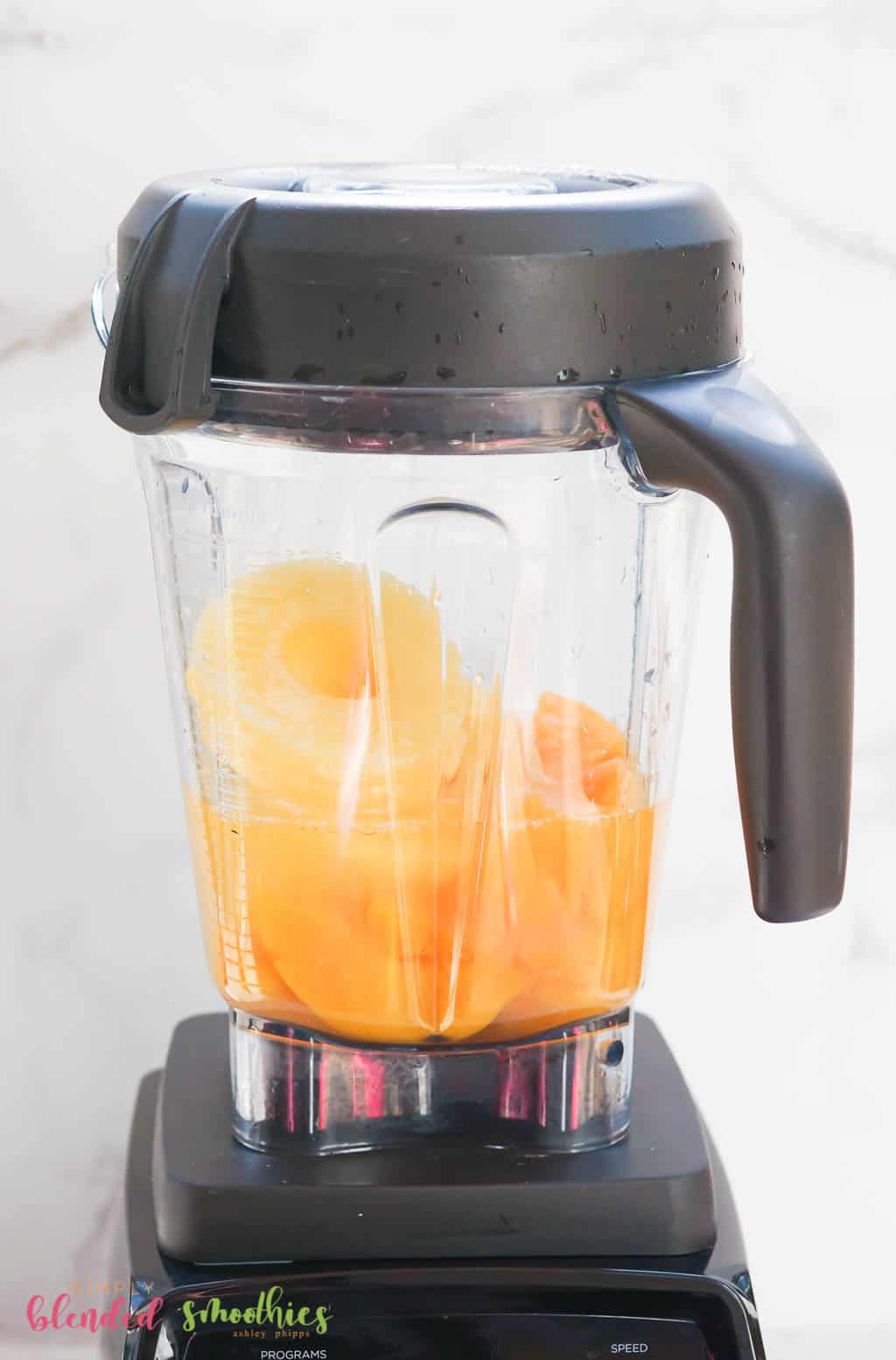 Directions:
Place peaches and pineapples with their juice and ice into your blender.
Blend until smooth, stopping halfway through to scrape the sides of your blender if needed.
Add more ice if needed to help your smoothie be cold and thick, and blend again.
Garnish with fresh pineapple if desired.
This recipe is so yummy, makes enough to feed a family, and is a great way to start your day.
Snag the printable recipe below.
You might also enjoy these recipes too: