Start your day off right and whip up this delightful Coffee Smoothie. Frozen, black coffee pairs with cream and caramel to make the perfect treat for a good morning. Great for breakfast, dessert, or even a snack!

Affiliate links included for your convenience. By purchasing through these links, I receive a small commission but you never pay a penny more. Thank you for supporting my blog.
If you've been around here for a hot minute, or you know me personally, you know that I actually don't drink coffee so this recipe may come as a surprise to you. That's because it is a guest post for my blog by the talented Shannon Graham! She is sharing all the details and this recipe with you for this coffee smoothie recipe. I hope you enjoy it! Take it away Shannon...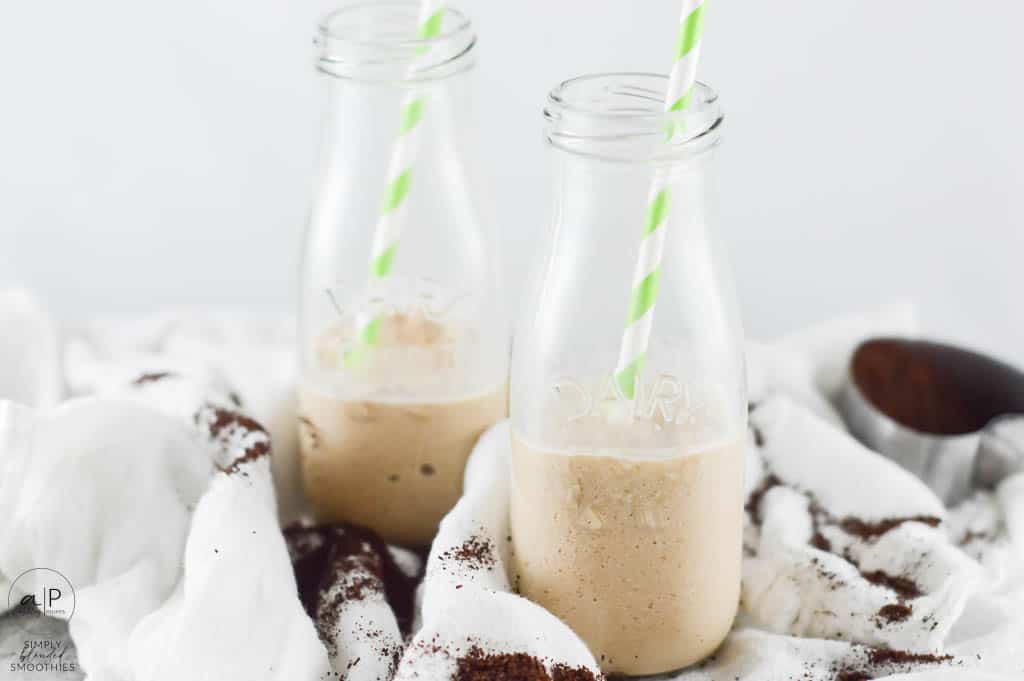 Coffee Smoothie
If you're in the market for learning how to make a coffee smoothie with brewed coffee, you've hit the jackpot. This isn't an instant coffee smoothie like the dalgona coffee you've seen flying around.
However, later on, I will tell you how you can still use instant coffee to make this delicious morning wake-me-up. So no matter which you're looking for, I've got you covered!
This is such an easy recipe and you don't need strange ingredients to make a coffee smoothie without banana. Not every smoothie requires banana (although if you search "coffee smoothie banana" there are tons of recipes that include banana if desired). You don't need cauliflower either (go ahead and look, coffee smoothie recipes are out there with cauliflower in them). I love keeping recipes simple like this Banana Smoothie or Blueberry Smoothie. I just think a recipe that's simpler is more practical and accessible.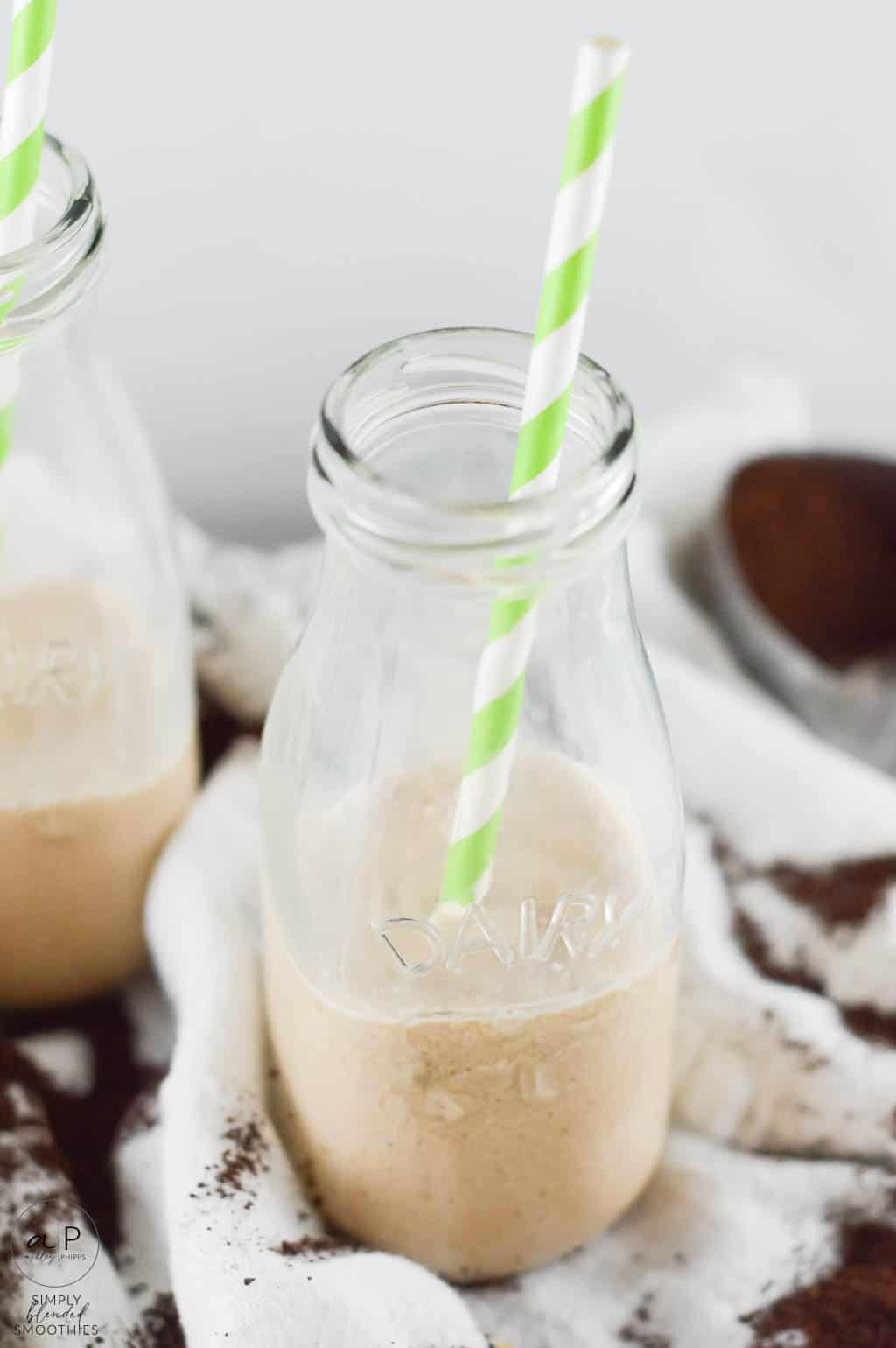 How to Make a Coffee Smoothie
Make the coffee ice cubes - Pour cooled coffee into an ice cube tray and freeze for a few hours or until solid.
Blend the ingredients - Add all the ingredients to the blender and blend until smooth.
Serve - Serve in a glass with a straw and a drizzle of caramel sauce. Enjoy!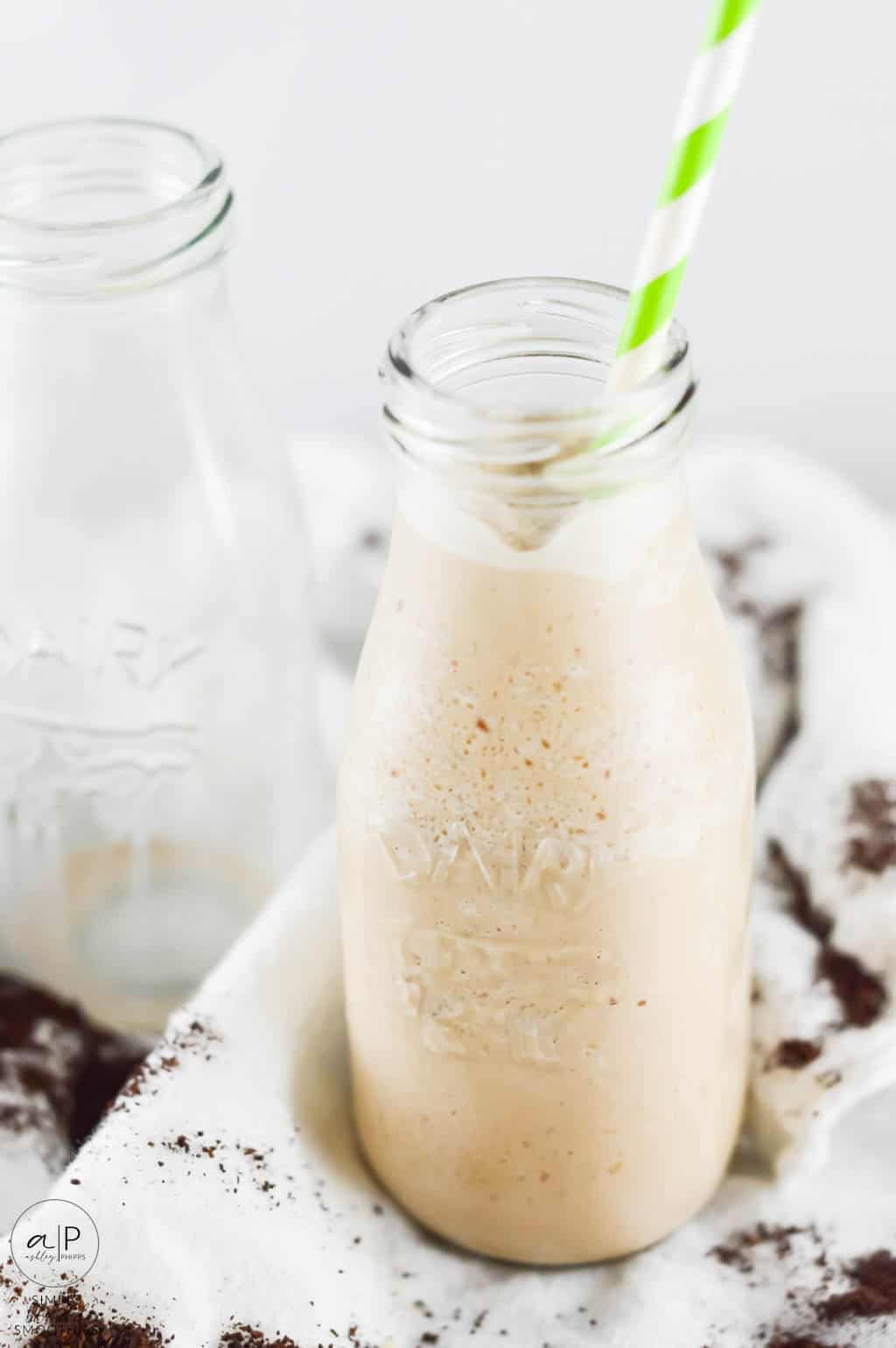 Tips and Variations
Add more nutrients to your smoothie - If desired, you can make your smoothie more substantial by adding ingredients such as protein powder, peanut butter, or other nut butters, fruits, oats, etc. You can even make it a green coffee smoothie by tossing in something like spinach. If you add these ingredients, you'll want to increase the amount of milk or liquid you're using in the smoothie.
How to prep ahead of time - The best way to prep for this smoothie is to have the ice cubes ready to go. This way, you can mix up your espresso smoothie within a couple of minutes. Makes for a quick breakfast that incorporates your daily morning dose of coffee. You don't want to blend all the ingredients together until you're ready to drink it though. There's no great way to keep it once it's blended.
Make it a healthy breakfast - While this iced coffee smoothie recipe isn't the healthiest as-is, it's really easy to adjust to make it healthier. Try skipping the caramel sauce or use sugar-free caramel sauce instead. Instead of using flavored creamer, try using plant-based milk and add in 2 tablespoons vanilla extract or hazelnut extract. Here are more examples of some healthy smoothies for inspiration!
Make it dairy-free - If you need a dairy-free option, go for a dairy-free creamer or you can even use plant-based milk like coconut milk!
Make it a vegan coffee smoothie - Change the creamer to plant-based milk, add 2 tablespoons vanilla extract, and skip the caramel sauce, and you've got a vegan and paleo coffee smoothie!
Add cinnamon - Add a dash of cinnamon to your coffee smoothie without banana for a boost of fat burning and flavor. It's a winning addition all the way around.
Make this a keto coffee smoothie - Instead of using flavored creamer and caramel sauce, use heavy cream and some caramel, vanilla, or hazelnut extract.
Tips for changing the flavor - Coffee smoothie recipes are pretty easy to adjust when it comes to flavor. For example, if you want to make it a chocolate coffee smoothie, simply swap out the caramel sauce for chocolate sauce instead.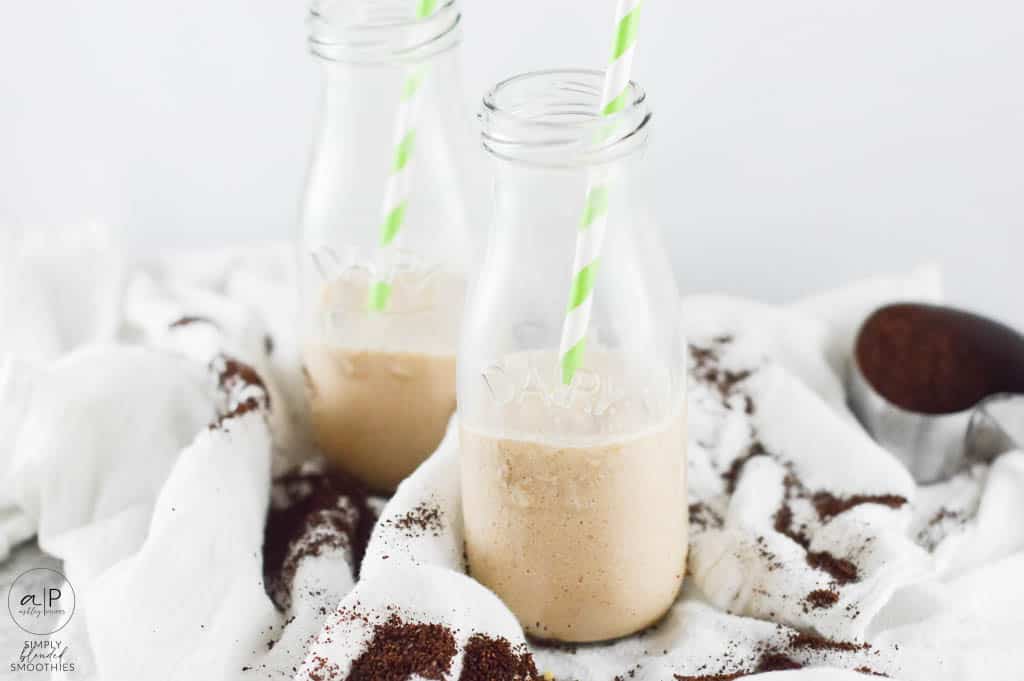 Common Questions About Coffee Smoothie Recipes
Can You Put Coffee Grounds in a Smoothie?
Well, you definitely can and it would make the smoothie pack more of a kick when it comes to caffeine. However, in my personal opinion, the bitterness is hard to combat. As long as you can blend it well enough, it shouldn't be grainy. However, if you can't blend it well enough, you'll be sucking up gritty coffee grounds into your straw.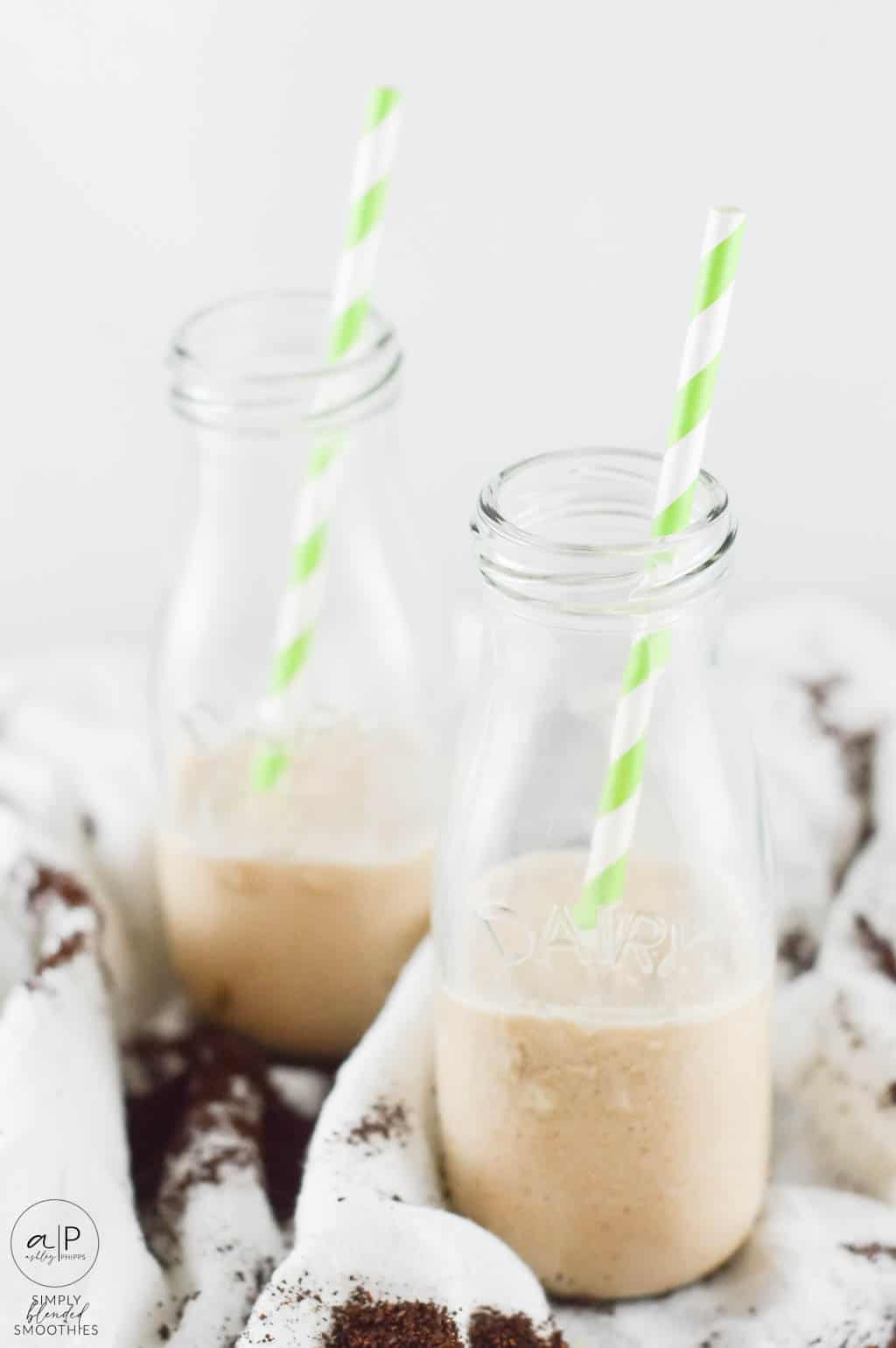 How Do You Add Caffeine to a Smoothie?
A coffee-based smoothie already has a lot of caffeine in it. However, you can always add a shot of espresso to your drink and that will jazz it up. You can also use coffee grounds if desired. A stronger coffee in general like a darker roast is a great way to up the caffeine as well.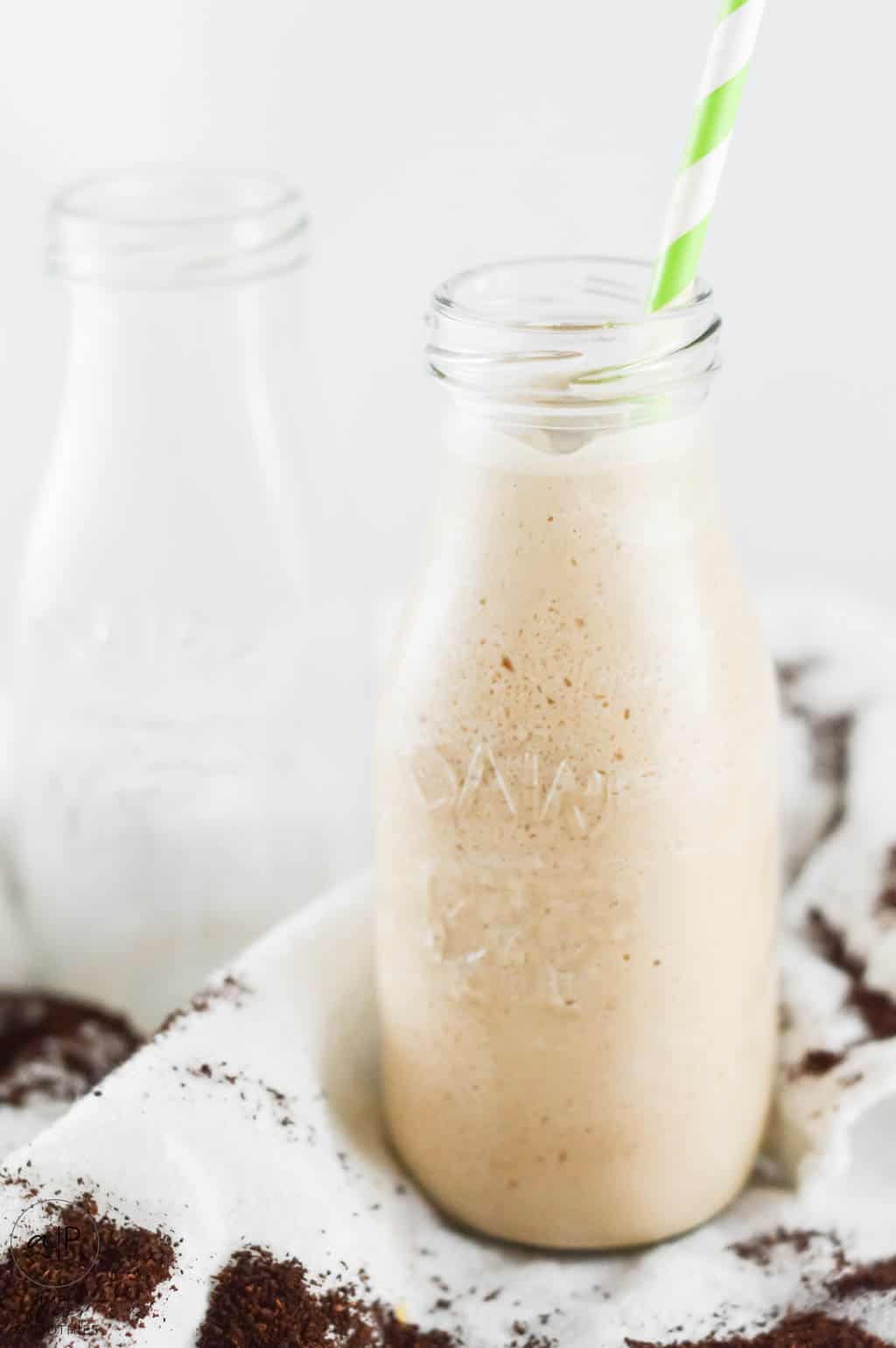 Can You Put Coffee in Smoothies?
Of course, that's what this entire recipe is about. If you want to add coffee to another smoothie recipe you're making, be aware that it might taste odd. Be sure the coffee will match with the flavor of the smoothie you're making. Also, you'll want to make sure the coffee is cool or it will change the composition of your smoothie.
What Fruit Goes Well With Coffee?
In my own personal opinion, there's not a fruit I've tried yet with coffee that was bad. Some of my favorites are strawberries, raspberries, blueberries, blackberries, and cantaloupe.
If you loved this Coffee Smoothie or tried some of the variations, let me know in the comments below!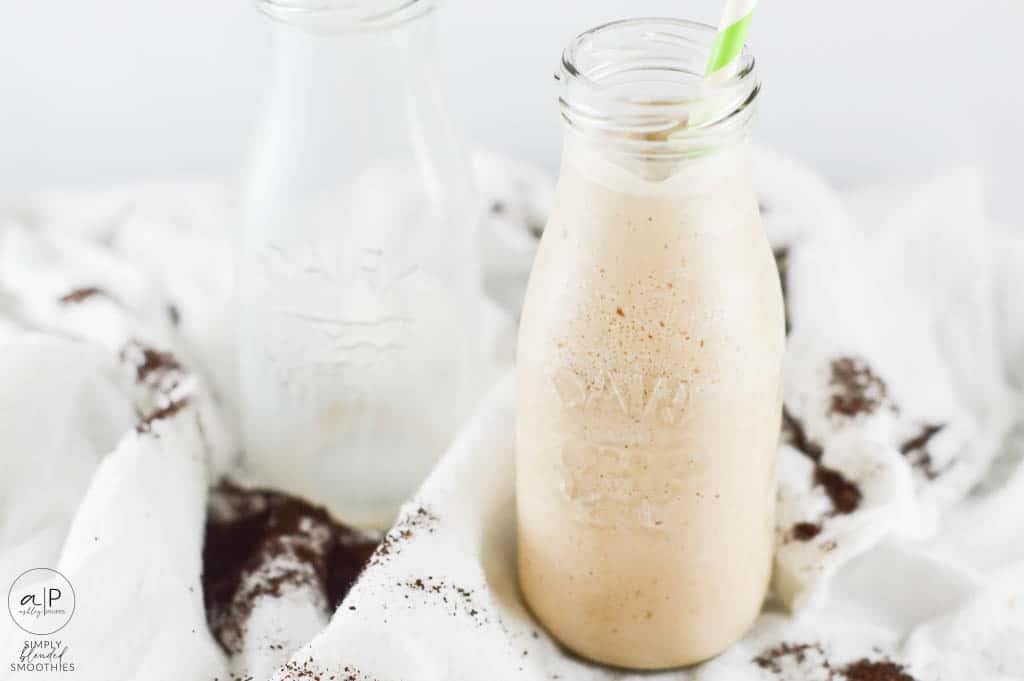 Coffee Smoothie Recipe
Prep Time: 5 Minutes
Cook Time: 0 Minutes
Yields: 12 Ounces
Ingredients:
8 Coffee Ice Cubes
½ Cup Hazelnut Coffee Creamer
5 Tablespoons Caramel Sauce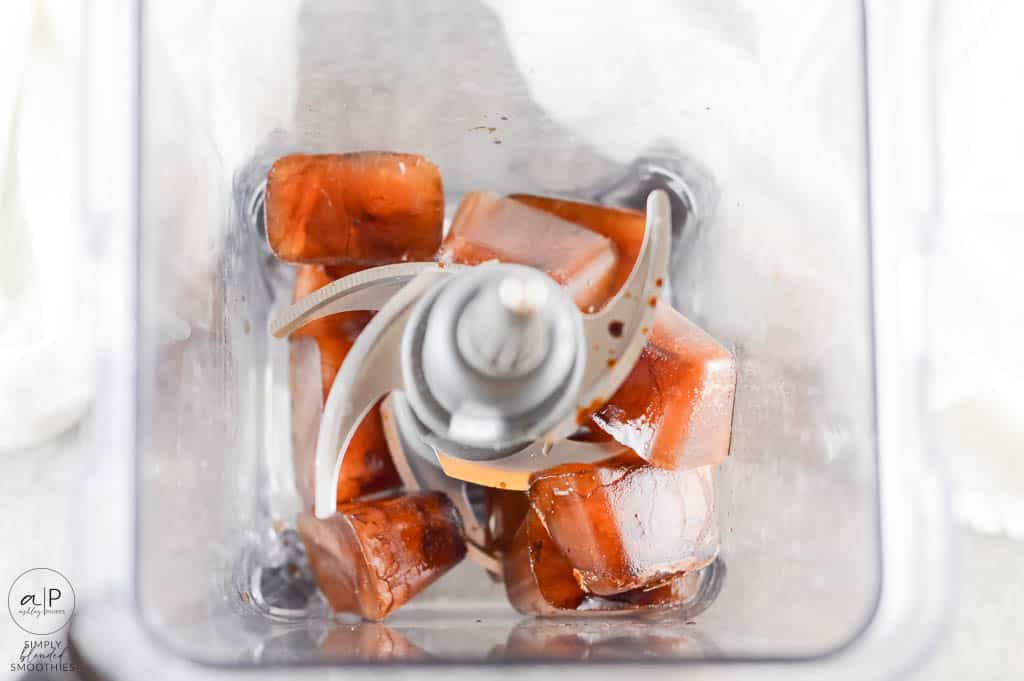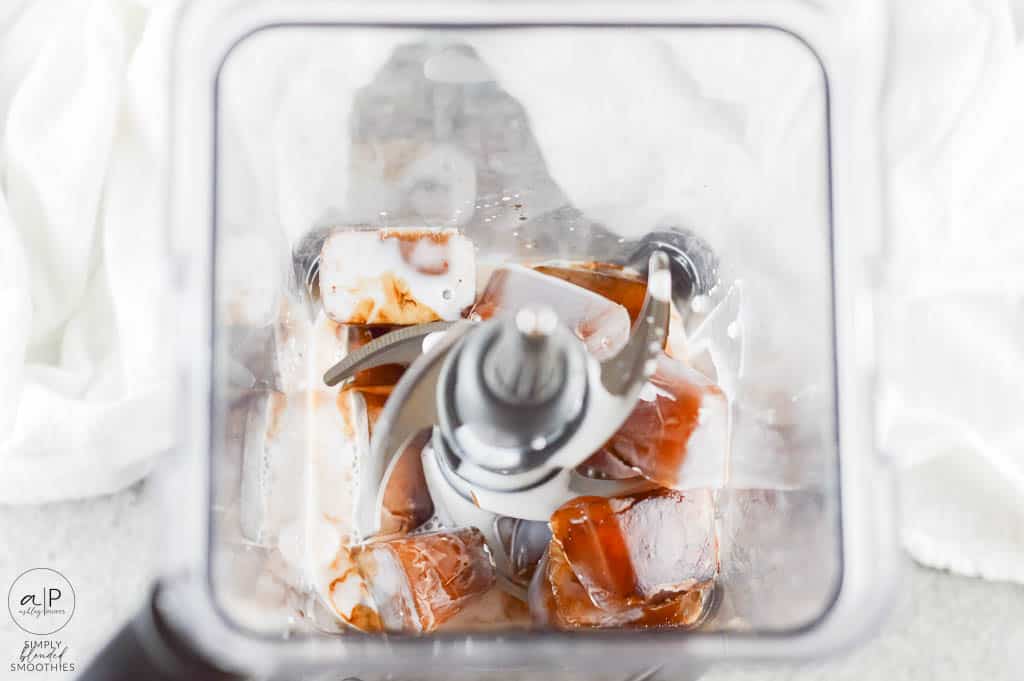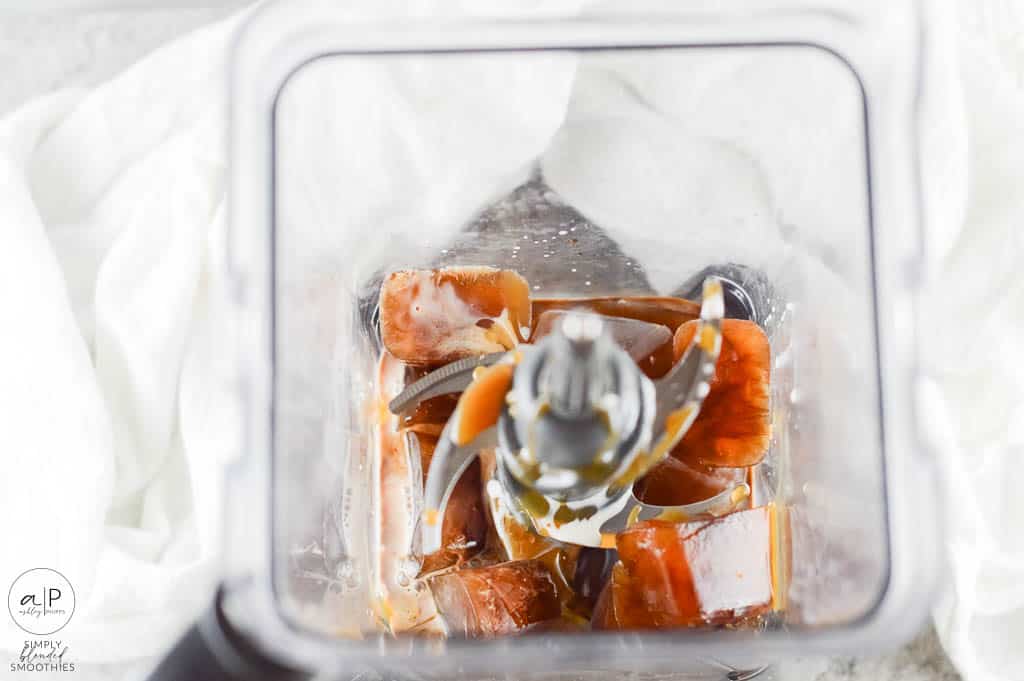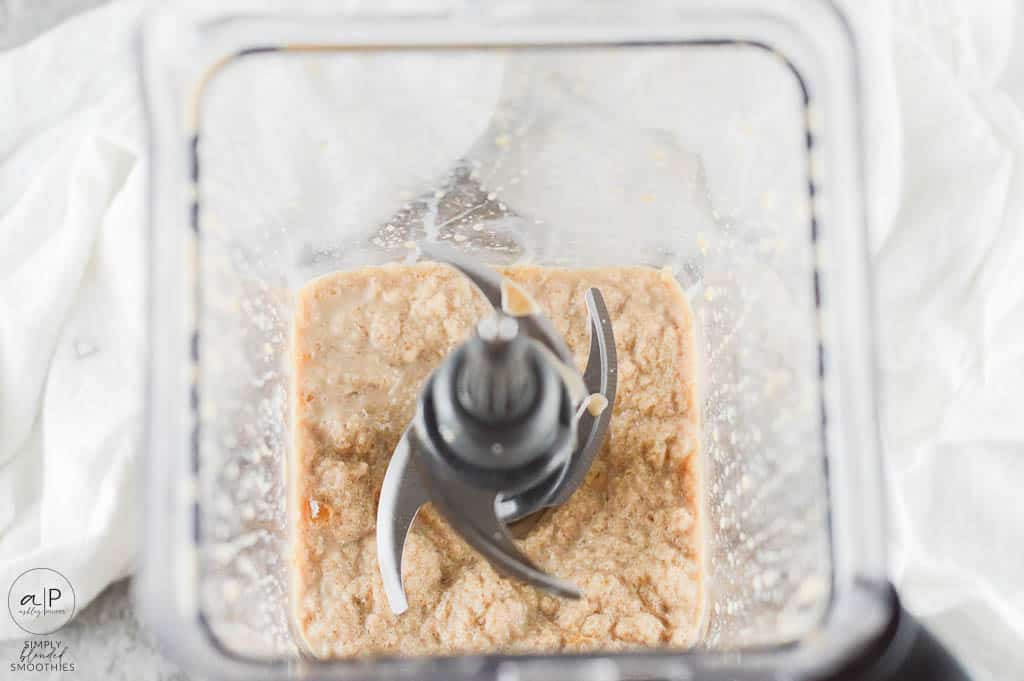 Directions:
Combine all ingredients in a blender and blend well.
Serve immediately in a glass and top with a drizzle of caramel sauce. Pop a straw in and you're set to go!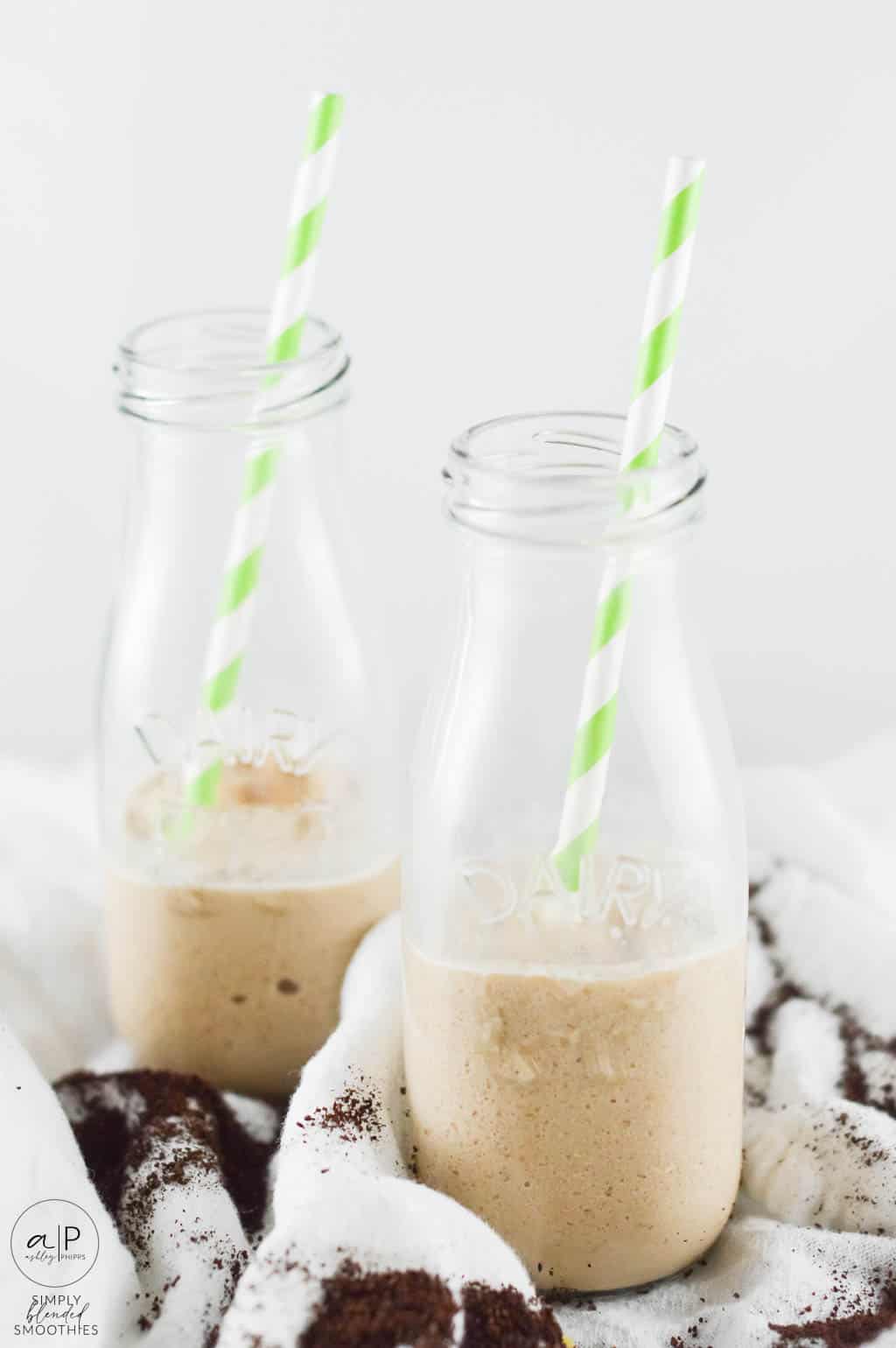 Notes:
I like to use leftover coffee and have it frozen in an average ice cube tray like this one. Having the coffee ice cubes ready to go is very handy. Just take brewed, black coffee, wait for it to be cooled off, then add it to the trays as you would water.
Find the printable recipe below:
More Recipes You Might Like: