This Chocolate Frappe recipe is just as delicious as one you could buy at an expensive coffee shop but free from bad ingredients and so much less expensive. Keep reading to snag the full recipe, and then be sure to check out my Chocolate Milkshake and my Vanilla Frappe recipe too.

Affiliate links included for your convenience. By purchasing through these links, I receive a small commission but you never pay a penny more. Thank you for supporting my blog.
Chocolate Frappe
There is a certain coffee shop that we go to occasionally for treat drinks. We don't drink coffee but we love some of their coffee-free frappuccinos.
My favorite flavors are their vanilla and chocolate frappes. But to be honest, they are a bit syrupy sweet. And they are not easy on the wallet.
So I decided to start making my own chocolate frappes and I absolutely love these!
They taste better than fancy coffee shop frappuccinos and they are so insanely easy to make! Plus I can save so much money when I make them at home.
Today I am sharing my recipe for a chocolate frappe, but if you want a vanilla frappe, check out my recipe HERE.
What is a frappe?
A frappe is simply an iced beverage that has been blended, shaken or beaten. It creates a foamy, creamy delicious drink. You will often see it served topped with whipped cream and possibly other toppings too.
If you are confused by this definition...let's chat about it a little more...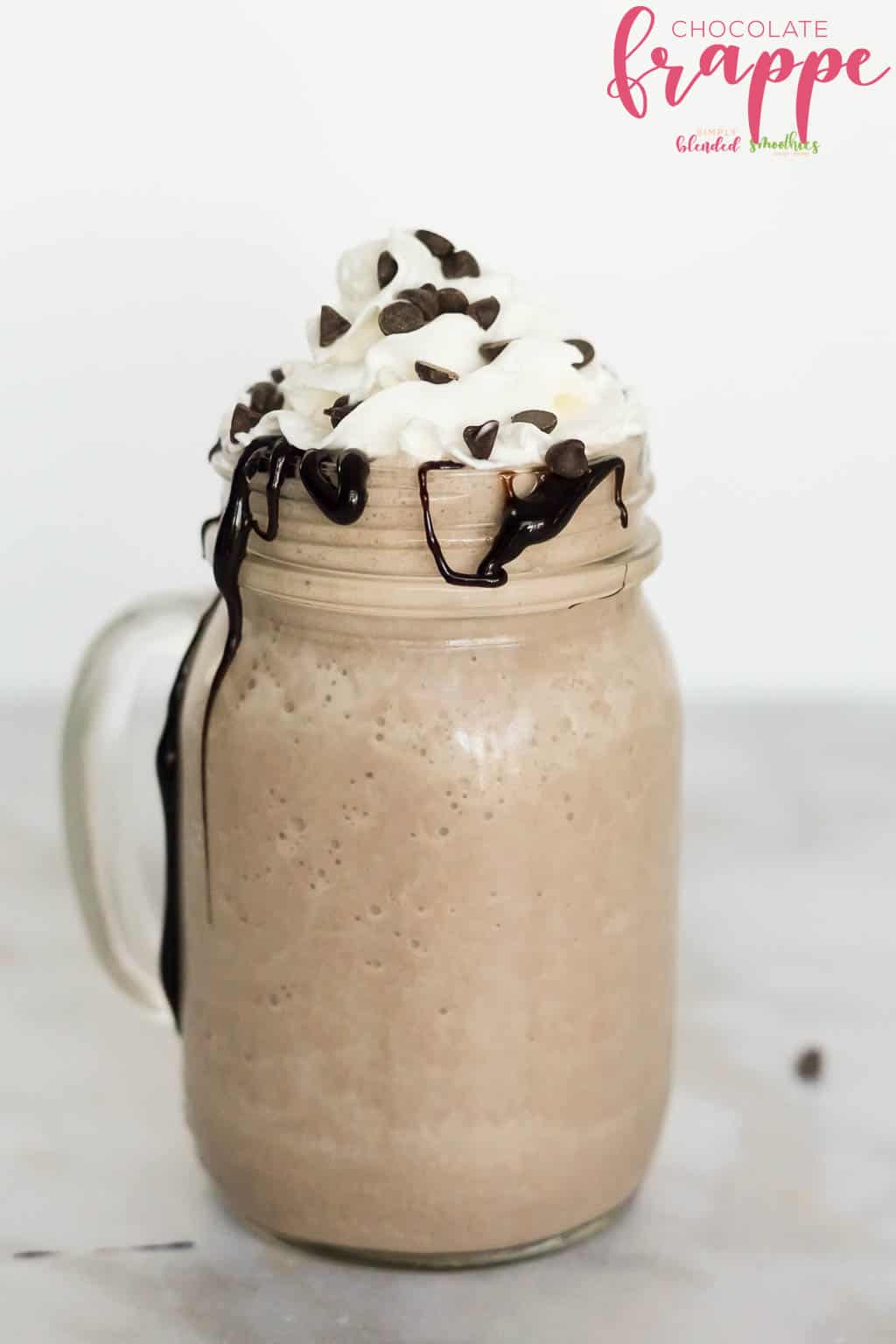 Frap vs frappe vs frappuccino
In some parts of the country (New England mainly), thick milkshakes made with ice cream are called fraps. This is not what I am creating here today, but is definitely delicious, because who doesn't love a good milkshake. If you are looking for a Chocolate Milkshake Recipe, check mine out HERE.
Sometimes drinks made with a cappuccino, ice cream, espresso, and frothed milk are called frappes.
Starbucks makes frappuccinos that (while I don't know for certain) I don't think are typically made with ice cream, but they use ice to create a cold thick drink. They make some frappuccinos with a coffee base and some with a cream base.
This Chocolate Frappuccino Recipe is most reminiscent of a knock-off Starbuck's Double Chocolaty Chip Frappuccino made with a cream base.
But honestly, I think mine is better 🙂 #SorryNotSorry
Does a frappe have coffee in it?
Many frappes have coffee in them. At some coffee shops, they will make a cream-based frappe instead of a coffee-based frappe if you ask. This frappe recipe does not have any coffee in it at all.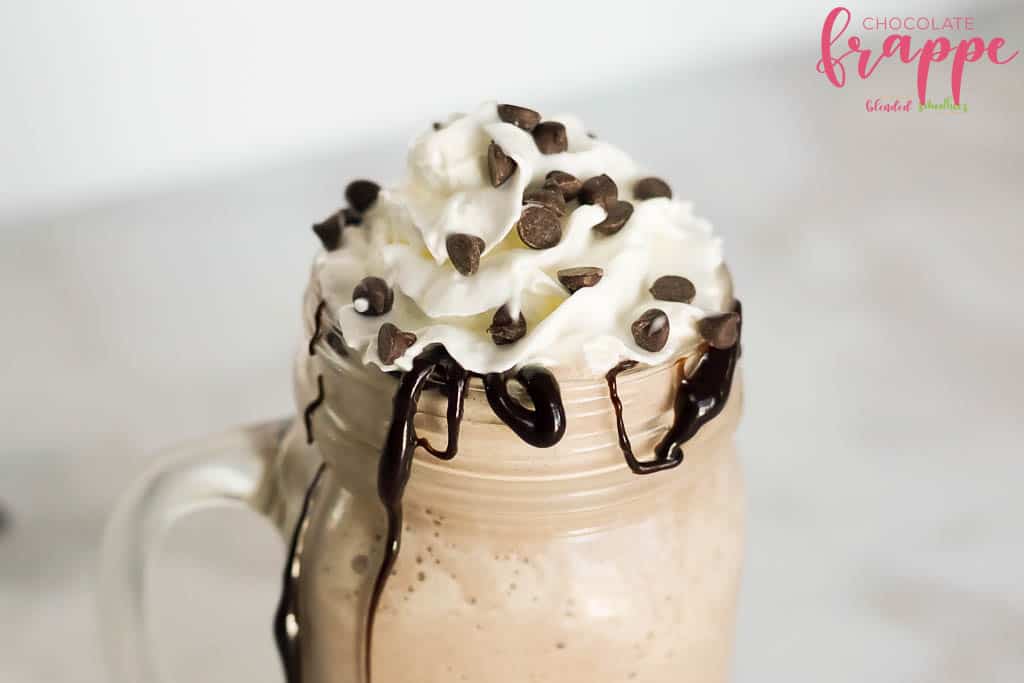 What ingredients are in a frappe?
All frappes have different ingredients in them, but my recipe for this chocolate frappe includes cream, ice, sugar and chocolate syrup. You can top it with whipped cream, more chocolate syrup, and mini chocolate chips if you like. Either way, it is a delicious, creamy, chocolate treat drink!
How to make this chocolate frappuccino really good...
The key in making this chocolate frappuccino REALLY good is to use cream instead of milk, and high-quality chocolate syrup. Sorry, but this is not the time for thin, chocolate flavored syrup. Get something good, and thick. I personally like Ghirardelli's chocolate syrup for this recipe.
You also need a blended that will get this chocolate frappuccino really nice and smooth.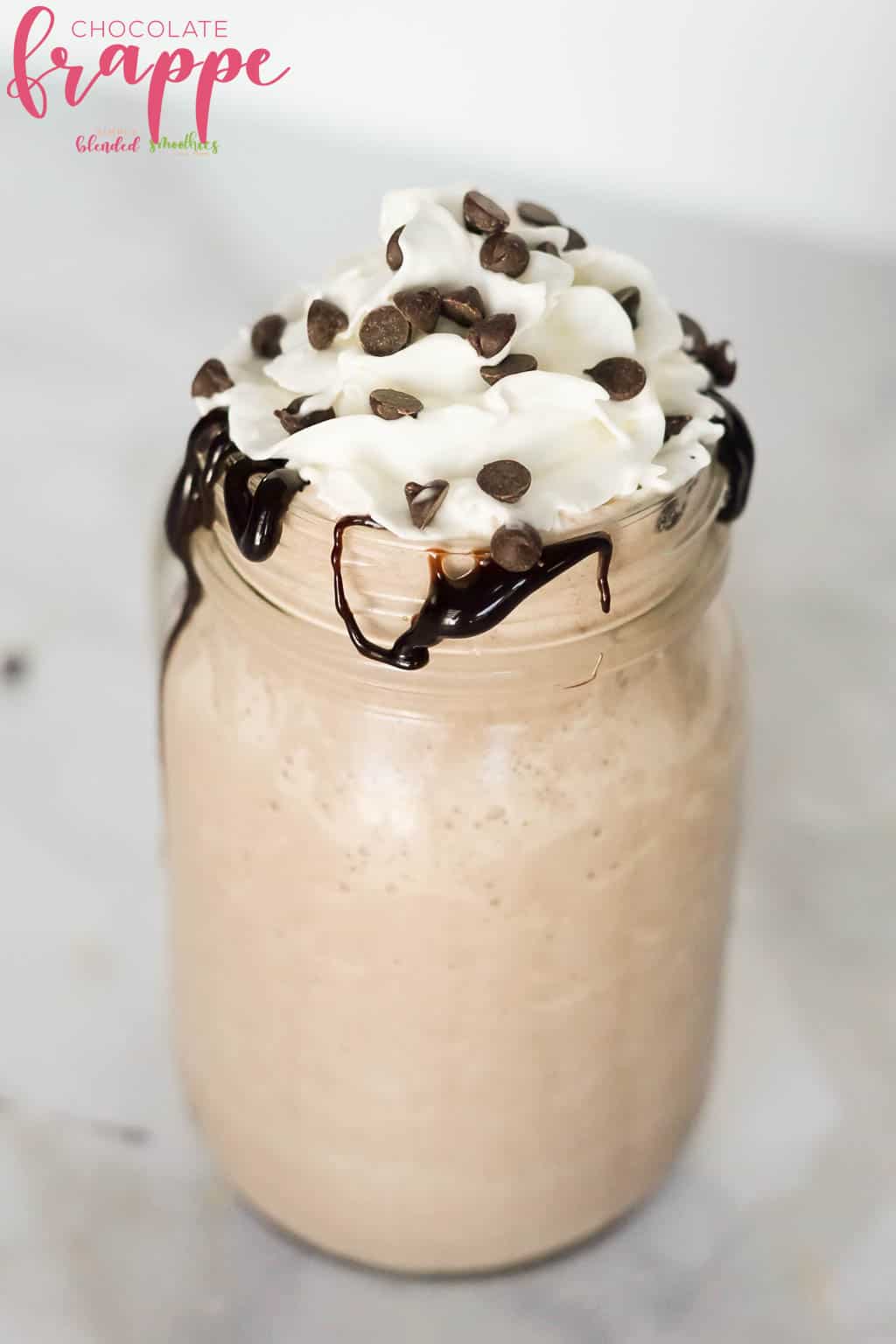 What blender is best for making frappes?
There are many blenders you can use for making frappes, but I personally own the Vitamix 780 and think it is simply the best. I get smooth, consistent results every single time which is exactly what I want for all my smoothies, milkshakes and frappes! You can buy your own Vitamix 780 HERE.
Alright, are you ready to get going? This frappe will blend together in just a few minutes and I love that I almost always have these ingredients on hand to make it.
This frappe is a personal favorite for when I am looking for a sweet treat without the ice cream.
Ready for the recipe? Here we go:
Chocolate Frappe Recipe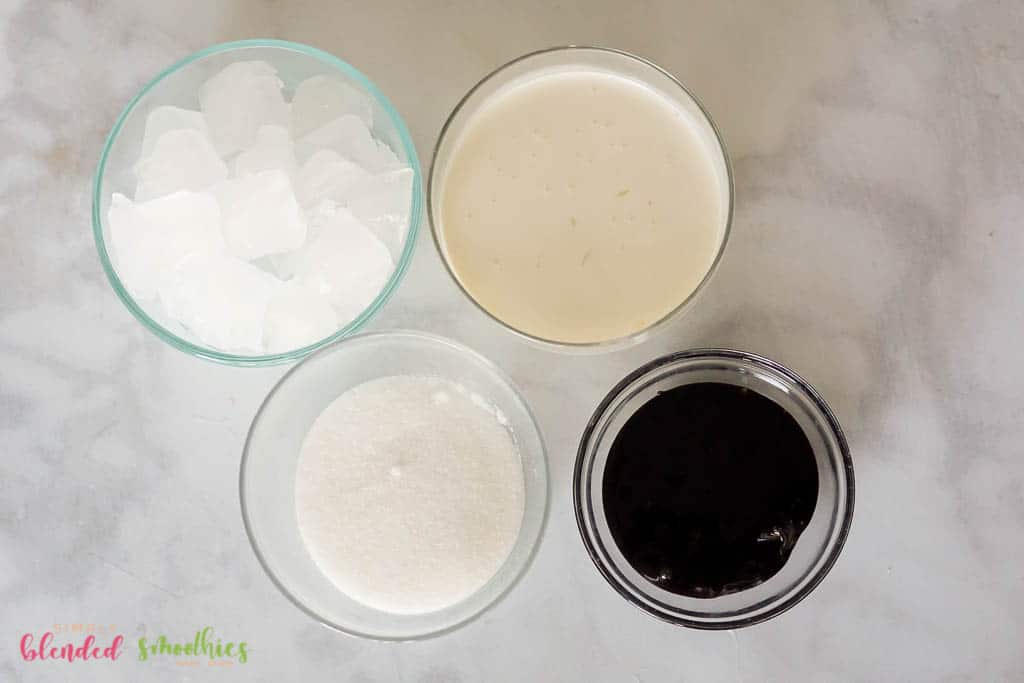 Ingredients:
2 cups Ice
1 cup Cream
¼ cup Sugar
¼ cup Ghirardelli's Chocolate Syrup (or other high-quality chocolate syrup)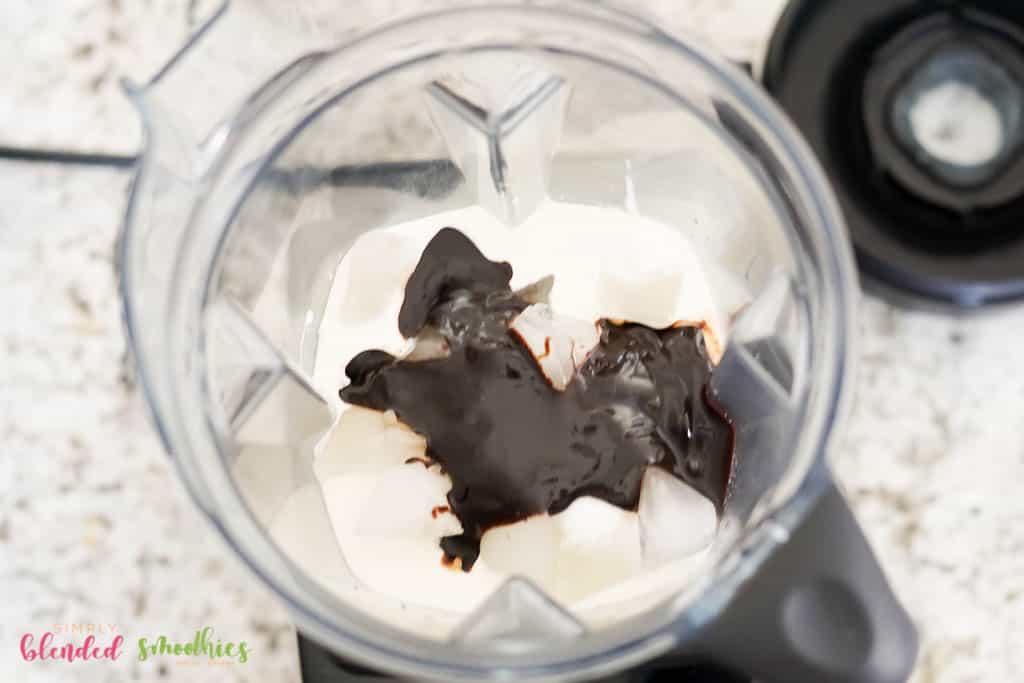 Directions:
Place all of your ingredients into your blender.
Blend until smooth.
Top with whipped cream, chocolate syrup, and mini chocolate chips if desired.
Serve immediately.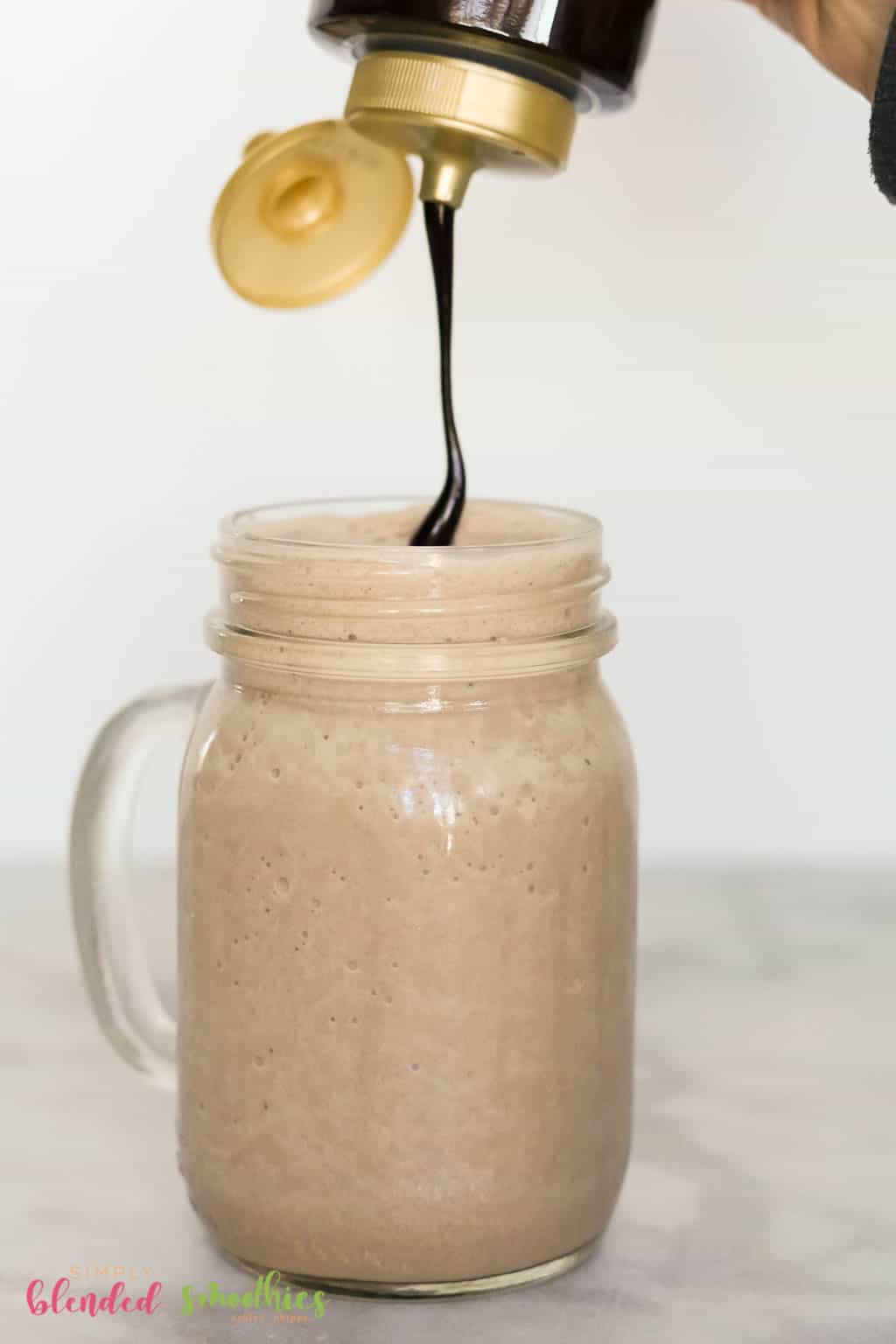 Snag the printable recipe below:
You might also enjoy these posts too: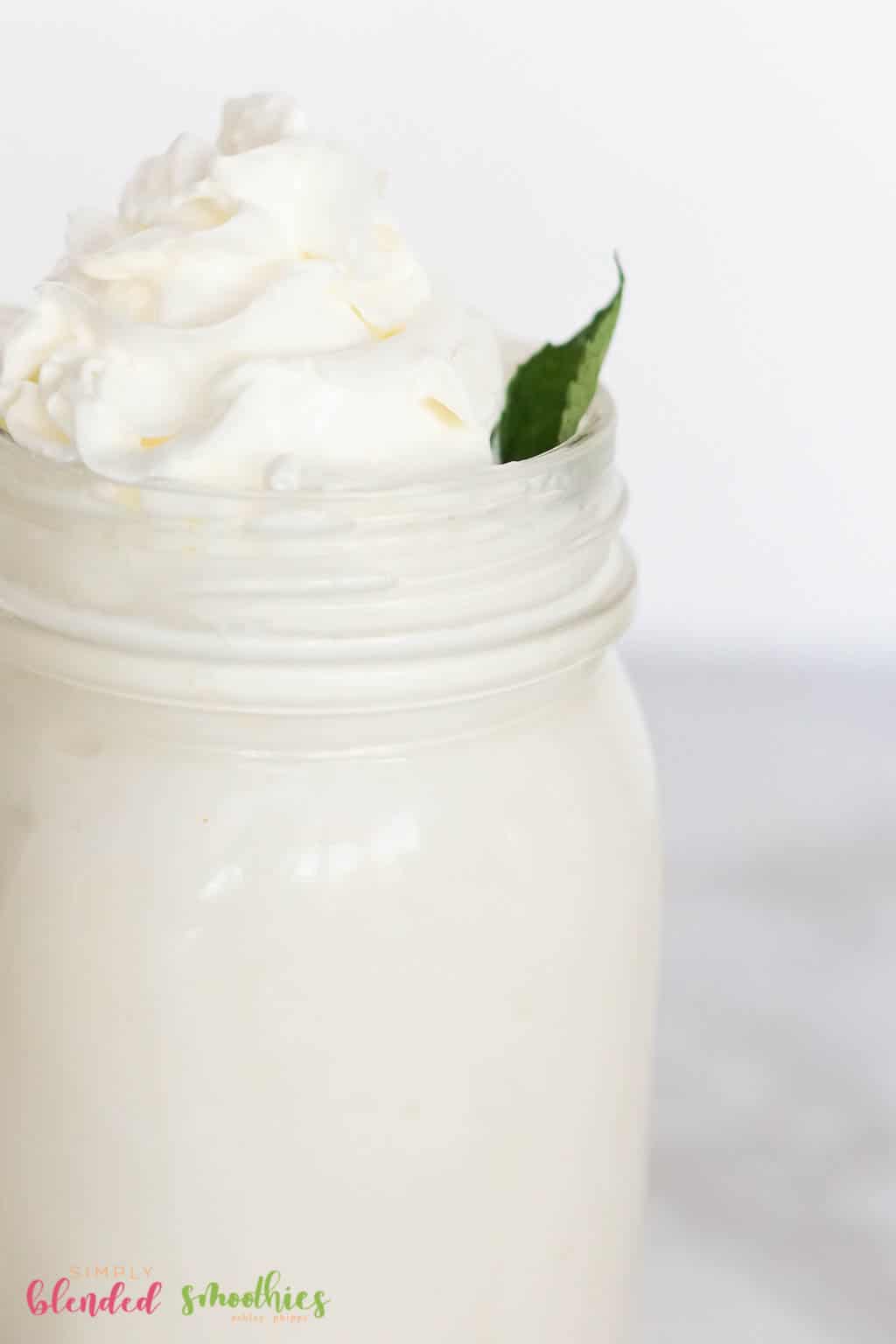 Vanilla Frappe