Green smoothie recipes, that taste amazing, are one of the best ways to get lots of healthy fruits and veggies into your body without sacrificing taste. So today I am sharing my absolute favorite, kid-tested, and kid-approved, delicious green smoothie recipes! Keep reading for all the details.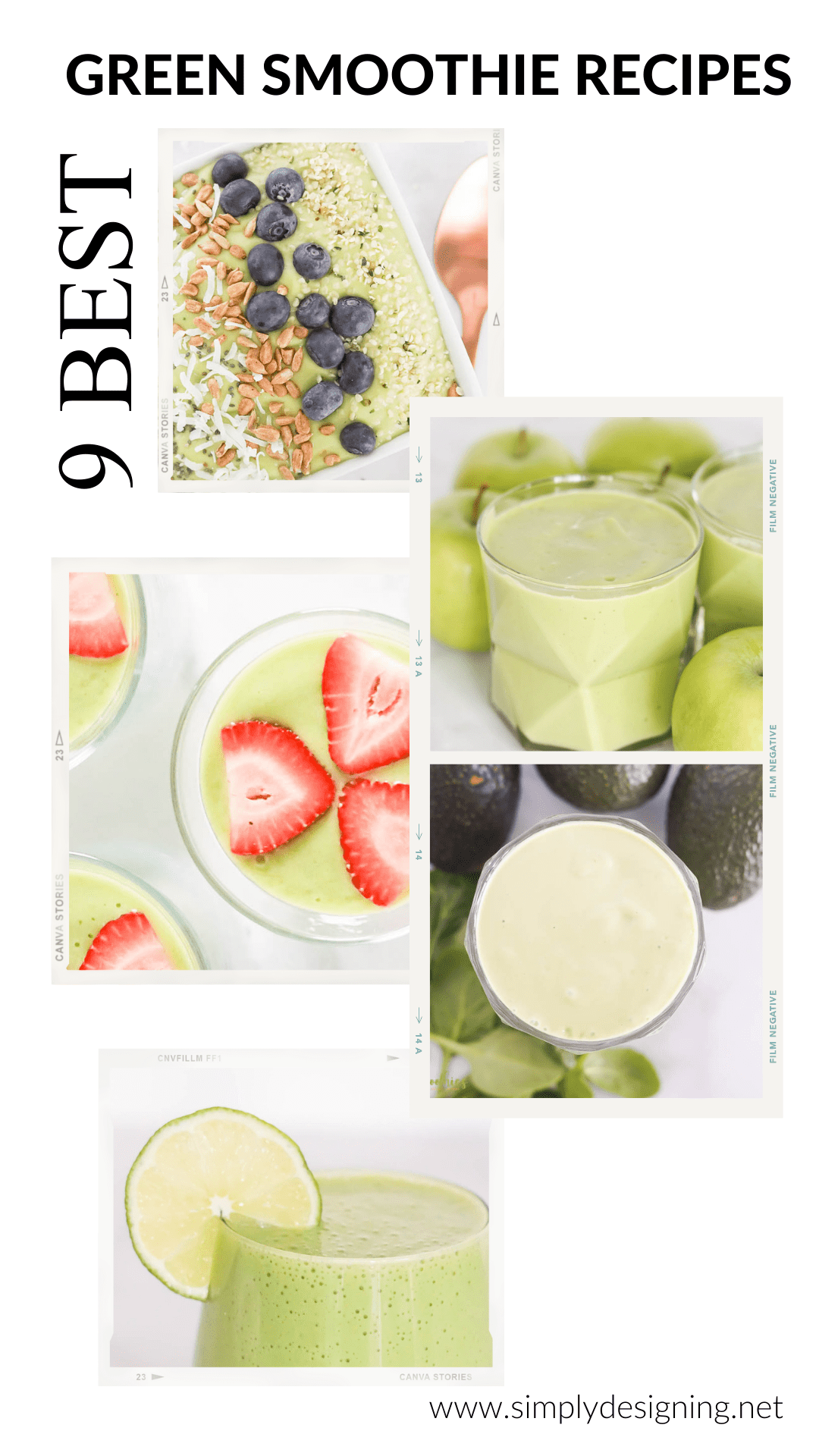 Green Smoothie Recipes
If reading the words "green smoothie" makes your stomach churn, never fear, I have you covered with only super delicious recipes over here.
Green smoothies do not have to be gross. You shouldn't have to choke them down. They don't need to be bitter or have a weird texture.
I promise you can make green smoothies that are healthy and delicious and it really isn't that hard!
And these recipes I am sharing with you today are kid-tested and approved!
My children that range from toddlers to teenagers test every single smoothie recipe I make right along with me. Because if they won't eat it, I wouldn't expect anyone else to!
These 9 green smoothie recipes all have these important traits:
they taste delicious
sweet but not too sweet
smooth texture
healthy
the perfect consistency
ability to be modified to accommodate dairy or other allergies
I would make them again
My kids will drink them
My kids will ask me to make them
As you can see, they are all winners!
But first, let's chat about a few commonly asked questions, ok?
Are green smoothies good for you?
Well, that all depends on the ingredients you use! These green smoothie recipes are all created with healthy, fresh or frozen, whole foods so in my opinion, they are healthy.
But I guarantee I could also make a green smoothie that wasn't healthy if I wanted to.
In fact, most smoothie shops add a lot of things to their smoothies that aren't healthy! Some of the most popular smoothie joints use ice cream or sherbert in their smoothies! While they may taste yummy, they are definitely NOT healthy.
Some smoothie recipes also use a lot of sugar which can make them unhealthy.
But if you make any of these green smoothie recipes, they ARE healthy and good for you! So be sure to bookmark these recipes for later because I guarantee you will want to try them all!
Can you have a green smoothie every day?
Well, now that is just a silly question! You are an adult, you can do whatever you want! Haha But really, YES! These green smoothie recipes are healthy and are a great way to get an amazing serving of both vegetables and fruit! So if you are looking to pack in more nutrients into your diet, smoothies are a great way to do that!
Now, I do not recommend that you only consume smoothies as that isn't a very balanced diet. And of course, always talk to your doctor if you have any concerns, and obviously don't use any ingredients that you're allergic to.
I am also not claiming that smoothies will change your health or weight. I am just saying that healthy fruits and vegetables are part of a healthy and balanced diet and there is nothing wrong with combining them in a blender to make them extra yummy.
So if you want a green smoothie every day, go for it! If you want on once in a while, that's cool too. You do you.
Why do smoothies go brown?
Oof, sometimes you make a yummy green smoothie and it turns brown before you can finish it. That can be really disconcerting right? But I promise it is ok.
I DO recommend consuming smoothies right after you make them. Don't let it sit out.
But some vegetables and fruits just go brown pretty quickly when exposed to air, like avocados. If you have an avocado in your smoothie and you notice the color starts to change, it's ok. It's just what happens to all avocados when exposed to air.
When to have a smoothie
Whenever you want! I prefer to drink smoothies mid-morning or as an afternoon snack. But you can honestly drink them whenever you want!
Are green smoothies better than fruit smoothies?
Green smoothies are typically packed full of nutrient foods like spinach or kale which give them their green color! And yes, they are generally healthy.
However, I like to add fruit to my green smoothies for taste and variety. So my green smoothies are also fruit smoothies.
And some of my fruit smoothies also contain spinach in them, so they are also packed with similar nutrients but don't have the same green color.
All this to say, don't judge the smoothie by its color!
I mean, you can. But you really never know the nutritional makeup of it unless you make it yourself.
These green smoothie recipes are all fairly healthy though, and extremely tasty too!
I always recommend making smoothies with the ingredients you have on hand and that have a flavor profile you love! The color doesn't necessarily matter as much as you may think it does in the end.
How to make a tasty green smoothie
It is so super easy to make a tasty green smoothie! You will simply combine your preferred green ingredients (spinach or kale or a combination of both are popular choices) with other fruits or veggies of your choice and your preferred liquid. You may need to add ice and then blend until it is nice and smooth!
Should I use spinach or kale in my green smoothie?
Spinach and kale are popular choices to use to make a green smoothie and both are great choices. Spinach tends to be very mild in flavor, so mild that even when you use a large handful of it, it really doesn't change the taste of the smoothie at all! Kale can add a bitter taste to your smoothie, which often is what gives green smoothies a bad rap for being gross tasting.
If you want the benefits of kale but don't want the taste, I suggest adding half kale and half spinach to your smoothie instead!
My children prefer spinach because they can't taste it, but it really comes down to an individual taste and nutrient preference.
Can you taste spinach in a smoothie?
No. When you put spinach in a smoothie with other flavorful ingredients, you really can not taste the spinach at all! I love to add things like banana, pineapple, mango, or other flavorful fruits into my green smoothies to ensure no spinach can be tasted at all!
Can you put raw spinach in a smoothie?
Yes! That is actually the best way to use spinach in a smoothie. Just grab it fresh and throw it in there! When you use cooked spinach you lose some of the nutrients in it.
Which green smoothie is the best?
Picking favorites is hard, but my Simple and Delicious Green Smoothie Recipe is always a HUGE hit in my family. It is definitely a favorite and one my kids ask me to make often.
Not only does it taste delicious, but it is also packed with nutrient-rich foods making it a fabulous way to ensure my kiddos (and myself) are getting lots of fruits and veggies in our bodies.
What is a green smoothie made of?
Green smoothies can be made with a variety of ingredients, but the most important part is some sort of green vegetable that will turn your whole drink a beautiful, vibrant, green! Popular choices for greens are things like spinach, kale, swiss chard, avocado, romaine lettuce, or cellary.
To your greens, you can add other fruits, vegetables, and liquids to make a yummy-tasting smoothie.
What blender is best for smoothies and milkshakes?
There are many blenders you can use for making smoothies, milkshakes, and frozen drinks, but I personally own the Vitamix 780 and think it is simply the best. I get smooth, consistent results every single time which is exactly what I want for all my drinks! You can buy your own Vitamix 780 HERE. It is my favorite and I know you will love it too! And this blender is absolutely perfect to use to make your favorite green smoothie recipes!
Are you ready for our best, delicious green smoothie recipes?
Ok, let's go!
9 Best Green Smoothie Recipes
Green smoothie recipes, that taste amazing, are one of the best ways to get lots of healthy fruits and veggies into your body without sacrificing taste.  Here are my absolute favorite, kid-tested, and kid-approved, delicious green smoothie recipes! 

I would love to know which one of these is your favorite!