I don't know about where you live, but we are still getting amazing kiwis where I live and so today I thought it would be fun to whip up a Kiwi Smoothie and share my recipe with you! Does a smoothie made with kiwis sound weird to you? I get that...but have you ever tasted one? They are soooooooo delicious!!! So keep reading for the full recipe and all the details on how to make your own kiwi smoothie. (And while you are looking for more refreshing smoothie recipes, I suggest you take a look at my Watermelon Smoothie recipe here.)

Affiliate links included for your convenience. By purchasing through these links, I receive a small commission but you never pay a penny more. Thank you for supporting my blog.
Kiwi Smoothie
A kiwi smoothie is a delicious green smoothie that doesn't actually taste green at all! Which means this recipe is super kid-friendly.
Have kids who don't like kiwis? It could be the seeds or the texture...I get it...but kiwis in a smoothie are just delicious, so they may decide they like them after all.
But first, let's talk a little bit about kiwis.
What can I do with kiwis?
Kiwis are delicious fruits, but not everyone knows how to use them. Here are a few ideas for how to use this delicious tart and sweet fruit today:
On a salad
On top of ice cream
On yogurt
In a yogurt parfait
In a yummy fruit salsa (chop and mix kiwis, strawberries, pineapple, blueberries, jicama and lime juice together and serve with cinnamon chips...yum! Or top pancakes with this.)
On top of a smoothie bowl
On tacos (chop and mix kiwis, mangos, cilantro and onion together...yum!)
In a SMOOTHIE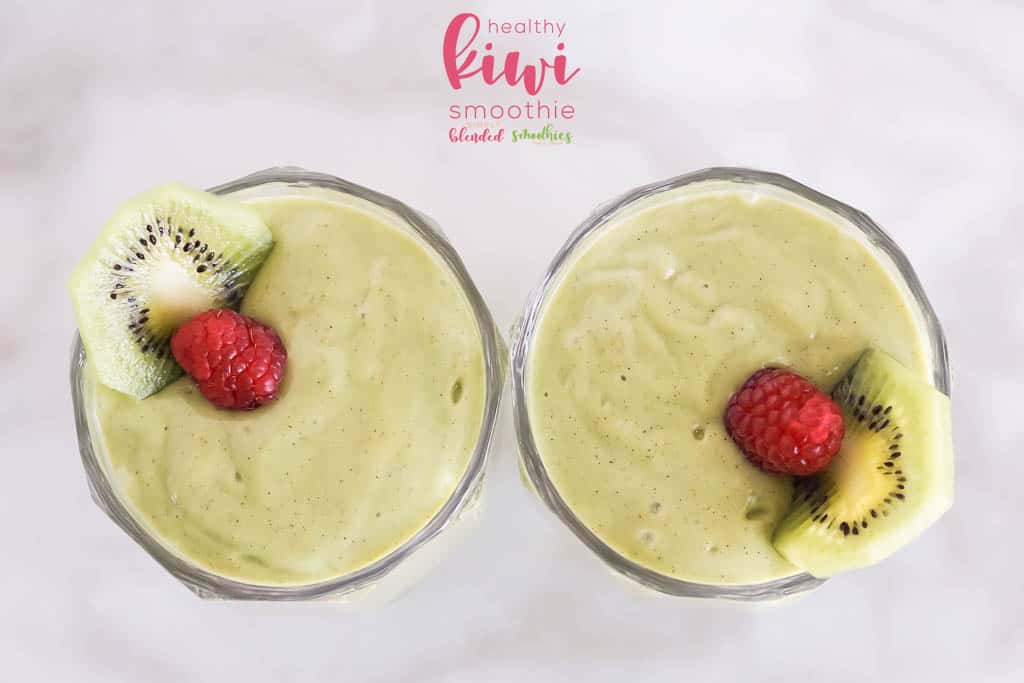 Can you mix banana and kiwi?
Banana and kiwi together in a smoothie is absolutely delicious! Let's be real for a minute, bananas work in almost every smoothie. Putting a banana in your kiwi smoothie will add a great creamy texture to your smoothie. And if you use a ripe banana (my recommendation) you will add natural sweetness to your smoothie without needing to add additional sugar, honey or another sweetener.
Can you freeze kiwi fruit for smoothies?
Definitely! Kiwis often come in a bag with half a dozen or more kiwis in it. If you can't eat them all or use them all up in smoothies, simply peel them and then freeze them for use later! I recommend chopping them up first, freezing them on a tray, then transfer them into an air-tight, freezer-safe container for use later.

Can you eat frozen kiwi?
When you defrost kiwi, it can be a little mushy. I recommend using frozen kiwi in smoothie recipes where the texture won't matter!
What does a kiwi taste like?
Kiwis are tart refreshing fruit. I think they are similar to a strawberry but more tart like a pineapple. They are yummy!
How do you peel a kiwi?
I think the easiest way to peel a kiwi is to cut it in half, and then use a spoon to scoop it out from the fuzzy skin. I can usually get the skin off without a lot of waste and it doesn't get smashed or damaged.
What do I use to make a kiwi smoothie?
There are many blenders you can use for making smoothies and milkshakes, but I personally own the Vitamix 780 and think it is simply the best. I get smooth, consistent results every single time which is exactly what I want for all my smoothies! You can buy your own Vitamix 780 HERE.
Are you ready for the full recipe? Ok. Let's go.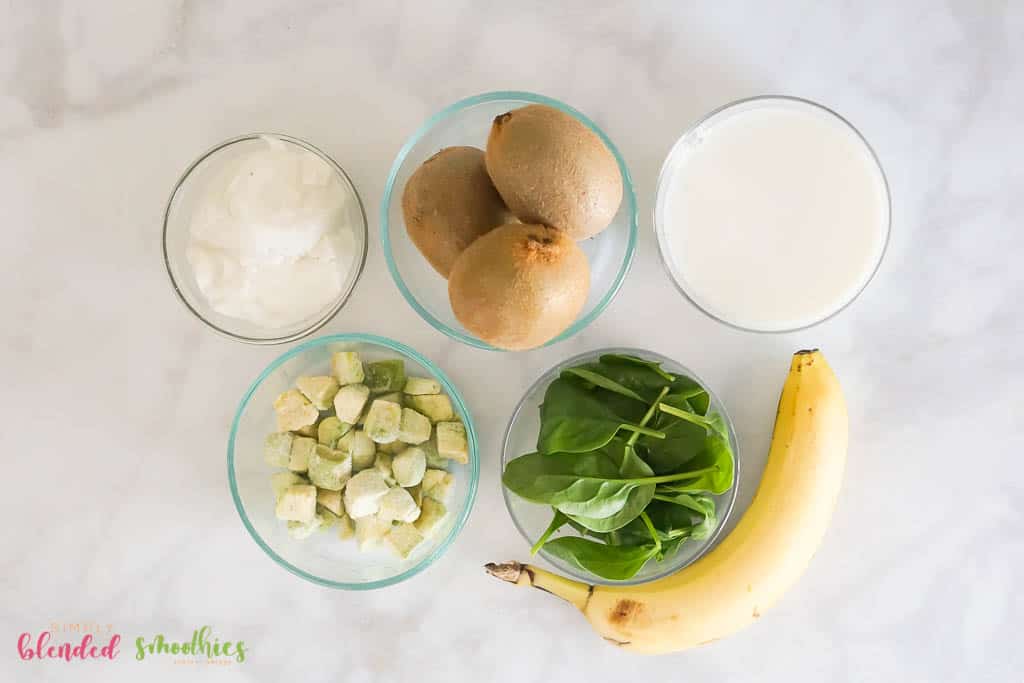 Kiwi Smoothie Recipe
Ingredients:
3 fresh Kiwis, plus more for garnish
1 Banana (I prefer frozen)
1 container Vanilla Yogurt
1 cup Milk
1 cup fresh Spinach
½ cup Avocado (I used frozen)
Ice if needed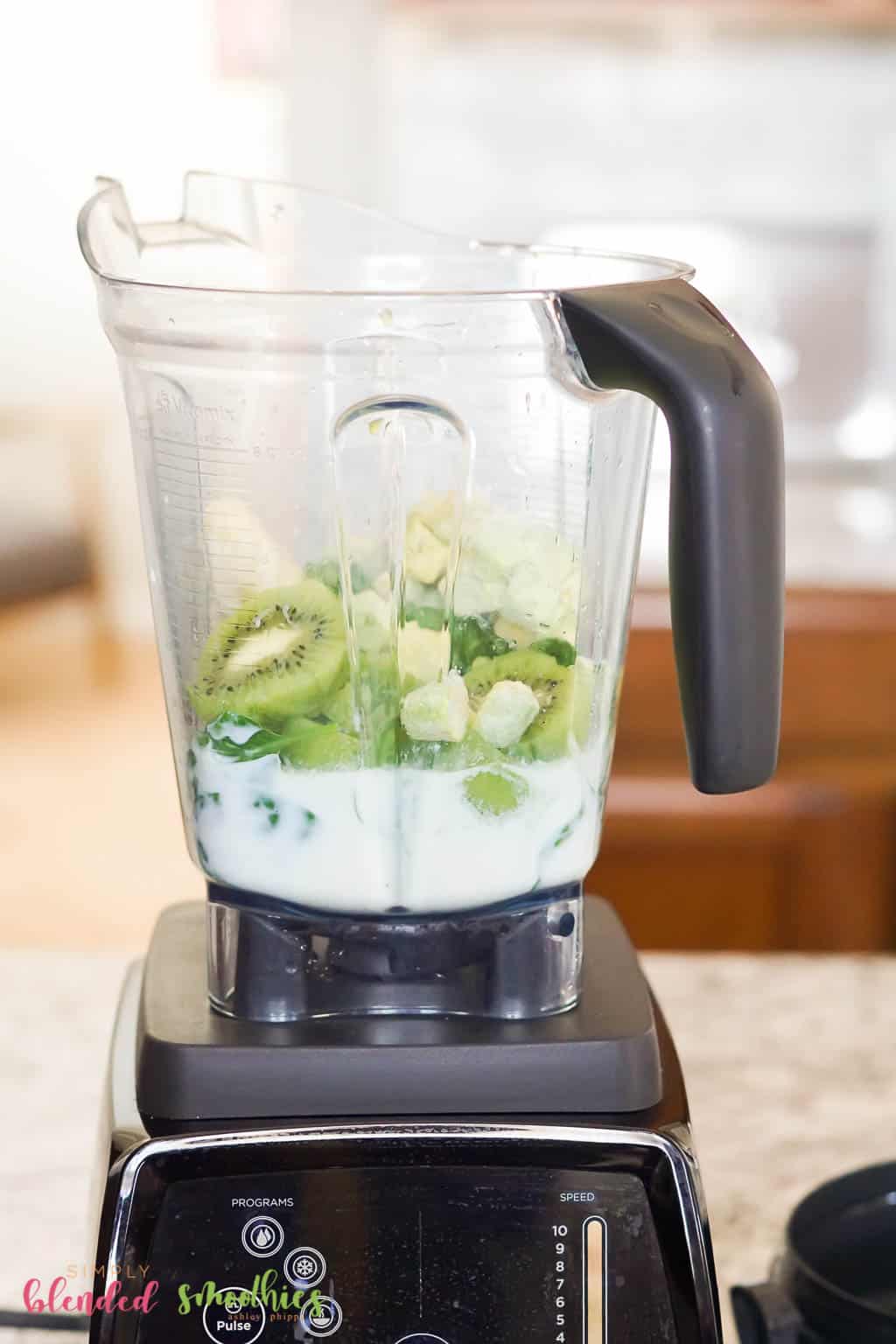 Directions:
Place all of your ingredients into your blender.
Blend until smooth.
Add a slice of kiwi and a raspberry as garnish if desired.
Serve immediately.
Notes: If you use a frozen banana and frozen avocados, you will probably not need to add ice. But if you opt for fresh, you will want to add ice to your smoothie. I recommend adding a handful of ice at a time until it is the desired temperature and consistency.
This recipe makes such a delicious Green Kiwi Smoothie that is sure to please the whole family!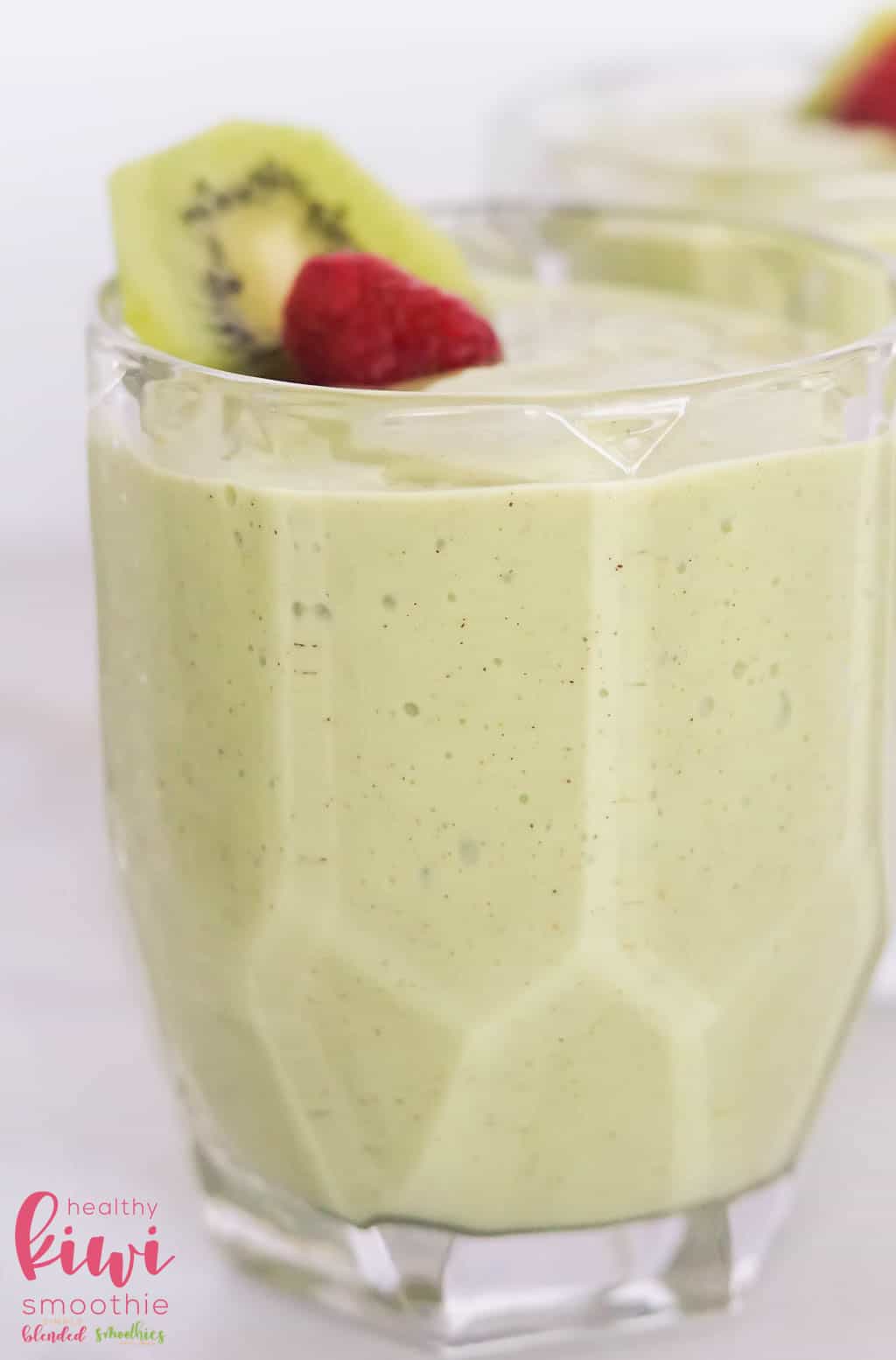 You can snag the printable recipe below:
You might also enjoy these smoothie recipes too: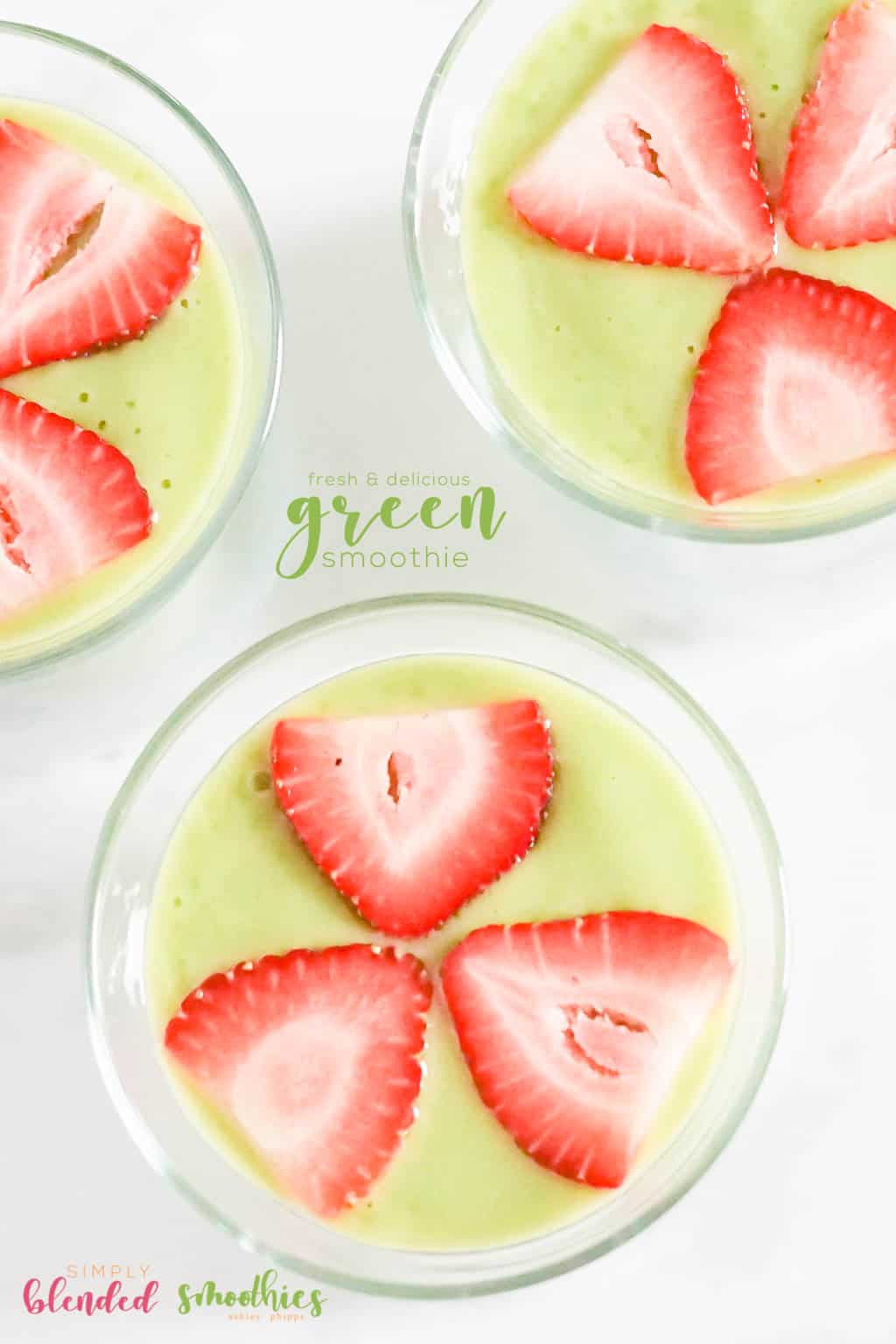 Simple and Delicious Green Smoothie Recipe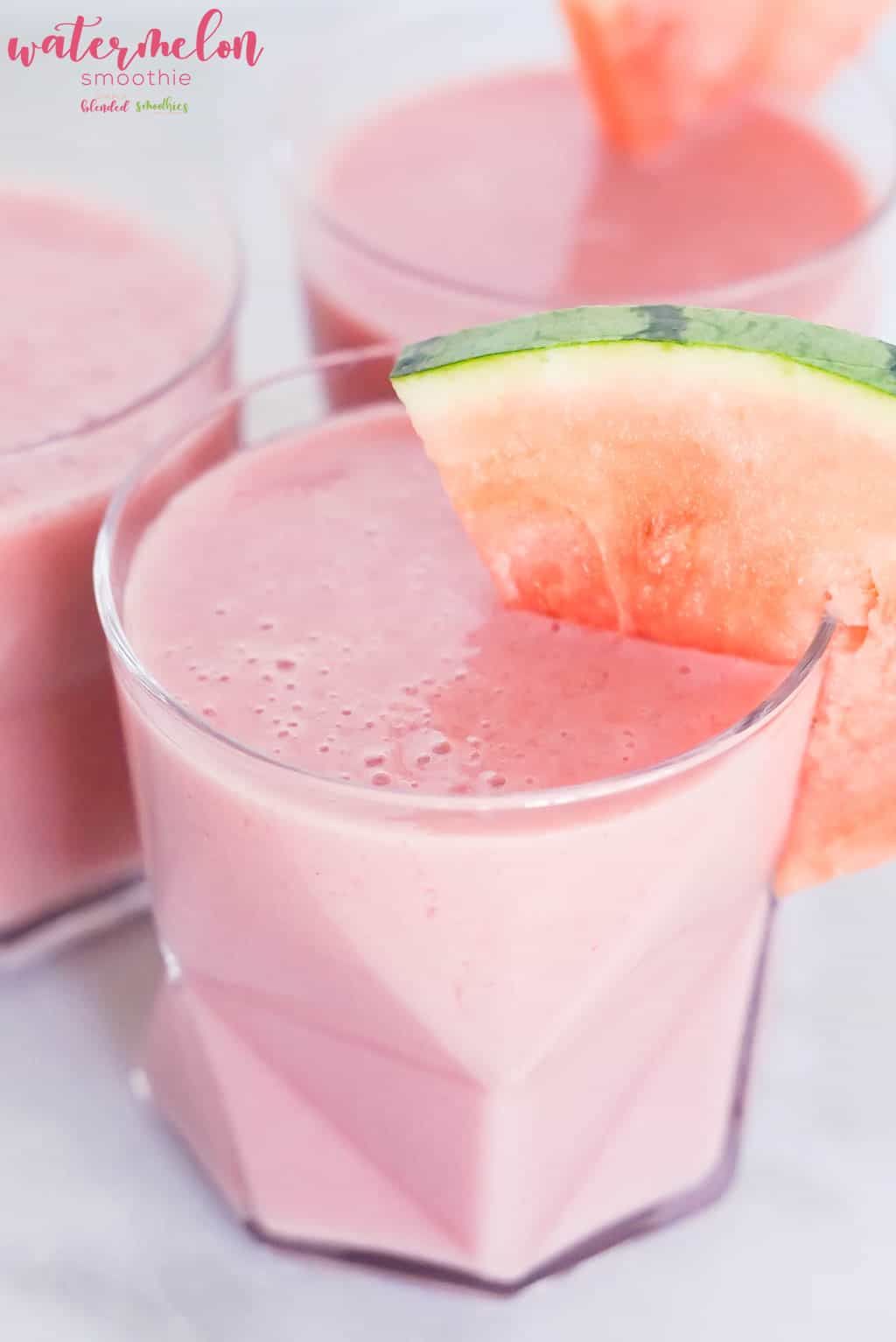 Easy Watermelon Smoothie Recipe