This Watermelon Smoothie is a fresh and delicious drink especially during the summer to help keep you cool, refreshed and hydrated. I am sharing a light, delicious and such an easy watermelon smoothie recipe with you today that will help get you through these long, hot summer days! Keep reading for the full recipe and snag the printable recipe at the bottom of the post. You should also check out my Pineapple Smoothie recipe for another delicious and refreshing summer smoothie!

Affiliate links included for your convenience. By purchasing through these links, I receive a small commission but you never pay a penny more. Thank you for supporting my blog.
Watermelon Smoothie
I love sharing delicious smoothie recipes with you and today I thought I would share one that is just perfect for summer! Summer means watermelon in my house, but we never seem to eat it fast enough, so I love using it to make smoothies! Healthy watermelon smoothies are so easy to make and you can add in other fruits to change it up if you like.
Can watermelon be frozen for smoothies?
Yes! Frozen watermelon works perfectly for smoothies! If you are like us, and don't finish a whole watermelon before it goes mushy, take leftover chunks of watermelon, place it on a tray and freeze it. Once it's frozen, you can toss it in a freezer safe ziploc bag and keep it in the freezer until you need to use it. If you use frozen watermelon, you won't need to use as much ice in your smoothie. Don't unfreeze the watermelon before putting it into a smoothie, just toss it in frozen.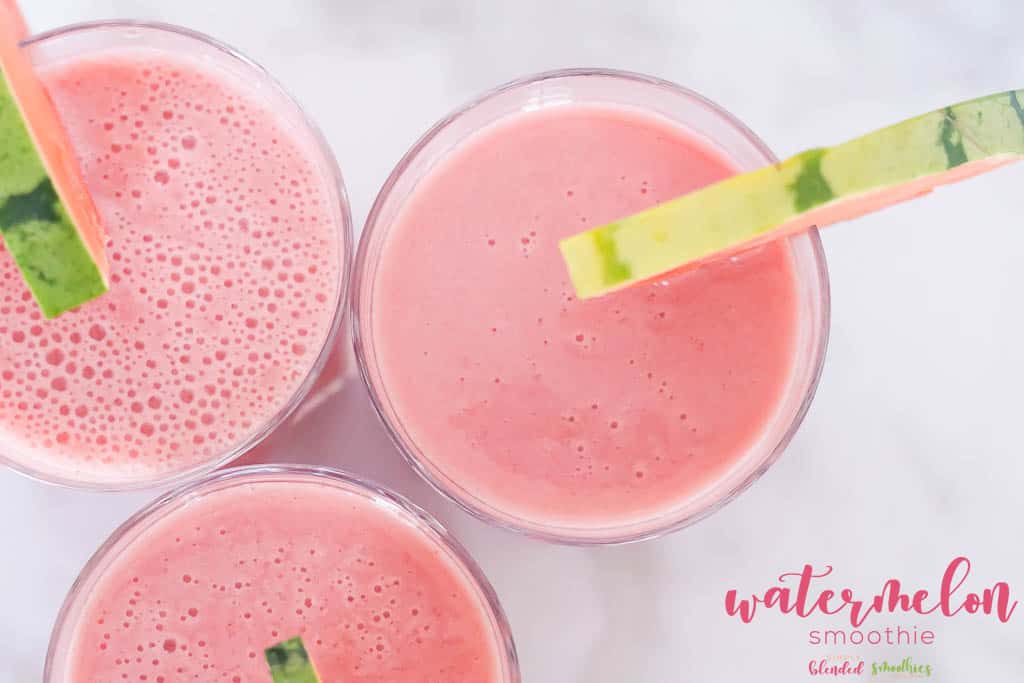 Is watermelon good after being frozen?
Watermelon is perfect after frozen for things like smoothies. If you try to let it unfreeze, it will be mushy. So I would definitely reserve frozen watermelon for smoothie use only.
How long does watermelon last after cutting?
After you cut watermelon up into slices, cubes or balls, it typically lasts about 3 days to a week if stored in the fridge. After that point, you should definitely consider freezing it to use in healthy watermelon smoothies later. If stored properly, it should last several months in the freezer and still be perfect for smoothies.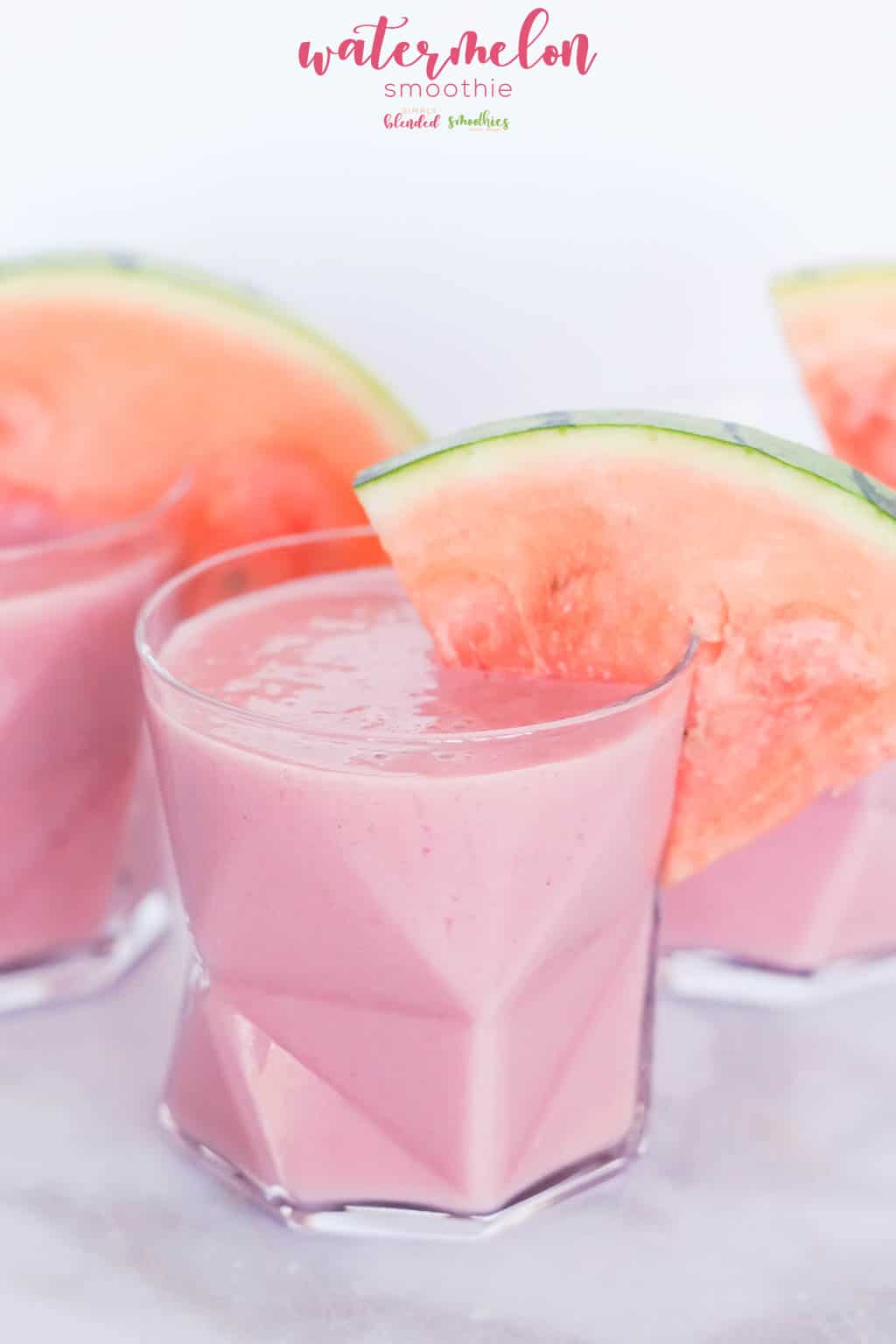 What fruit goes well with watermelon?
You can combine any other fruits with watermelon! I love strawberries, kiwi or banana. But any berries or other melon would work well too! Watermelon is so light and fresh tasting that it pairs well with almost any other fruit.
Watermelon Smoothie Recipe
This watermelon smoothie recipe combines fresh watermelon, frozen strawberries, a banana (fresh or frozen), lime juice and coconut milk. You can vary the ingredients if you prefer, but this recipe is just perfection as is, so I recommend you start here.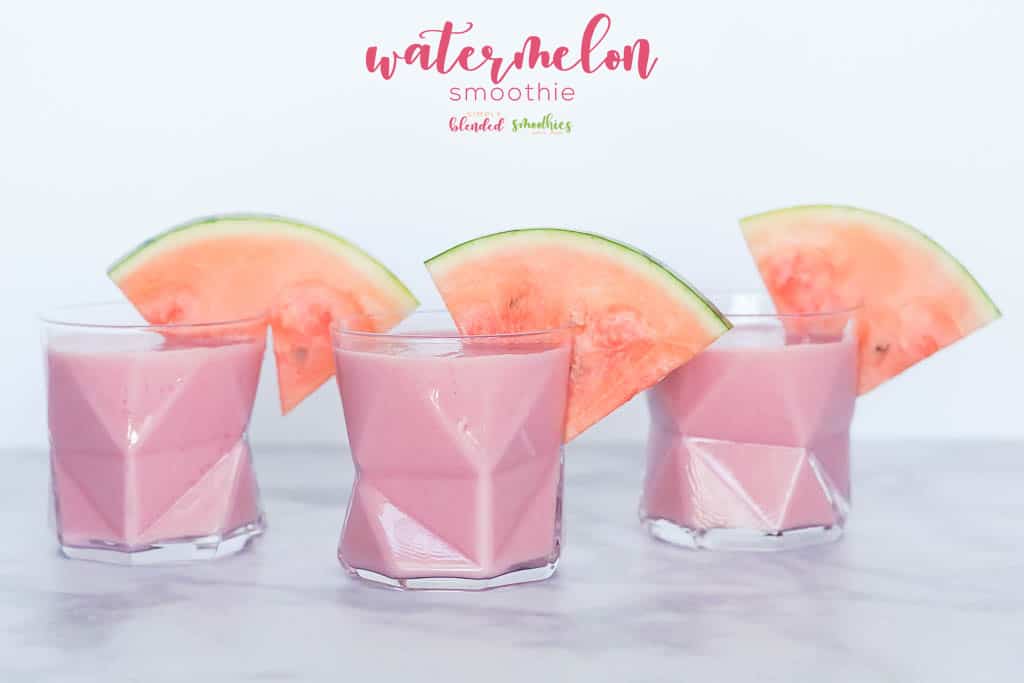 Healthy Watermelon Smoothie
This recipe is super easy, and crazy healthy for you and I love it because it helps me use leftover watermelon up! We are a family of 5, but we never seem to eat the whole watermelon before it goes mushy. So I love that I can use this up in smoothies, or even freeze it for use in smoothies later! My family gets a burst of healthy fruits when eating this delicious drink that tastes like a treat!
What do I use to make a watermelon smoothie?
There are many blenders you can use for making smoothies and milkshakes, but I personally own the Vitamix 780 and think it is simply the best. I get smooth, consistent results every single time which is exactly what I want for all my smoothies! You can buy your own Vitamix 780 HERE.
Are you ready for the full recipe? Ok. Let's go.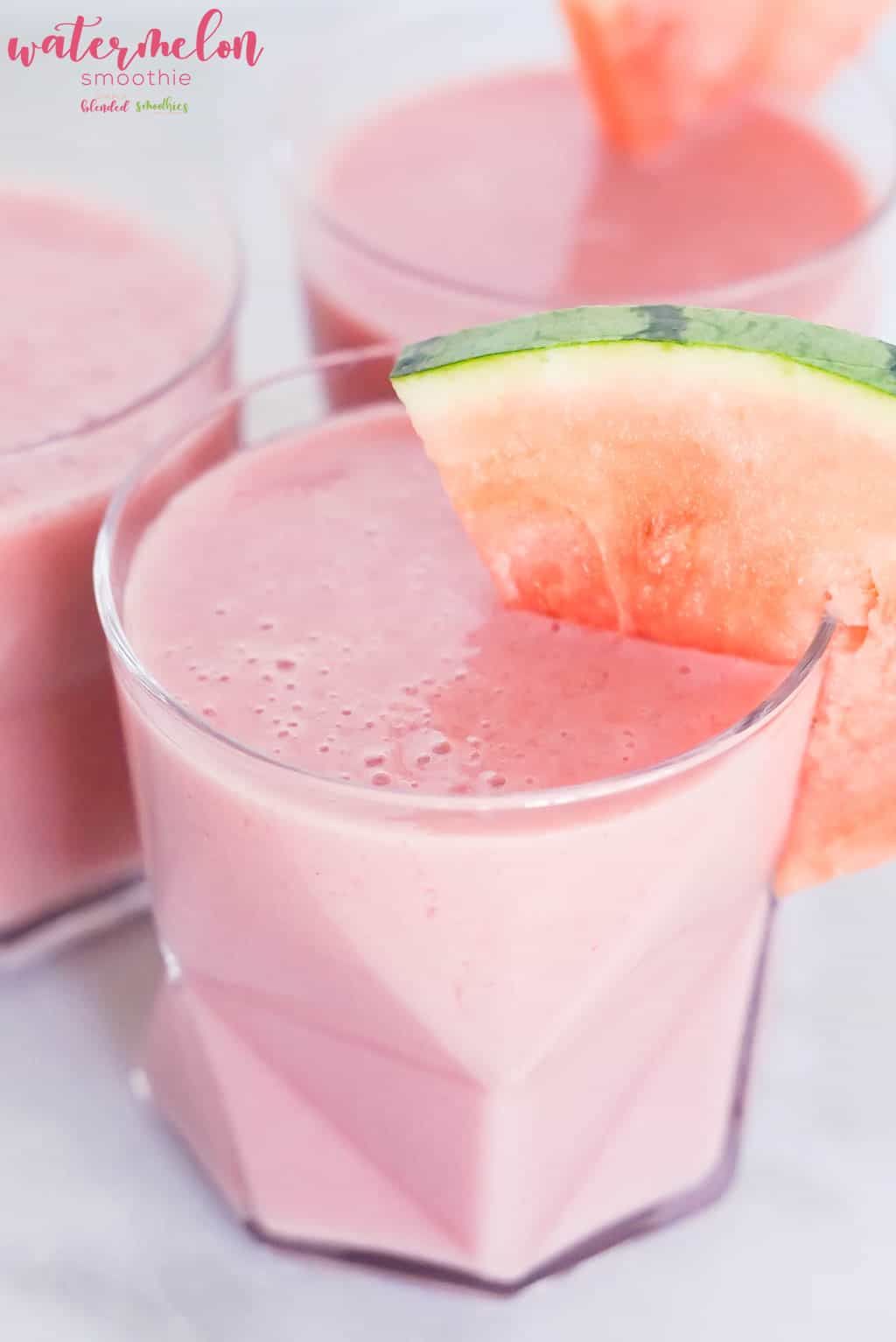 Easy Watermelon Smoothie Recipe
Ingredients:
1 Banana (fresh or frozen)
2 cups cubed Watermelon (fresh or frozen)
½ cup Strawberries (fresh or frozen)
1 Tablespoon Lime Juice
1 cup Coconut Milk
Ice if needed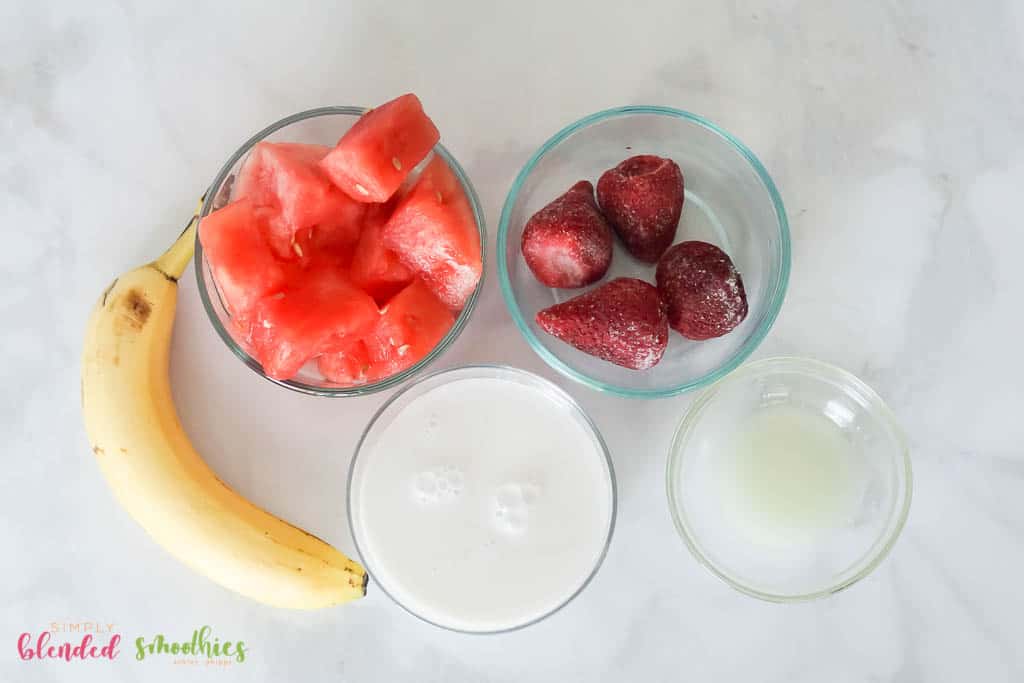 Directions:
Place all of your ingredients into your blender.
Blend until smooth.
Add a slice of watermelon as garnish if desired.
Serve immediately.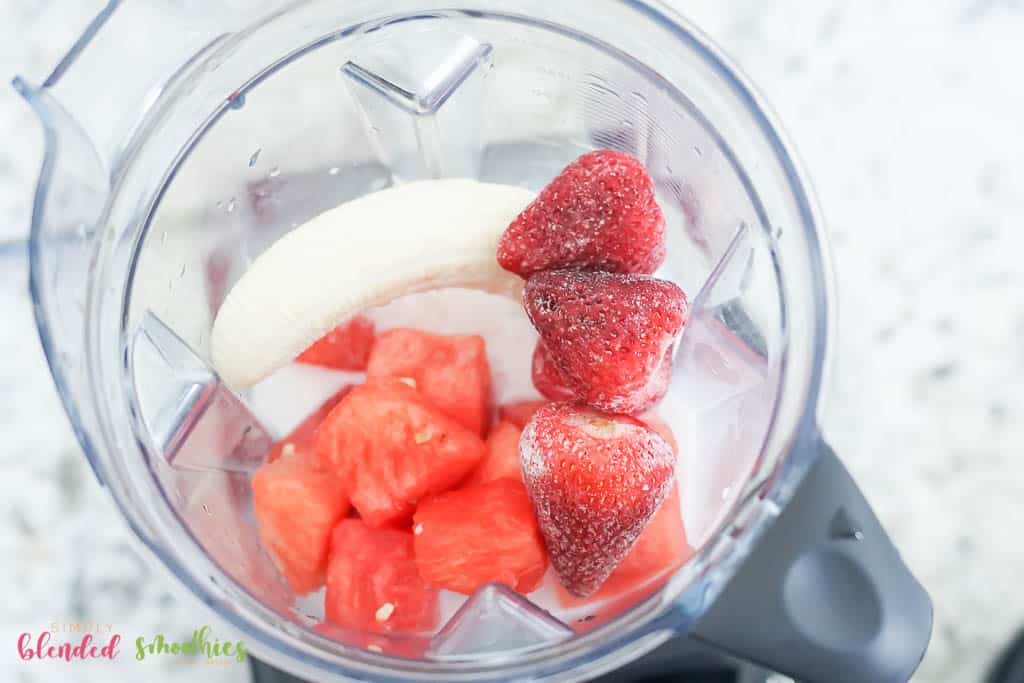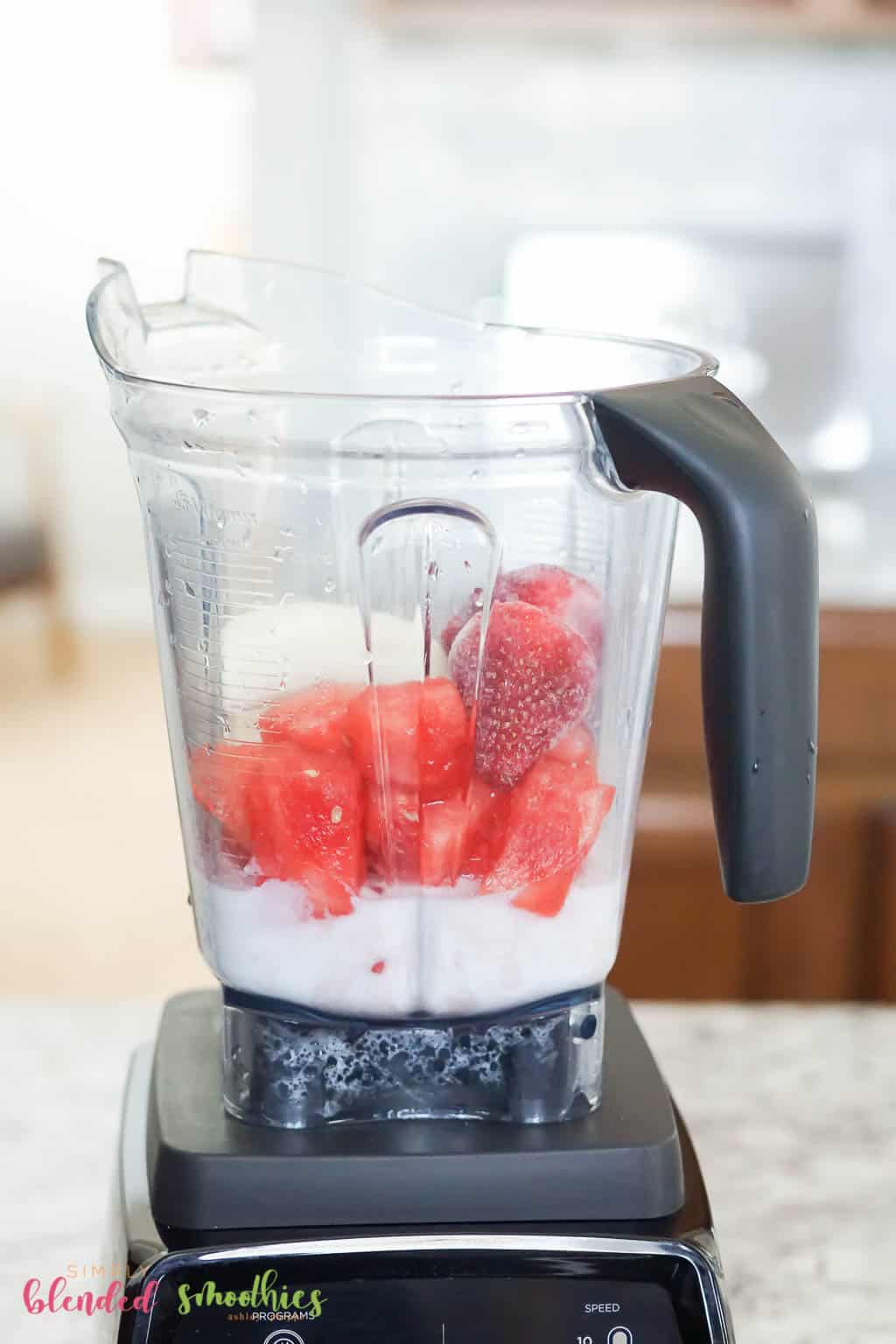 Snag the printable banana milkshake recipe below:
You might also enjoy these recipes too: