This Raspberry Banana Smoothie is the perfect combination of sweet and tart for a delicious and healthy smoothie that you can drink any time of day. My Raspberry Smoothie is delicious too...but I love the added depth that the bananas give to this raspberry banana smoothie recipe. Try it out and let me know what you think below.

Affiliate links included for your convenience. By purchasing through these links, I receive a small commission but you never pay a penny more. Thank you for supporting my blog.
Raspberry Banana Smoothie
I love making smoothies (as you already know) and raspberries are one of my favorite berries. Because fresh raspberries are often hard to find and pricey, I will often sub frozen raspberries that I can keep on hand for fresh! But either way it will be delicious.
I used frozen berries and bananas in my Banana Berry Smoothie recipe too.
Why should I make my own smoothies?
Here are 7 reasons I love to make my own smoothies instead of buying them:
I can control the ingredients.
I can adjust the recipe to my family's preferences.
I can adjust the recipe to any dietary needs.
I can minimize the sugar content by eliminating added sugars or sweeteners.
I don't add sherbert like many smoothie shops do.
It takes less time to make a smoothie at home then it does to go out and buy one.
I can save a lot of money by making smoothies myself at home.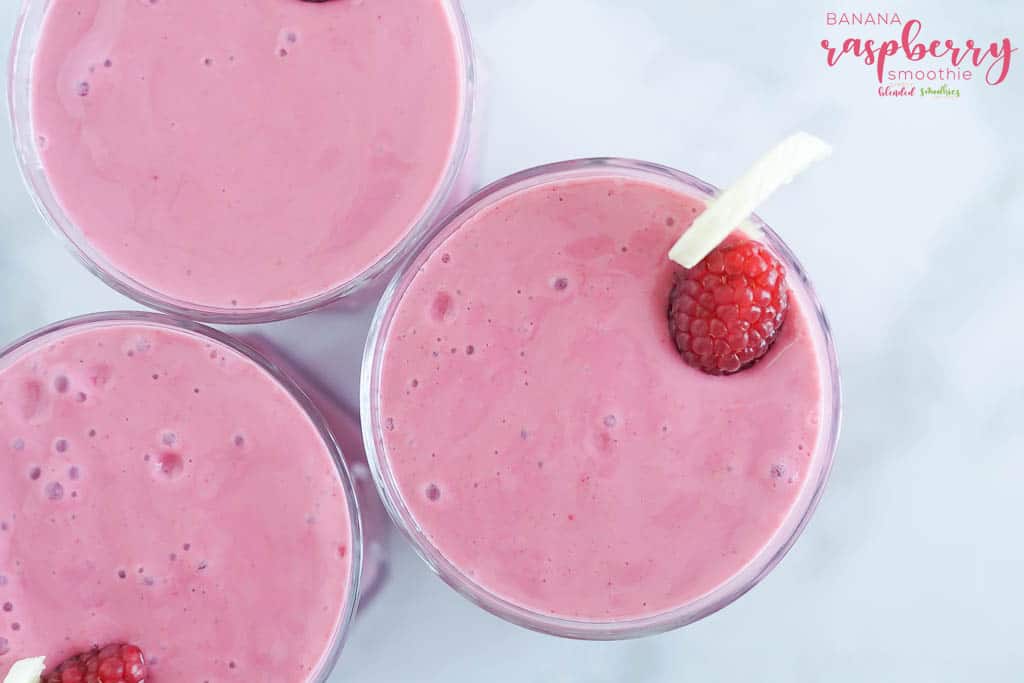 Is a raspberry banana smoothie healthy?
Depending on the ingredients, a raspberry banana smoothie can be very healthy! I love to stick with whole ingredients and ingredients that I can control so I know exactly what I am consuming and I can modify this to make it as healthy as I want to!
My Pineapple Raspberry Smoothie is also another delicious healthy smoothie recipe. But if you are looking for a not-as-healthy recipe, check out my Raspberry Chocolate Milkshake recipe too.
Is it healthier to make a smoothie or to juice?
The great thing about smoothies vs. juicing is that you still get all the fiber and nutrients from the whole fruits that you lose when juicing. Smoothies are more filling too and full of vitamins and nutrients that are great for your body.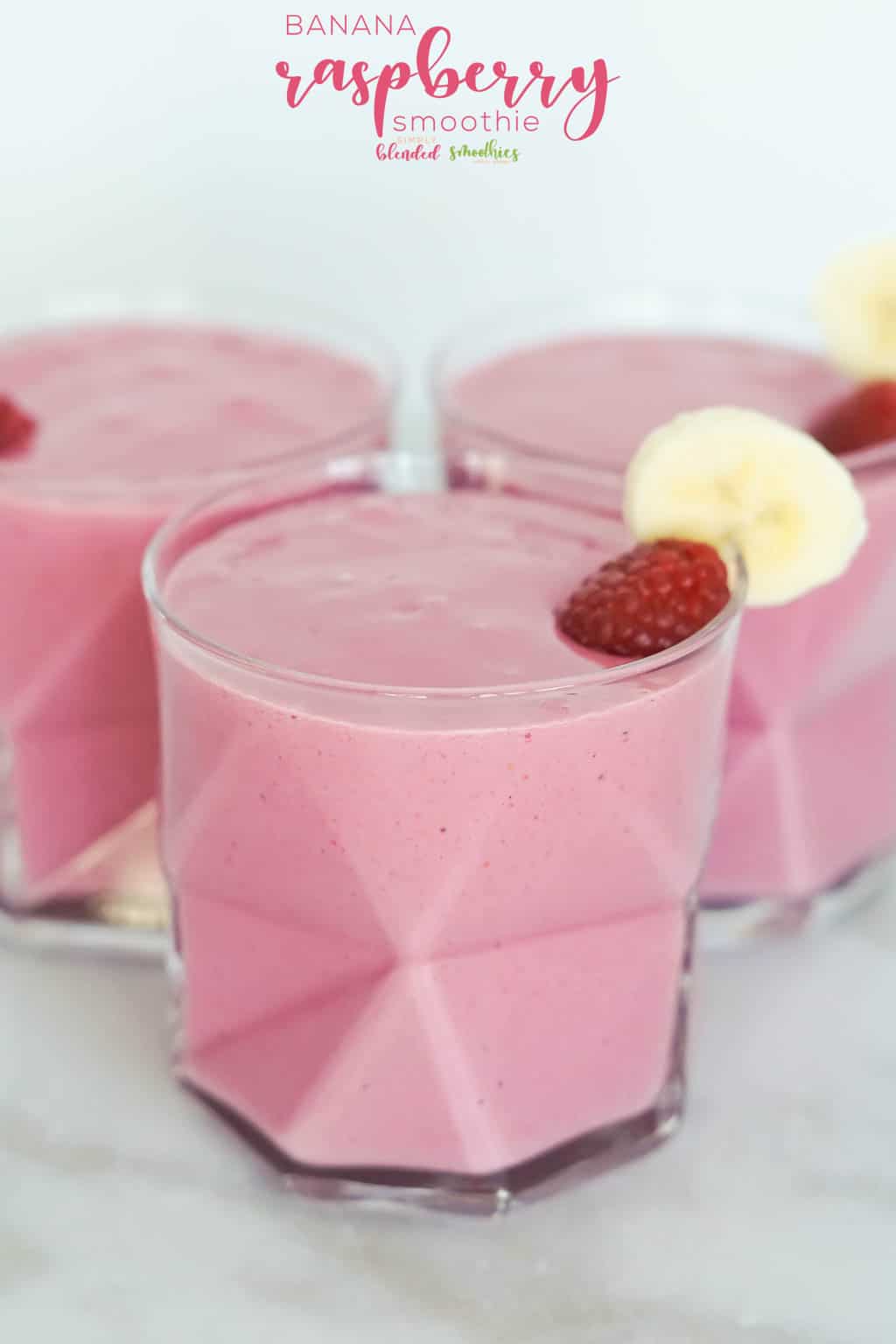 What should I make a raspberry banana smoothie?
Here are 6 reasons to make this raspberry banana smoothie asap:
It is delicious
It is sweet and tart
It is filling
It is nutritious
It is a great way to get your daily allowance of fruits
It is a great way for my children to enjoy fruits too
Should I use frozen fruit when making smoothies?
If you use frozen fruits you eliminate the need for ice in your smoothies. You also can get the same benefits of fresh fruit when you use frozen fruit. But you aren't constrained by the season.
I love using frozen fruits when making smoothies, but fresh is great too! If you use fresh, be sure to add a little ice to make the smoothie thick and cold!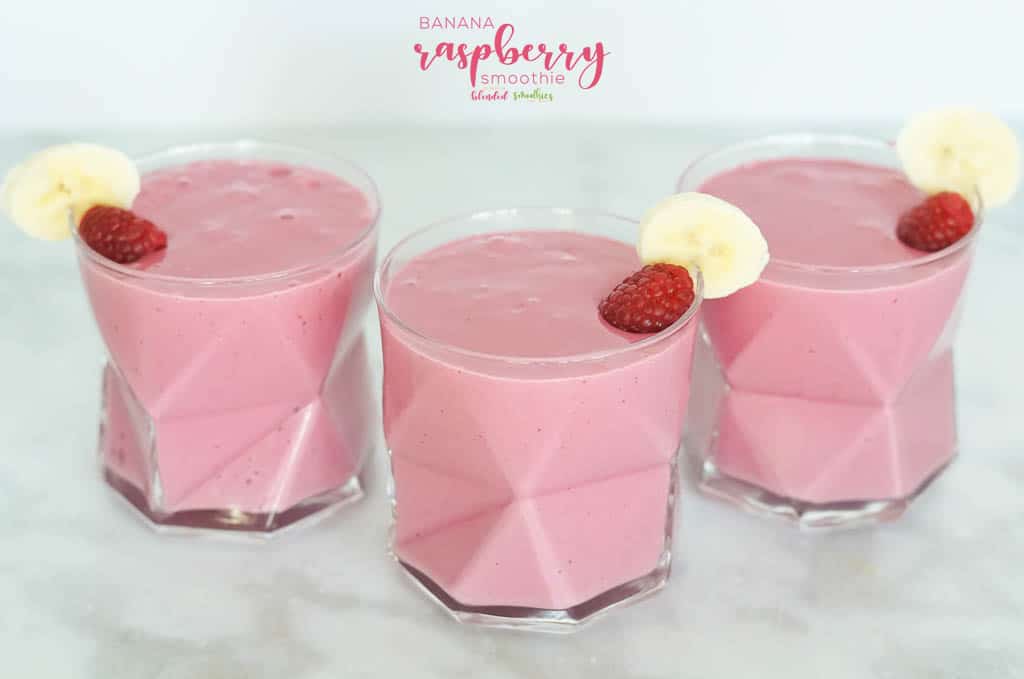 What blender is best for smoothies?
There are many blenders you can use for making smoothies, but I personally own the Vitamix 780 and think it is simply the best. I get smooth, consistent results every single time which is exactly what I want for all my smoothies! You can buy your own Vitamix 780 HERE.
Alright, are you ready to get going? This smoothie will blend together in just a few minutes and I love that I almost always have these ingredients on hand to make it.
This smoothie is a personal favorite, and I love that I can keep the ingredients on hand at all times!
How to make a Raspberry Banana Smoothie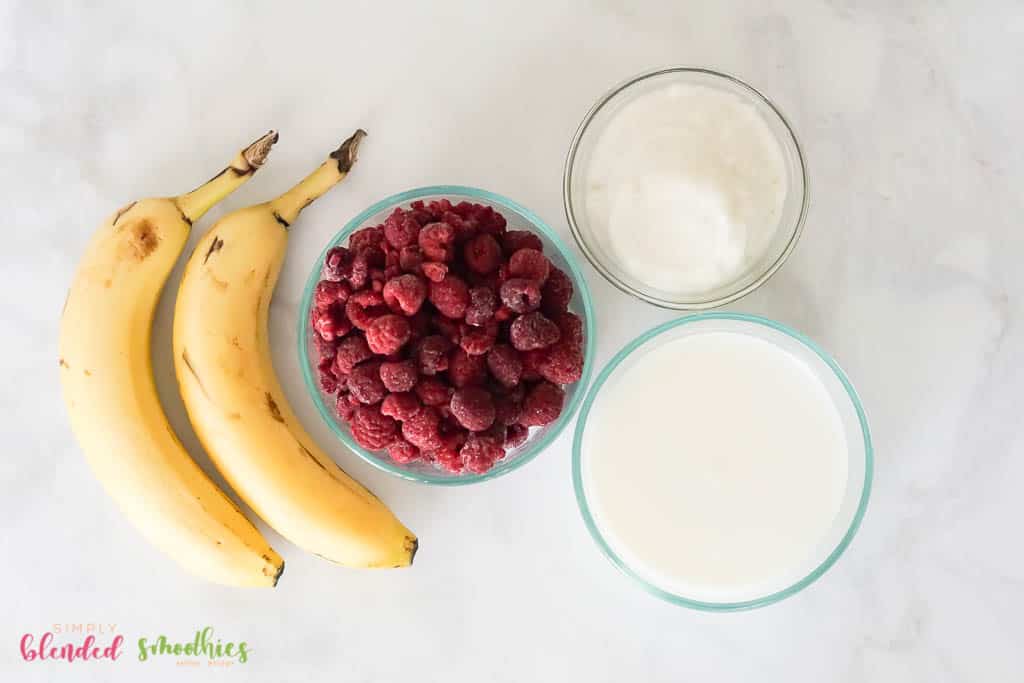 Ingredients:
2 cups Raspberries, frozen
2 Bananas, frozen
1 container Vanilla Yogurt (about 6 oz.)
2 cups Milk
Fresh raspberries and bananas (optional)
Directions:
Place all of your ingredients into your blender.
Blend until smooth.
Top with fresh raspberries and bananas if desired.
Serve immediately.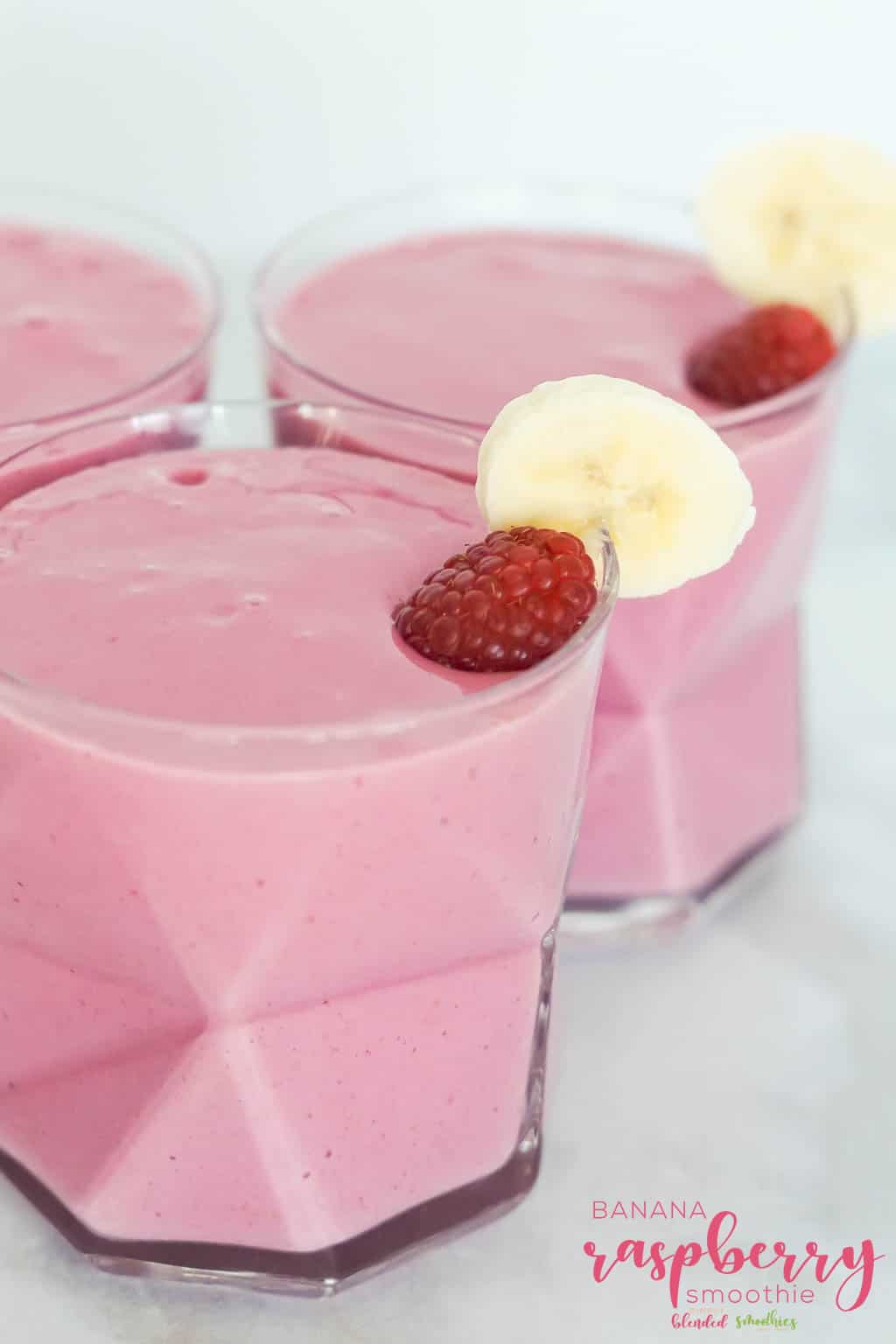 This is just the yummiest raspberry banana smoothie ever!
Snag the printable recipe below:
You might also enjoy these healthy smoothie recipes: