With kids in school, I find smoothies to be a great breakfast or afternoon snack and so today I am sharing this easy and delicious recipe for a Strawberry Banana Smoothie!
Strawberries and bananas are two things I almost always have in my house, so it is easy to whip up one of these smoothies in no time (side note: if you are missing one of those ingredients, check out my Strawberry Smoothie recipe and my Banana Smoothie recipe for an equally yummy drink!)
As usual, this smoothie recipe is easy to make, uses real, whole ingredients, is healthy for you, and is oh-so-delicious! Ready? Here we go...

Affiliate links are included for your convenience. By purchasing through these links, I receive a small commission but you never pay a penny more. Thank you for supporting my blog.
Strawberry Banana Smoothie
How do you make a strawberry banana smoothie?
It is super easy to make a banana strawberry smoothie! All you need to do is put your strawberries, bananas, milk, yogurt, and maybe ice (if your fruit is not frozen) into a blender and blend it until smooth.
You can, of course, add other ingredients if you want to mix it up, but this basic smoothie recipe is delicious and definitely a hit with my kids!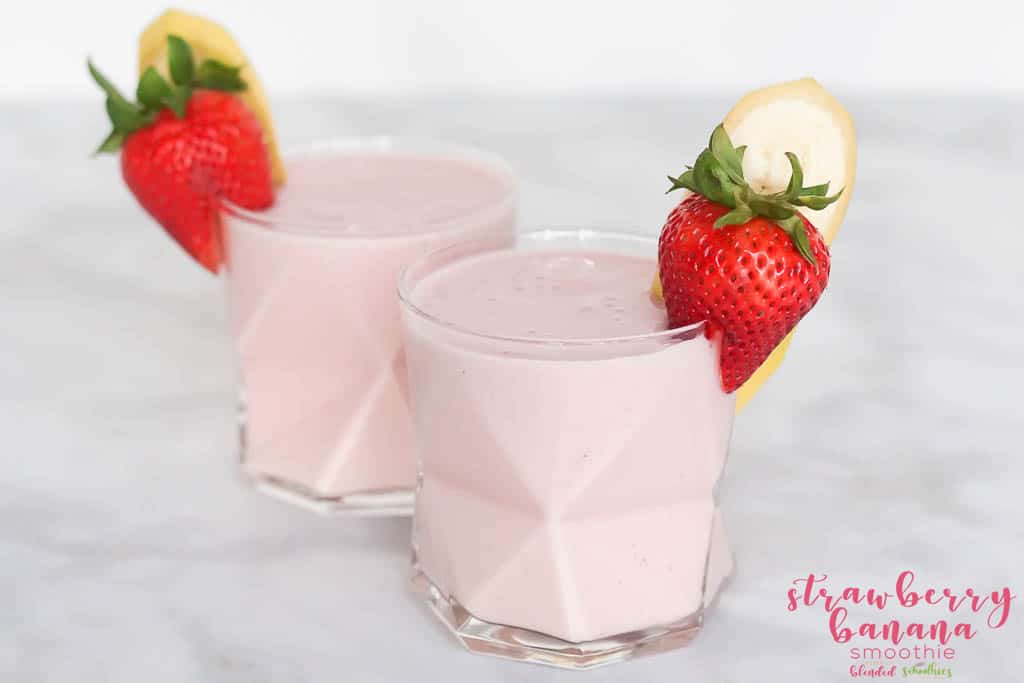 Is a strawberry and banana smoothie healthy?
Yes of course it is! Well, at least my recipe is. This is not a recipe with added sugar or weird ingredients. My recipe calls for whole fruits, which provide fiber, nutrients, and a whole lot of other healthy things for your body, milk (hello calcium and protein) and yogurt which adds more calcium and protein to your smoothie.
But if you choose to use another strawberry banana smoothie recipe, it may contain other ingredients that make it not as healthy.
If you are concerned about added sugars because of the yogurt, I suggest getting a greek style yogurt. Or you can just go ahead and skip the yogurt. Your smoothie won't be quite as creamy, but it will still be delicious and healthy.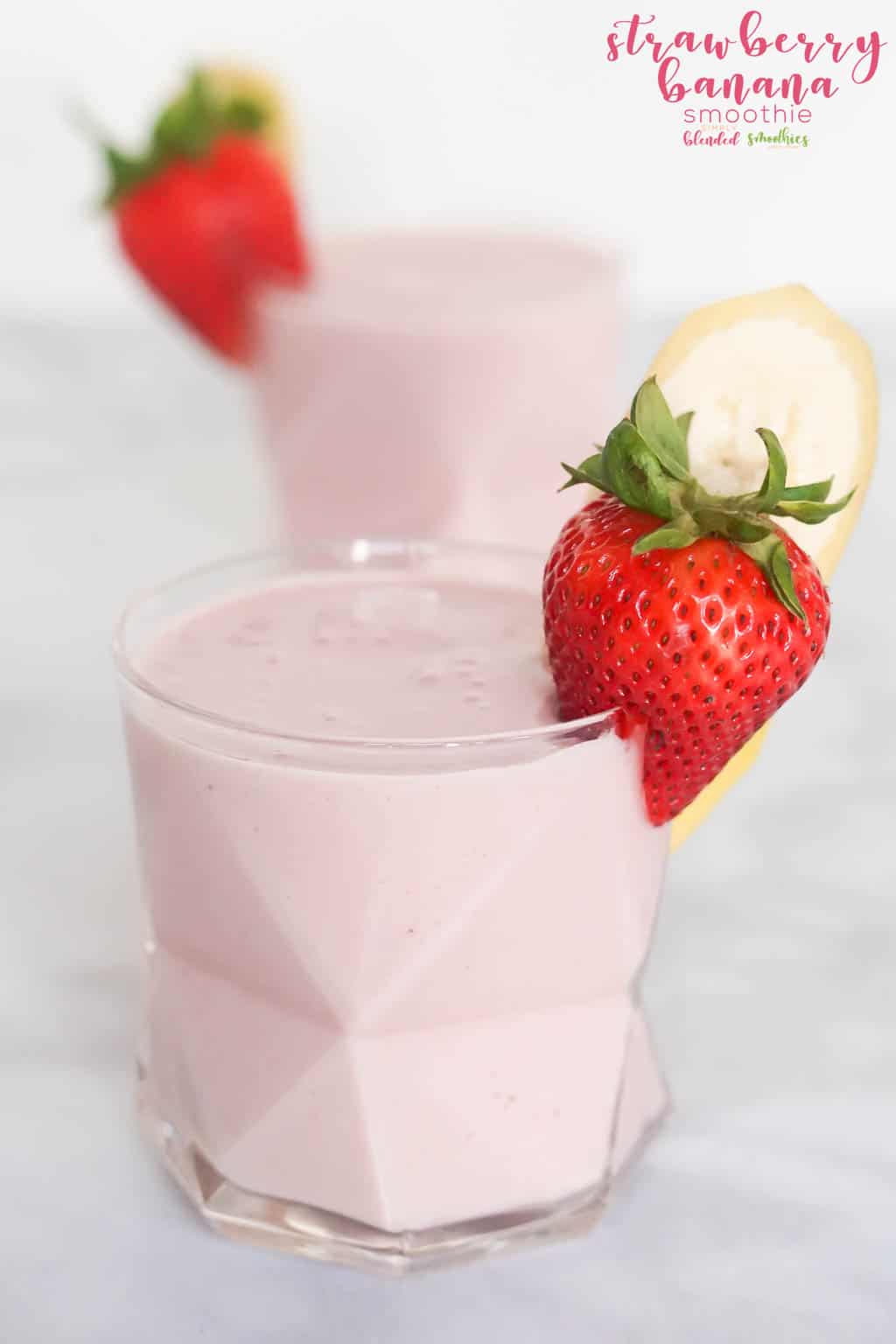 Can you make a smoothie without ice?
Oh yes!! I love to use frozen fruits or vegetables in my smoothies to keep the smoothie cold, thick and negate the need for ice. If you are working with fresh fruits/vegetables, you will want to add ice to make your drink cold and thick. But frozen fruit is a great way to make a smoothie without the ice!
Having said that, ice is not a bad thing! I love using fresh fruit when I have it available and when I do, I just add ice and it makes the smoothie nice and thick. I don't find that it waters it down or makes the smoothie any less delicious. It is just a different way to make it depending on what ingredients you have.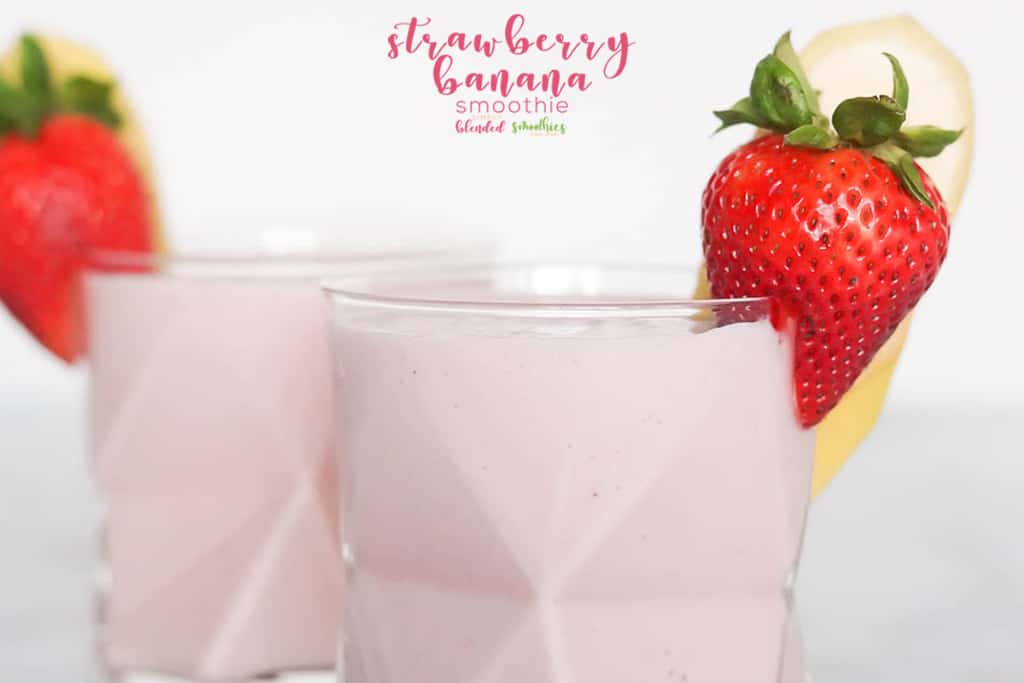 What do I use to make smoothies?
There are many blenders you can use for making smoothies and milkshakes, but I personally own the Vitamix 780 and think it is simply the best. I get smooth, consistent results every single time which is exactly what I want for all my smoothies! You can buy your own Vitamix 780 HERE.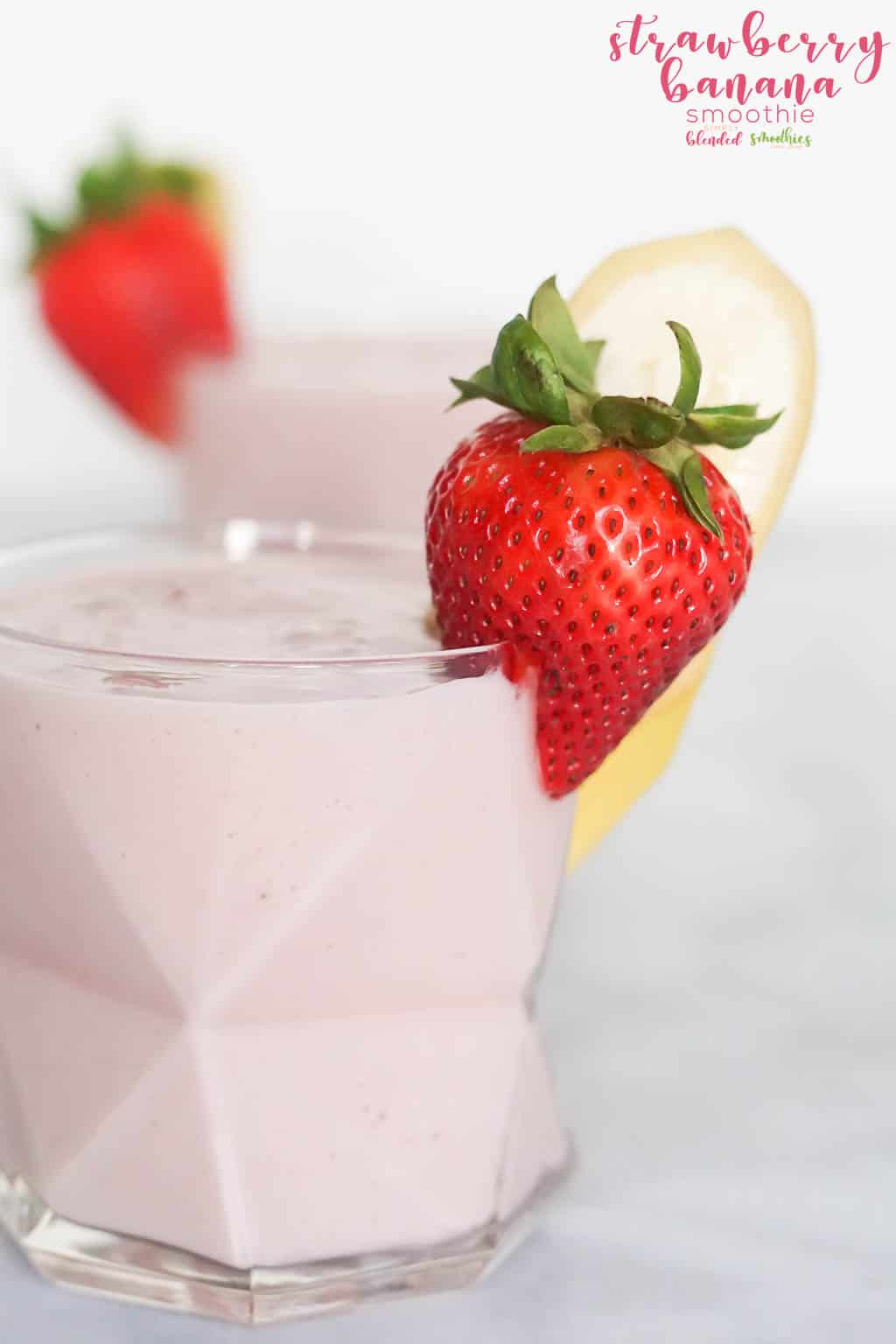 Are you ready for the full recipe? Ok. Let's go.
Banana Strawberry Smoothie Recipe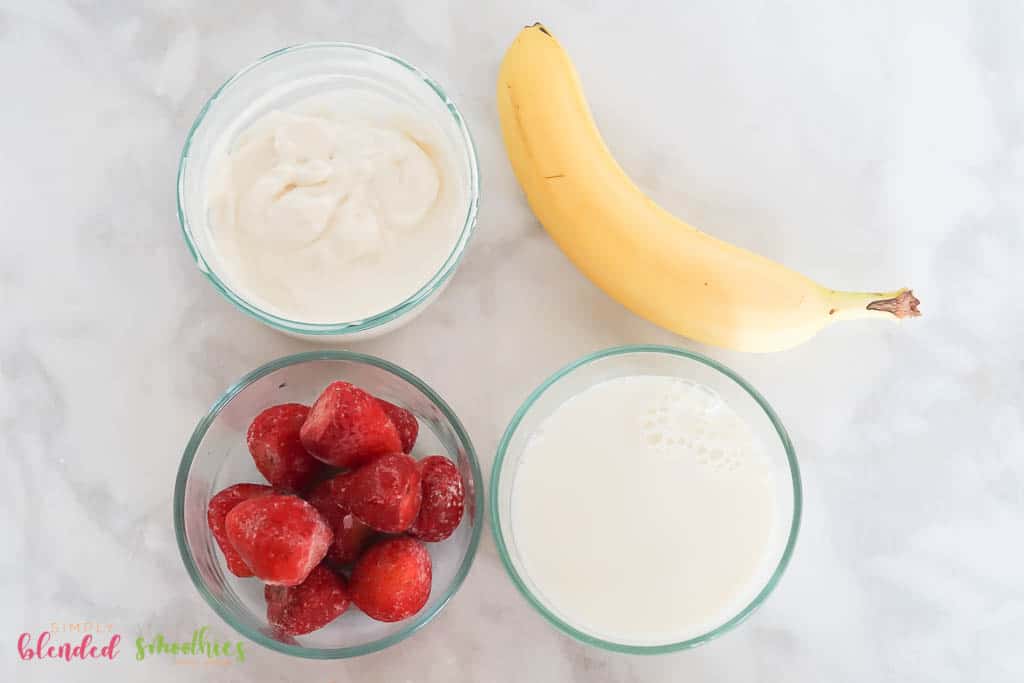 Ingredients:
1 cup Strawberries (frozen)
1 Banana (frozen or fresh)
¾ cup Milk
5 oz. Vanilla Yogurt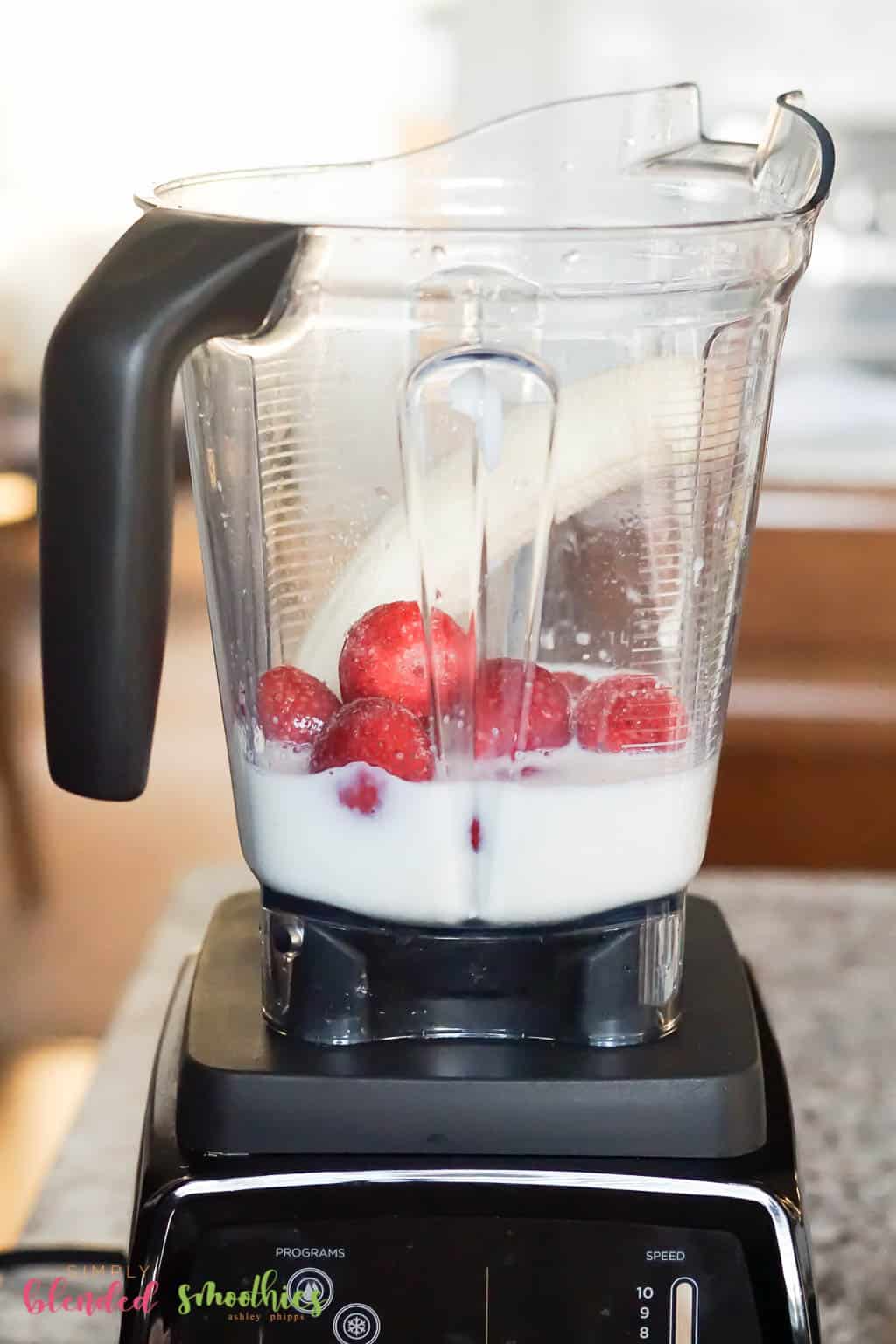 Directions:
Place all of your ingredients into your blender.
Blend until smooth.
Pour into a glass and top with additional fruit if desired.
Serve immediately.
Snag the printable strawberry banana smoothie recipe below...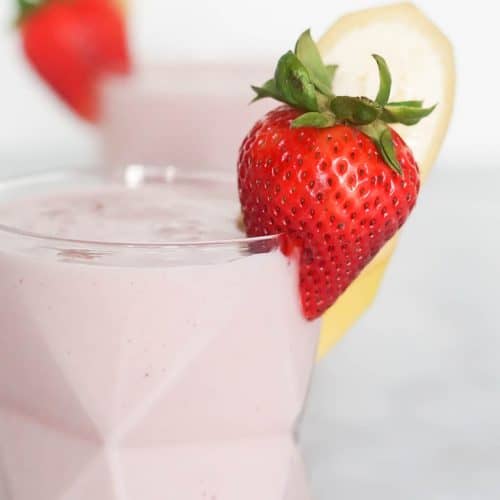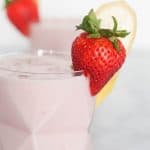 Strawberry Banana Smoothie Recipe
Course:
Breakfast, Drinks
Keyword:
banana smoothie, smoothie recipe, smoothies, strawberry banana smoothie, strawberry smoothie
Ingredients
1

cup

Strawberries

frozen

1

Banana

frozen or fresh

¾

cup

Milk

5

oz.

Vanilla Yogurt
Instructions
Place all of your ingredients into your blender.

Blend until smooth.

Pour into a glass and top with additional fruit if desired.

Serve immediately.
If you liked this strawberry banana smoothie recipe, you might also enjoy these smoothie recipes: