This healthy blackberry smoothie is a delicious and filling way to drink your fruits. It is perfect for breakfast, brunch or an afternoon snack. And if you love Berry Smoothies as much as I do, you should definitely check out my Raspberry Smoothie too. But for now, keep reading for all the details on my delicious and healthy Blackberry Smoothie!

Affiliate links included for your convenience. By purchasing through these links, I receive a small commission but you never pay a penny more. Thank you for supporting my blog.
Blackberry Smoothie
A delicious berry smoothie is a great way to start your morning! Blackberries are one of my favorite berries and so when they came in season this year, I couldn't help but eat them by the pint!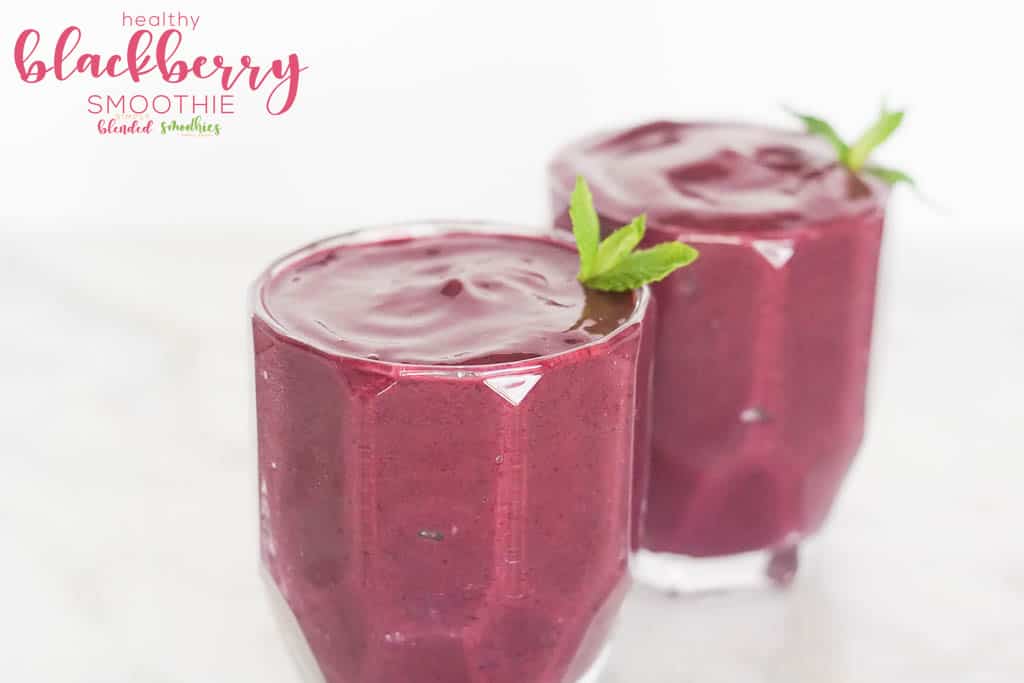 Can I freeze fresh blackberries?
Yes, you certainly can freeze fresh blackberries! When blackberries come in season, I also love to stash a few pints in my freezer for later! You simply put them on a cookie sheet, let them freeze, and then once they are frozen, you can put them into a freezer-safe zipper bag for later.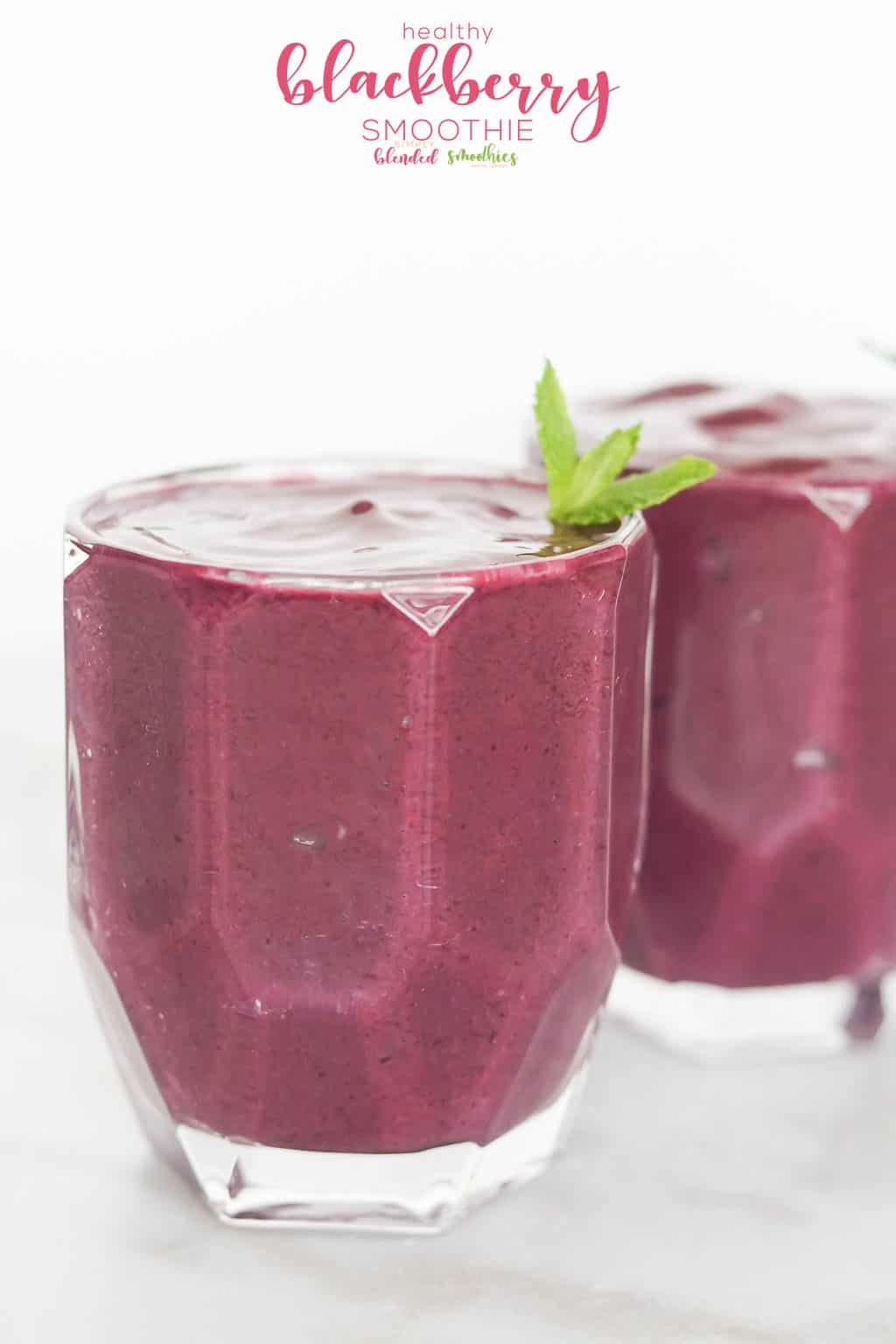 Can you blend blackberries?
Of course, you can blend blackberries! Simply add them to the rest of your smoothie ingredients and blend together until smooth. Blackberries like all berries may leave a few seeds behind, but if you have a high-powered blender (I love my Vitamix 780), you should be able to create a very smooth smoothie without any bits or seeds.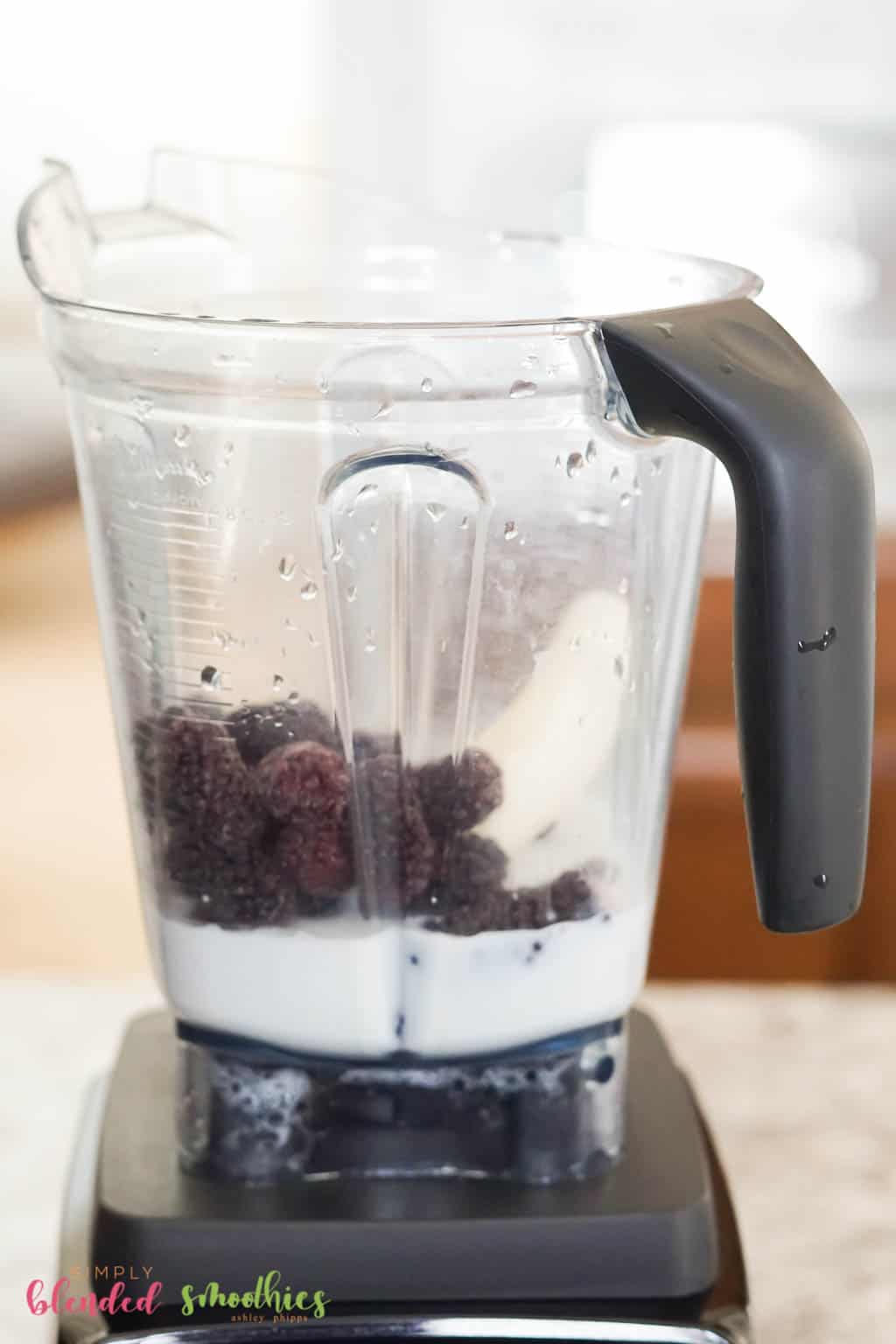 Are blackberries good for you?
Yes, blackberries are very good for you! They are high in antioxidants and contain vitamins A, C, E, and B. They also have potassium, magnesium, and calcium. Blackberries are very good for you and are a great fruit to incorporate into your regular diet.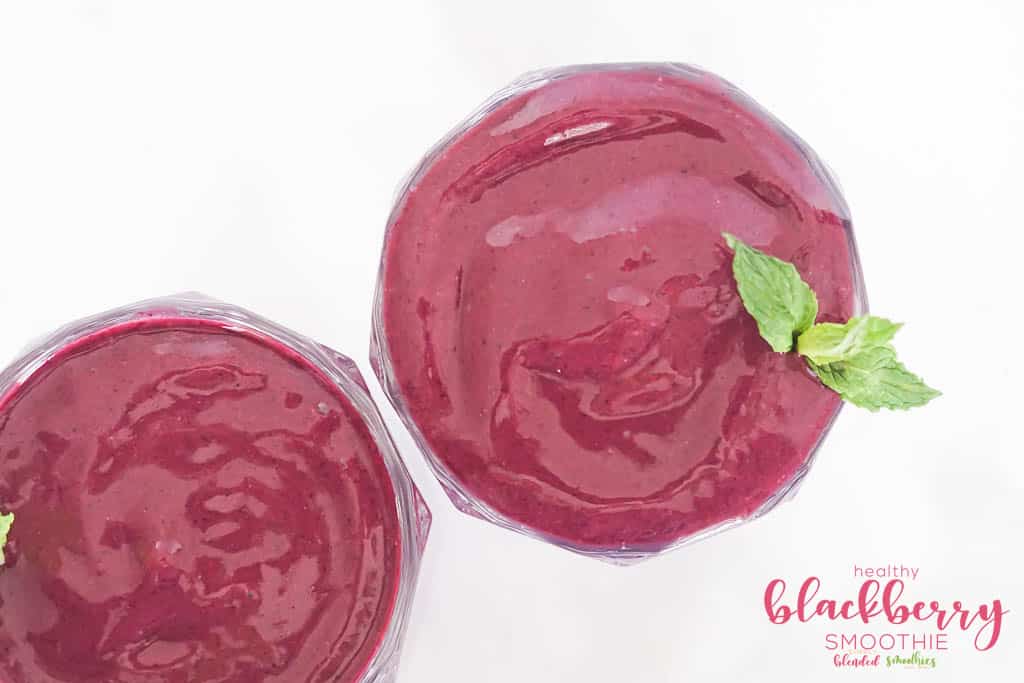 What are blackberries and blueberries good for?
Blackberries and blueberries are amazing in smoothies of course! They are also yummy to eat on their own, or on top of a big bowl of ice cream! You should check out my Blueberry Banana Smoothie recipe HERE and of course, keep reading for my Blackberry Smoothie Recipe below.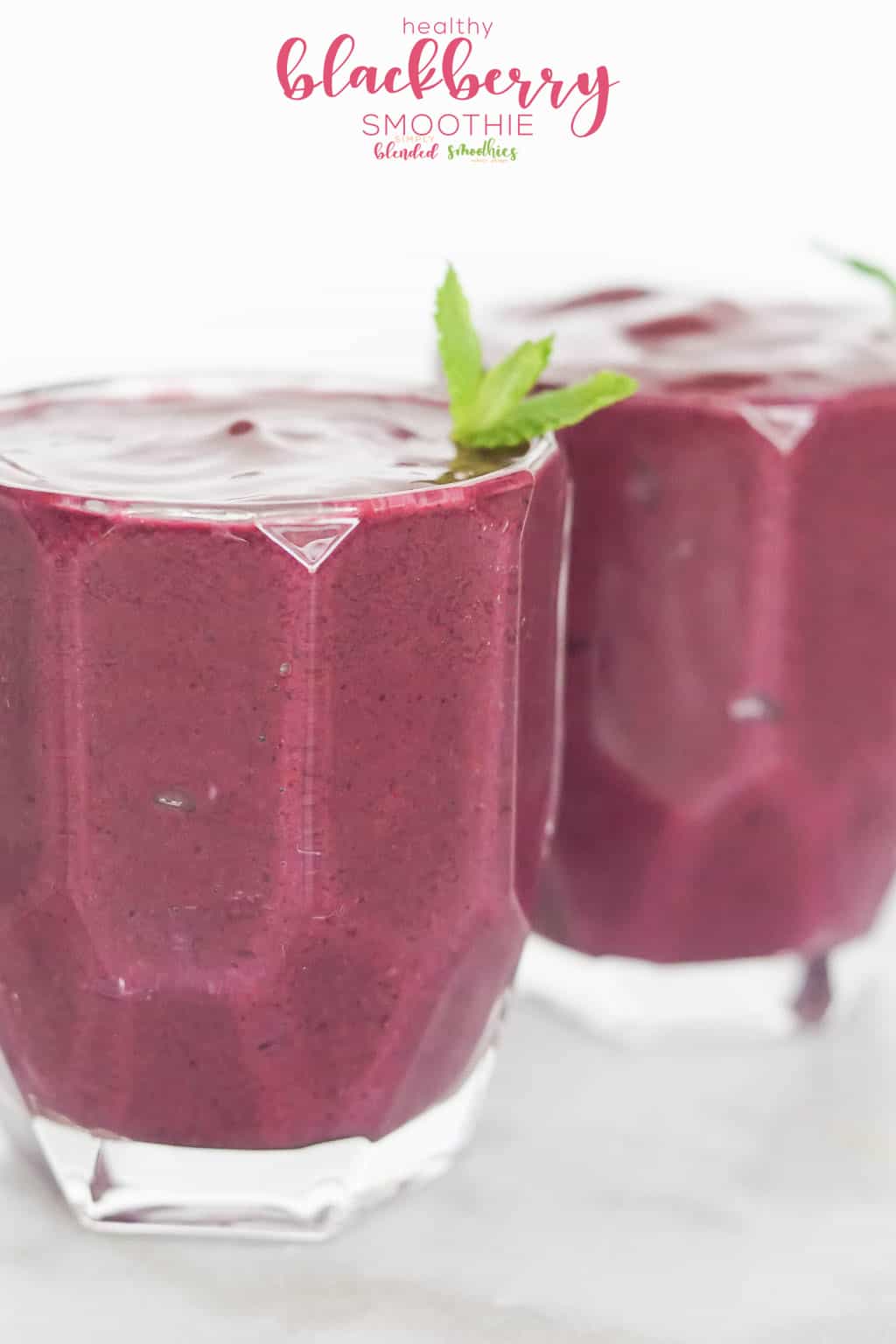 What are the benefits of a berry smoothie?
Berry smoothies have many benefits, here are just a few:
Low-calorie food
High fiber food
High antioxidant food
High in calcium
High in vitamins
High in potassium
What blender is best for smoothies?
There are many blenders you can use for making smoothies, but I personally own the Vitamix 780 and think it is simply the best. I get smooth, consistent results every single time which is exactly what I want for all my smoothies! You can buy your own Vitamix 780 HERE.
Alright, are you ready to get going? This smoothie will blend together in just a few minutes and I love that I almost always have these ingredients on hand to make it.
This Blackberry Smoothie is a personal favorite, and I love that I can keep the ingredients on hand at all times!
Blackberry Smoothie Recipe

Ingredients for a blackberry smoothie:
2 cups frozen Blackberries
2 Banana (frozen if possible)
2 cups Unsweetened Dairy-Free Coconutmilk
Fresh mint (optional)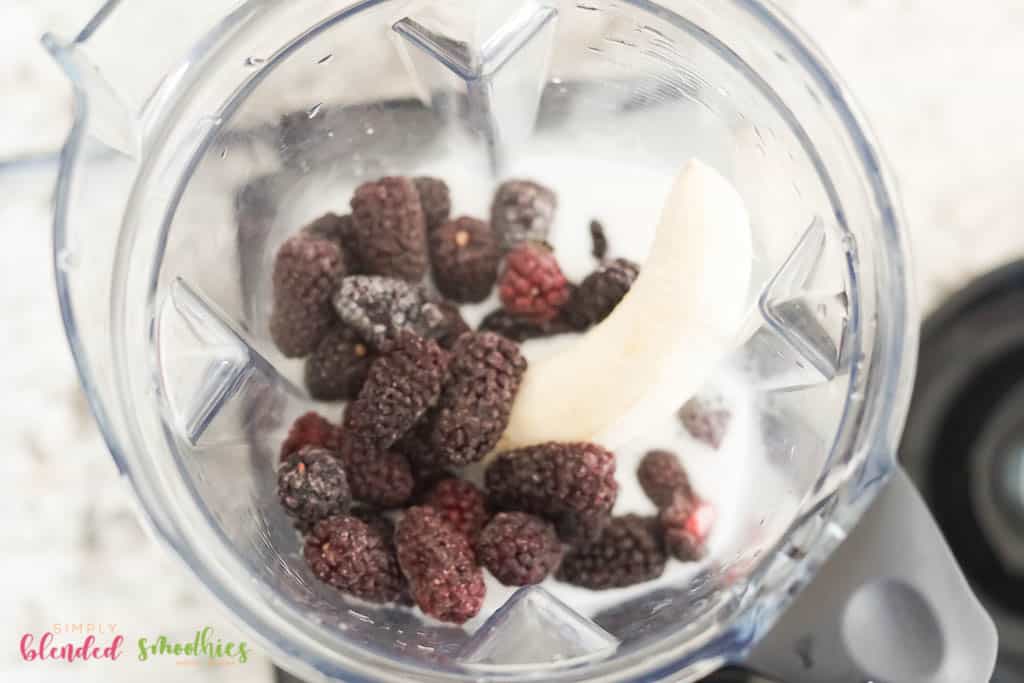 How to make a blackberry smoothie:
Place all of your ingredients into your blender.
Blend until smooth.
Top with a sprig of mint if desired.
Serve immediately.
This is just the yummiest blackberry smoothie ever!
You might also enjoy these healthy smoothie recipes: