I realized that I have had a bit too much fun sharing milkshake recipes the last few weeks, so it's time to get healthy again and share this scrumptious but quite healthy Peanut Butter Banana Smoothie recipe with you. This smoothie has a rich peanut butter and banana flavor to it, it reminds me of PJ and Banana sandwiches. It is oh-so-delicious and I dare say, the BEST PB Banana Smoothie ever! Keep reading for the full details and recipe.

Affiliate links included for your convenience. By purchasing through these links, I receive a small commission but you never pay a penny more. Thank you for supporting my blog.
Peanut Butter Banana Smoothie
This peanut butter banana smoothie is a great way to add some delicious protein into your day. Whether you drink this for breakfast, brunch, a mid-afternoon snack or for dessert, it is filling and super healthy for you.
I love that this smoothie isn't overly sweet. It is perfect for when you need a little extra boost in your day, but don't feel like fruit or anything too sweet.
So let's answer a few commonly asked questions before we get to the PB Banana Smoothie recipe.
Are banana smoothies healthy?
All smoothies are as healthy as the ingredients you put into them. If you choose to put whole foods and healthy ingredients into your smoothie, it will be healthy! If you load it up with sugars and syrups, it will not be healthy.
But generally speaking, banana smoothies are quite healthy. Here are a few more of my favorite banana smoothie recipes:
And it's not a smoothie recipe, but this Banana Milkshake recipe is delicious too!

Can I blend banana and milk?
Yes, you can blend banana and milk. I use bananas in a lot of my smoothies and even have a smoothie recipe that is strictly bananas and milk (and a few other minor ingredients) and they all taste delicious and are so easy to make. Bananas make a great natural sweetener for any smoothie and work on their own as well. Bananas and milk work perfectly together in a smoothie.
Can I put peanut butter in a blender?
Yes you can put peanut butter in a blender, but I would follow these guidelines so you don't end up with a mess:
Place peanut butter in after your liquid is already added
Place peanut butter on top of other ingredients if possible
Try not to let the peanut butter touch the side of your blender
Have a spatula handy and scrap the blender down halfway through blending to ensure that it gets blended together well
Use a high powered blender so that it mixes well with your other ingredients (I like this blender HERE)

Is smoothie for breakfast healthy?
Smoothies can be a very healthy breakfast as long as the ingredients you use are healthy! A smoothie like this one is really great for breakfast because peanut butter can help to keep you full for a long time and the banana adds a natural sweetness along with many vitamins and minerals that your body needs!
Do you put ice in smoothies?
I love to use frozen fruits and vegetables in my smoothies. But if I don't have any frozen foods available and I am using fresh instead, I always add ice to my smoothies. Ice helps to thicken smoothies and make them cold. Ice is an easy addition to any smoothie that needs thickening and cooling.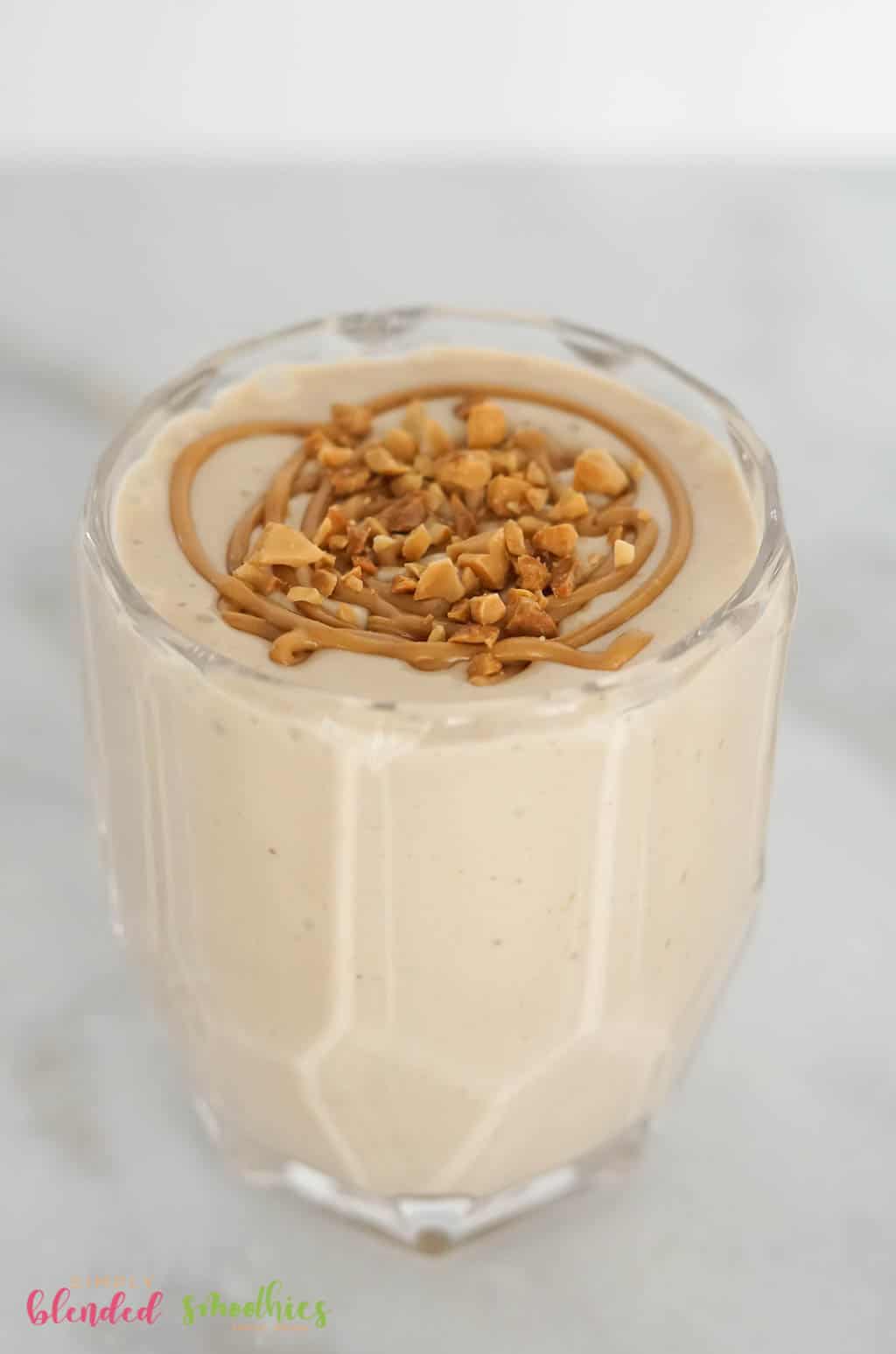 What blender is best for smoothies and milkshakes?
There are many blenders you can use for making smoothies, milkshakes and frozen drinks, but I personally own the Vitamix 780 and think it is simply the best. I get smooth, consistent results every single time which is exactly what I want for all my drinks! You can buy your own Vitamix 780 HERE. It is my favorite and I know you will love it too!
Ready for this amazing recipe? Ok. Let's go!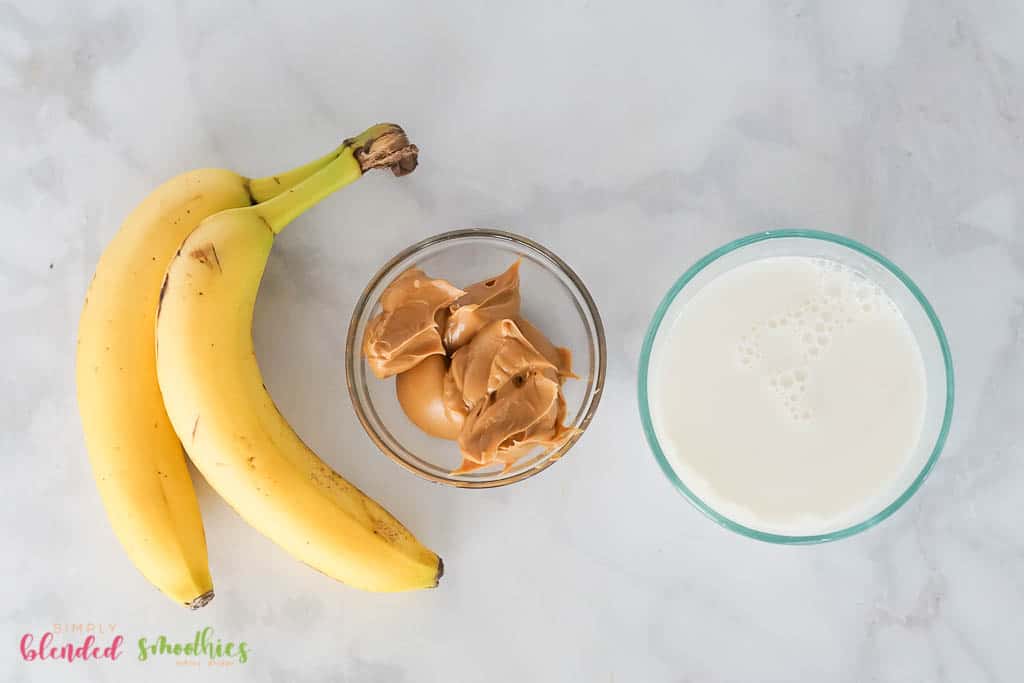 Peanut Butter Banana Smoothie Recipe
Ingredients:
2 Bananas, frozen
6 Tablespoons Peanut Butter
1 cup Milk
Ice, if needed
Warmed Peanut Butter, optional
Crushed Peanuts, optional
Directions:
Place bananas, milk, and peanut butter into your blender.
Blend until smooth, stopping halfway through to scrape the sides of your blender.
Add ice if needed to help your smoothie be cold and thick.
Top with crushed peanuts and warmed peanut butter if desired.
Snag the printable recipe below:
You might also enjoy these recipes: