This Eggnog Milkshake recipe is rich, creamy and the perfect way to enjoy a cold dessert treat that tastes just like the holidays! My Peppermint Shake Recipe is also another holiday favorite you should check out. Keep reading for all the details.

Affiliate links included for your convenience. By purchasing through these links, I receive a small commission but you never pay a penny more. Thank you for supporting my blog.
Eggnog Milkshake
My son tried this milkshake and said: "I give this a 10 out of 10!" And I have to admit, I agree with him.
This recipe is rich, creamy and oh-so-delicious. It has a strong (but not too strong) eggnog flavor and the perfect hint of cinnamon and nutmeg that accentuate this wintery goodness.
But instead of being a thicker-milk drink to drink, I have use eggnog as the base of a very tasty eggnog milkshake that I am sure you will love.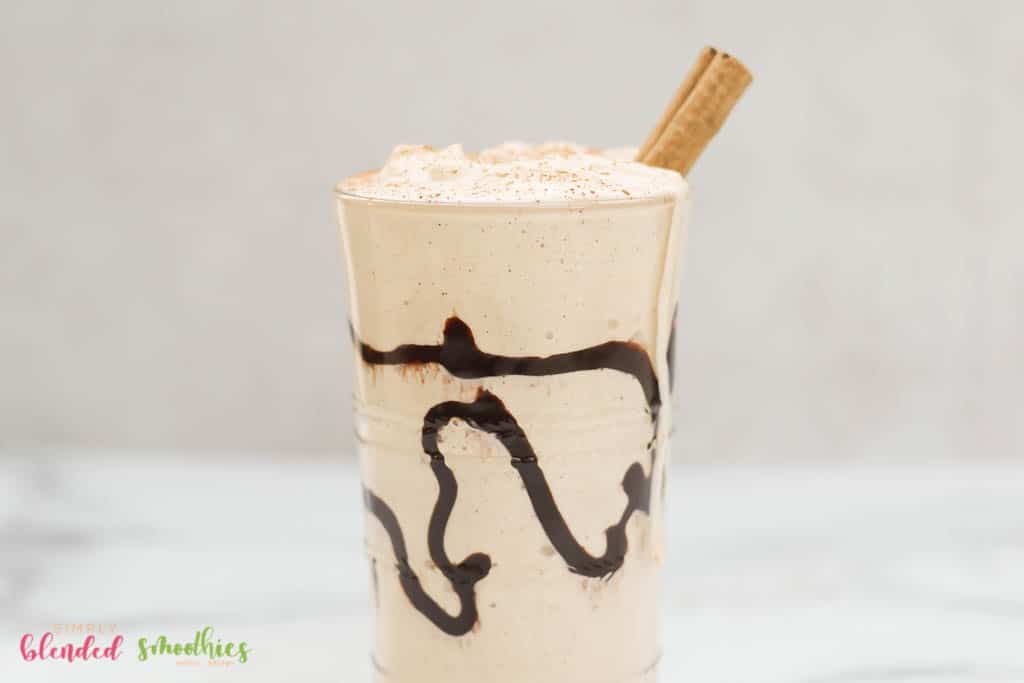 Is this a boozy eggnog milkshake?
The recipe I am sharing today is not for a boozy eggnog milkshake. I actually don't drink alcohol. But if you do, replace the milk (or part of it) with the alcohol of your choice and enjoy.
Can you get drunk off of eggnog?
Only if you add alcohol to it! The eggnog that you buy in the dairy department of your local grocery store does not contain alcohol. But many people will mix alcohol with their eggnog before serving it. This eggnog milkshake recipe does not contain alcohol and therefore will not get you drunk.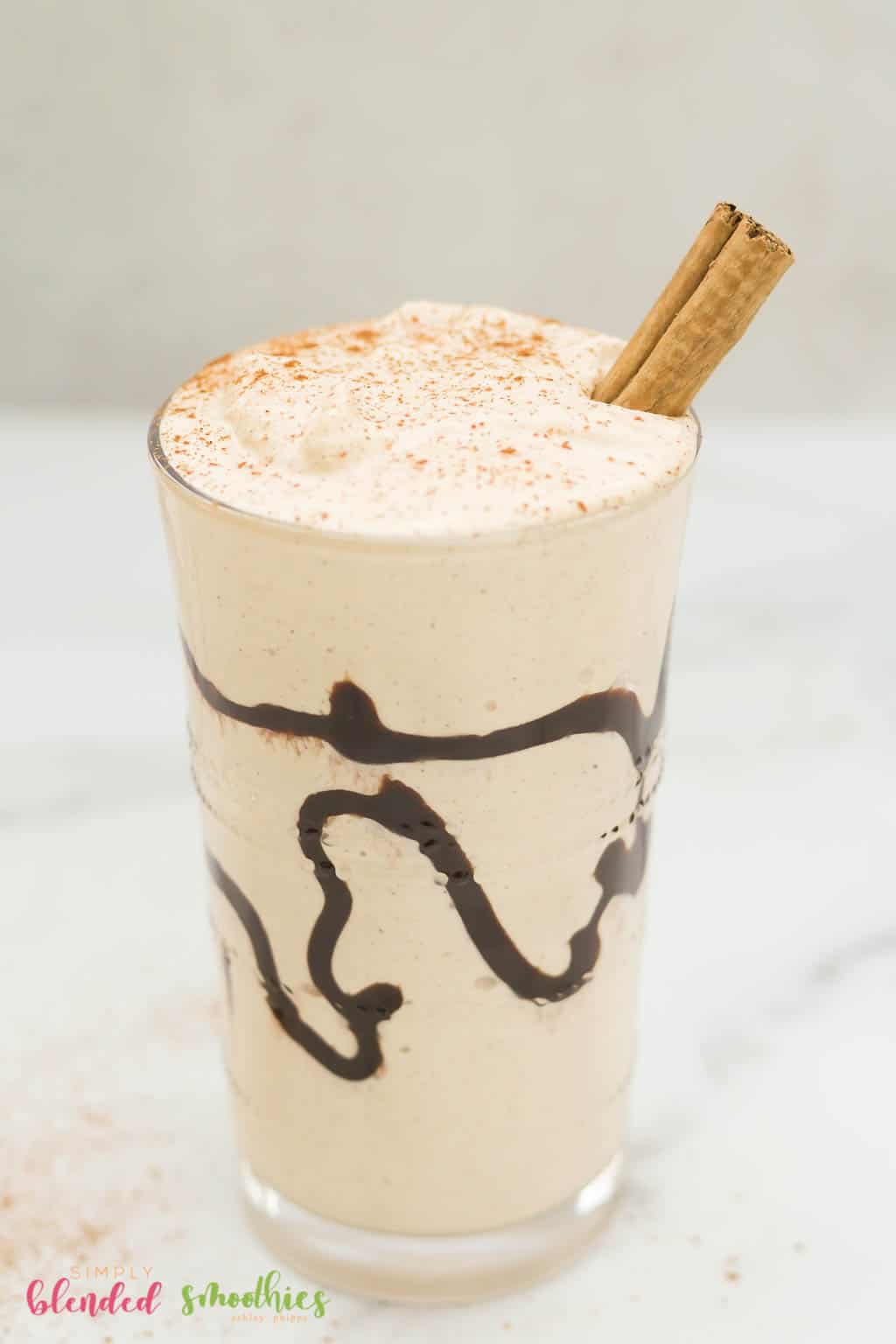 Is this a chocolate eggnog milkshake?
I have drizzled a little bit of chocolate syrup on the inside of my cup, but there is no other chocolate in this milkshake. You can leave this out, or add more if you prefer! Chocolate and eggnog is a delicious combination, but the eggnog milkshake by itself is so super yummy.
When can I buy eggnog?
Typically I start seeing eggnog at my local grocery store in October! It may vary a little big region by region, and even year to year, but typically the month of October is when it becomes widely available.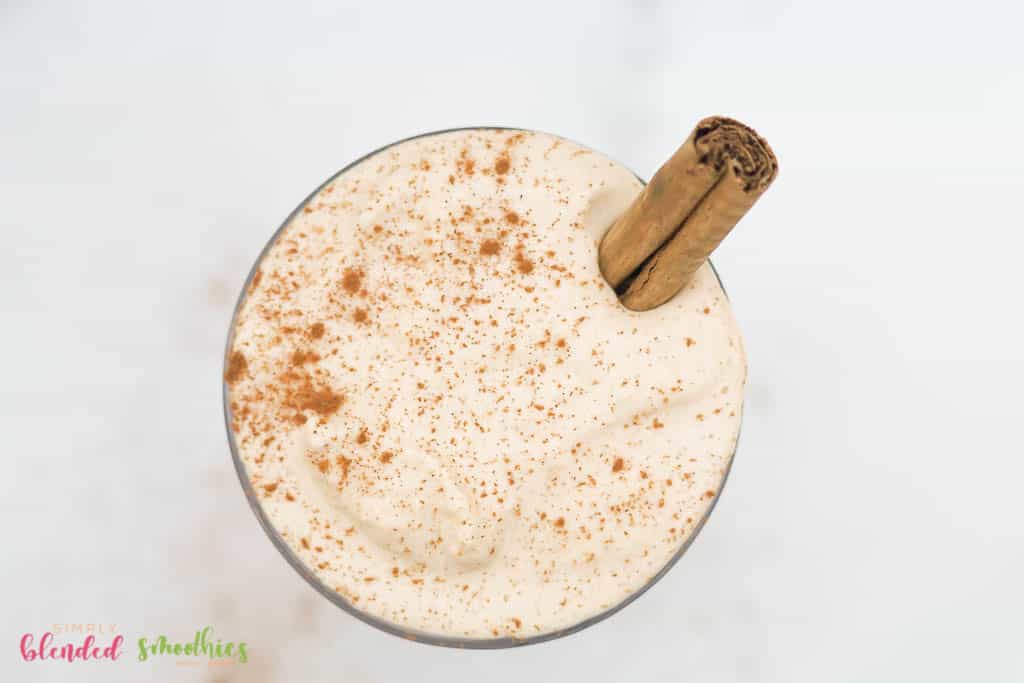 Is eggnog served hot or cold?
Eggnog is served both hot and cold. Traditionally it was a hot drink served to help keep people warm. But often you will find it served cold nowadays. Either way is delicious and tasty.
Does this eggnog milkshake contain ice cream?
Yes, it does. The base of all milkshakes is ice cream and this one is no different. I have used vanilla ice cream for this recipe. But if you can find eggnog flavored ice cream, you can sub that out for an even richer milkshake.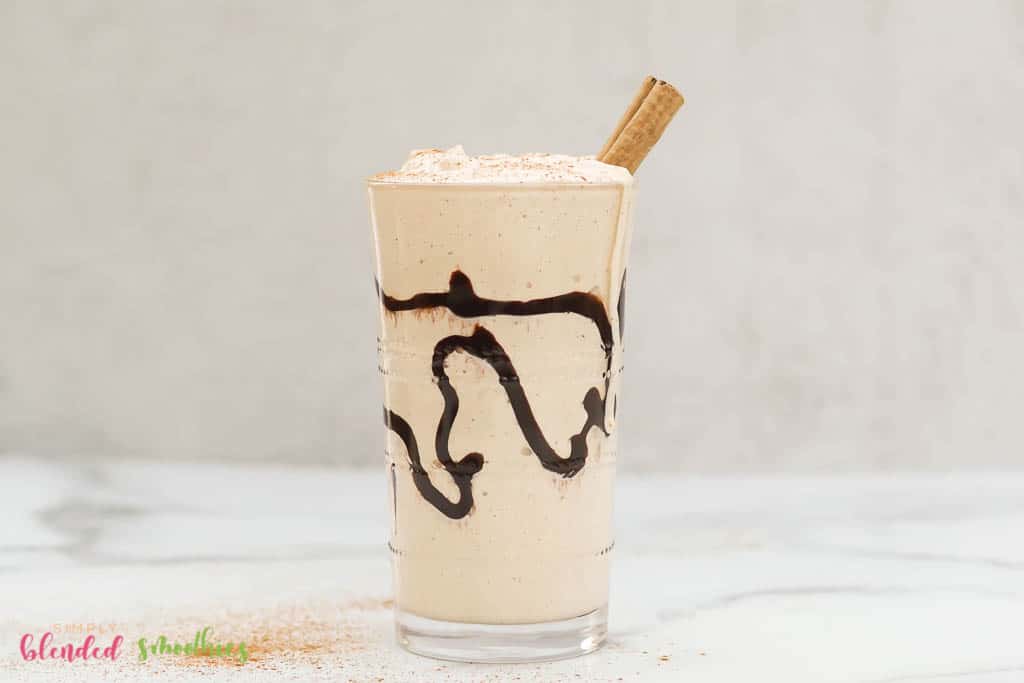 Is eggnog bad for you?
One cup of eggnog typically contains around 350 calories making it not the most healthy thing to drink. Is it delicious? Yes. It is healthy for you, not really.
Is an eggnog milkshake bad for you?
Because one cup of eggnog typically contains around 350 calories, and ice cream isn't exactly the most calorie-free dessert either, this is NOT a healthy recipe. Eggnog milkshakes should be consumed because they are delicious. But only in moderation as they are a treat, not a staple of your diet.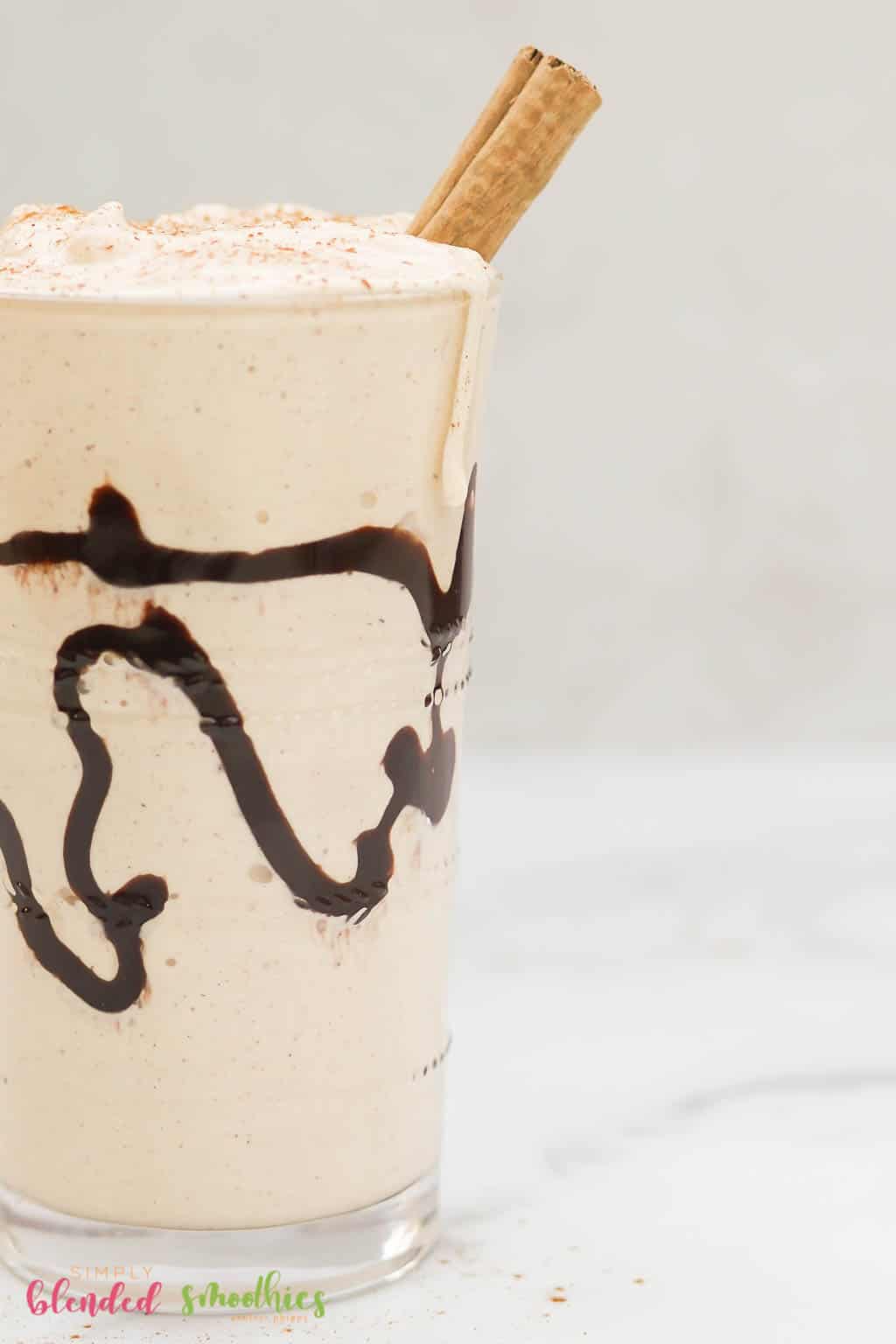 What blender is best for smoothies and milkshakes?
There are many blenders you can use for making smoothies and milkshakes, but I personally own the Vitamix 780 and think it is simply the best. I get smooth, consistent results every single time which is exactly what I want for all my smoothies! You can buy your own Vitamix 780 HERE.
If you are hoping to make a milkshake and keep any bits and pieces in it, I do not recommend using a blender. I recommend snagging this milkshake maker because of its good ratings and reasonable price: Classic DrinkMaker.
It is not a commercial milkshake maker, but it gets the job done at a fraction of the cost and is better for making milkshakes then a blender if you want to keep the integrity of color and if you want a thicker shake.
But first...a GIVEAWAY!
Before I get to the actual recipe of this delicious holiday milkshake, I wanted to let you know that at the end of this post, I have collaborated with a few amazing blogging friends to offer you an amazing giveaway! Be sure to scroll down to enter to win!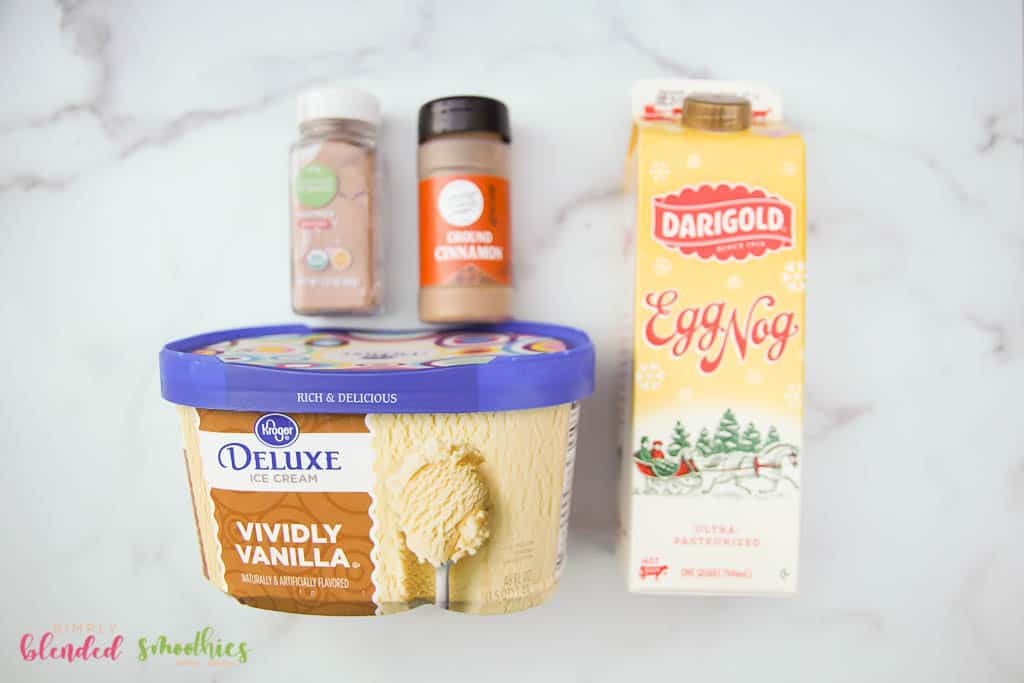 Eggnog Milkshake Recipe
Ingredients:
6 scoops Vanilla Ice Cream
1 cup Eggnog
½ teaspoon Ground Nutmeg
½ teaspoon Cinnamon (plus more for garnish)
Cinnamon Stick (optional for garnish)
Chocolate Syrup (optional)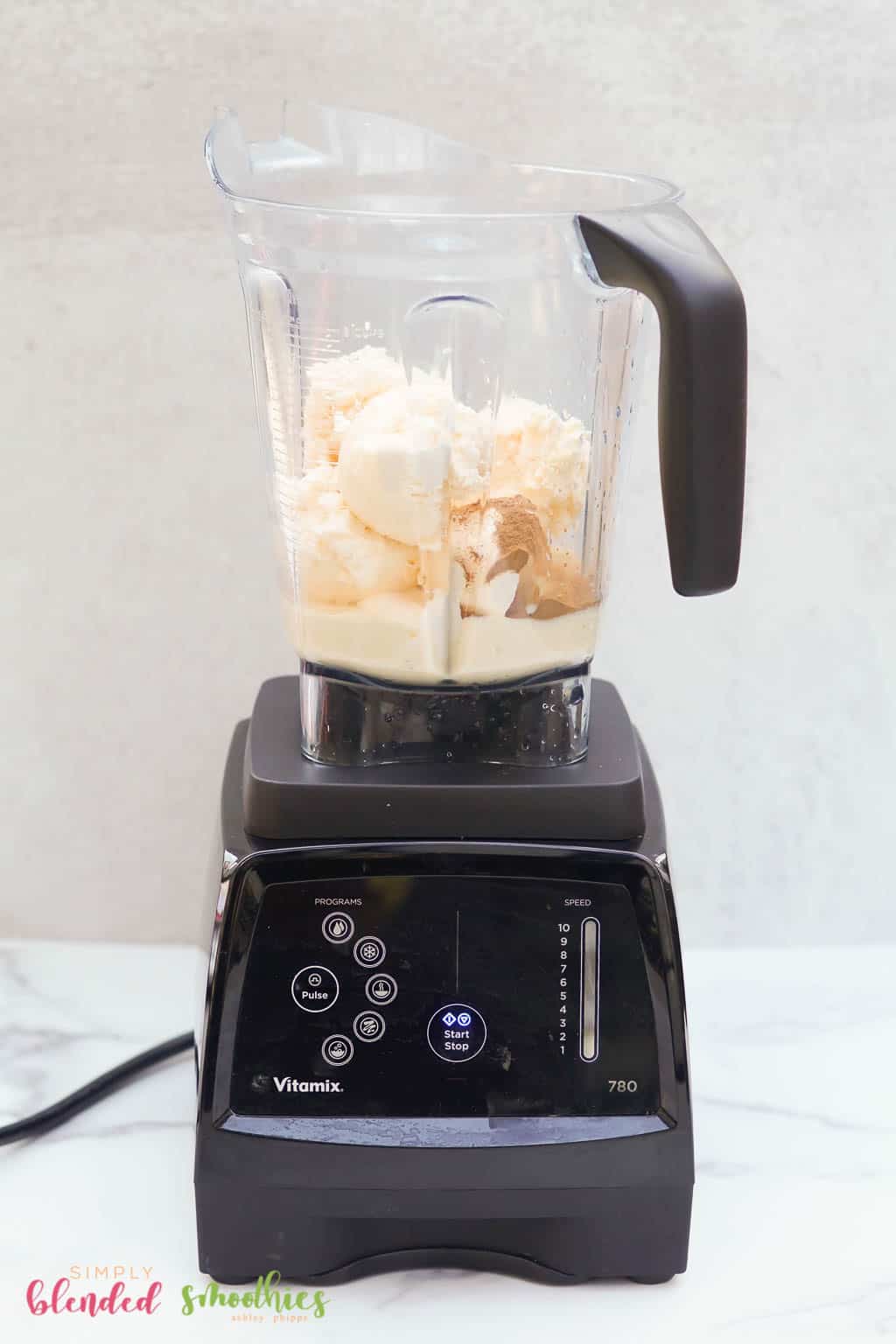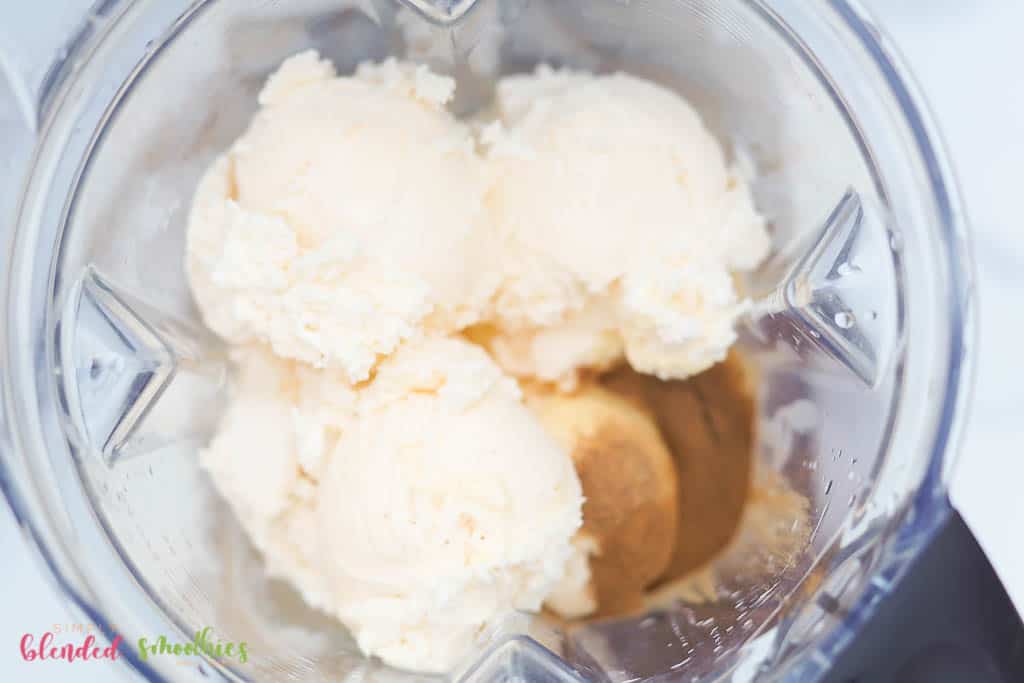 Directions:
Place the ice cream, eggnog, and spices in your blender.
Blend until smooth.
Add a chocolate drizzle to the inside of your cup if desired.
Pour milkshake into your cup and top with a sprinkle of cinnamon and add a cinnamon stick in if desired.
Serve immediately.
Snag the printable recipe below:

Holiday Giveaway
We are so excited that one lucky winner will receive a $175 Amazon Gift Card - just in time for the holidays!
Brought to you by:
An Affair From the Heart
As For Me and My Homestead
Bowl Me Over
Coffee With Us Three
Ever After in the Woods
Everyday Eileen
Intelligent Domestications
Juggling Act Mama
Karen's Kitchen Stories
Lazy Budget Chef
Life Currents
Mandatory Mooch
Simple and Savory
Simply Blended Smoothies
Terri Steffes
Walking on Sunshine Recipes
$175 Amazon Gift Card Giveaway
Official Rules and Conditions: One winner will receive a $175 Amazon Gift Card. Open to US residents 18+. One (1) winner will be chosen. Prize must be claimed within 48 hours of announcement or a new winner will be drawn. All entries will be verified. This giveaway is in no way associated with Amazon, Facebook, Pinterest, Twitter, Instagram, Rafflecopter, or any other entity unless otherwise specified. Giveaway ends 12/16/2019. Enter using the widget below. The prize will be delivered electronically.
You might also enjoy these recipes: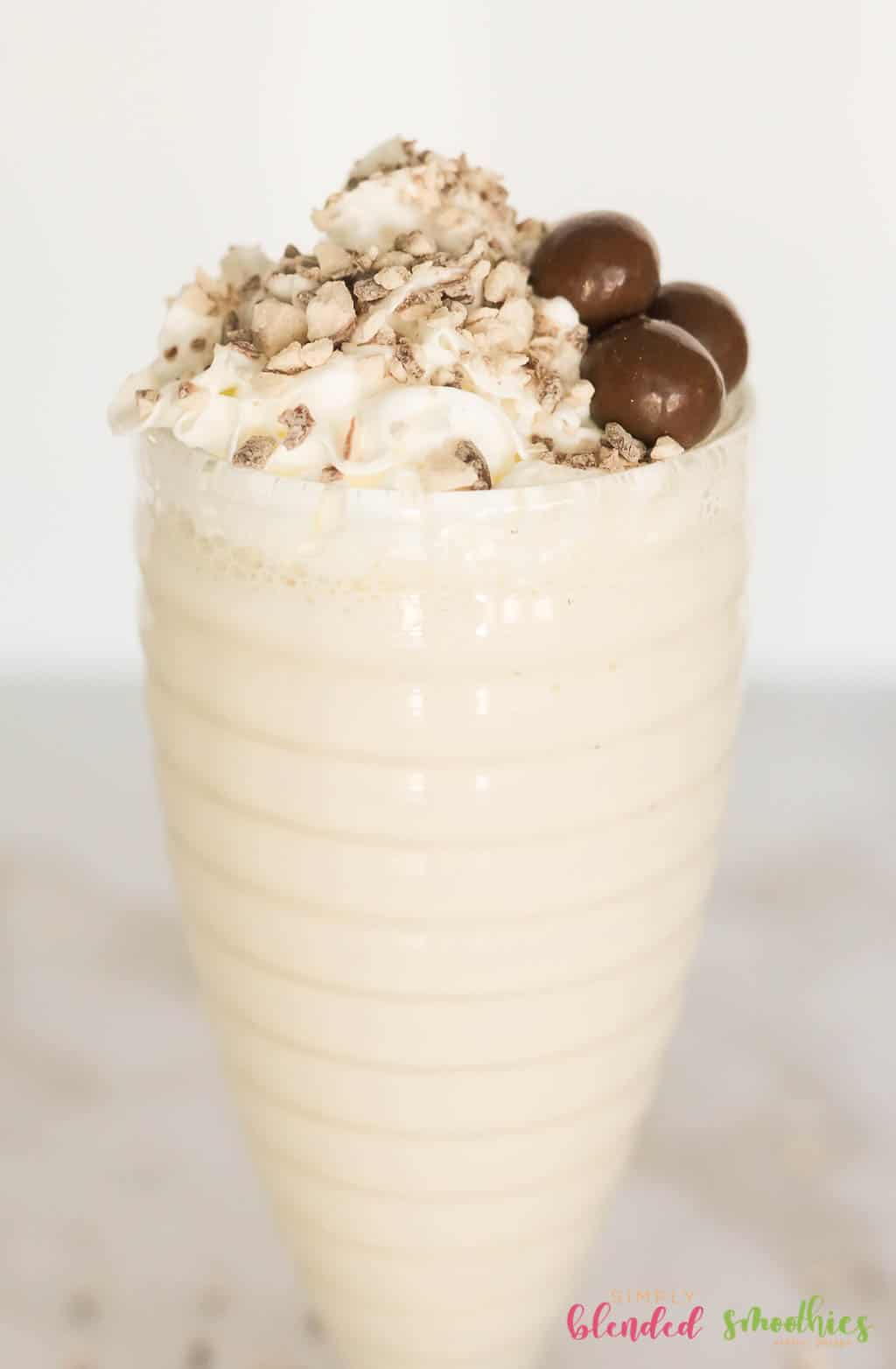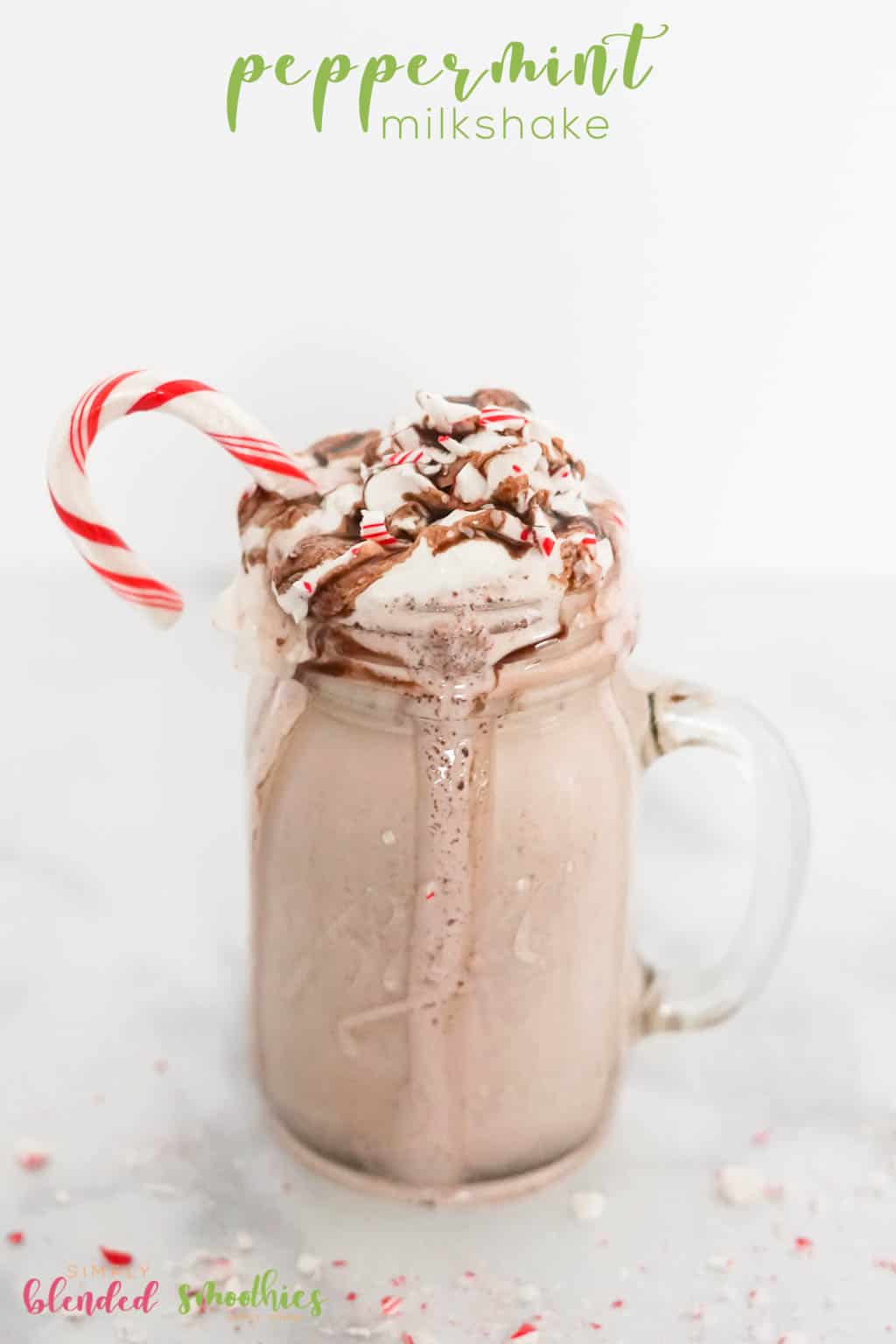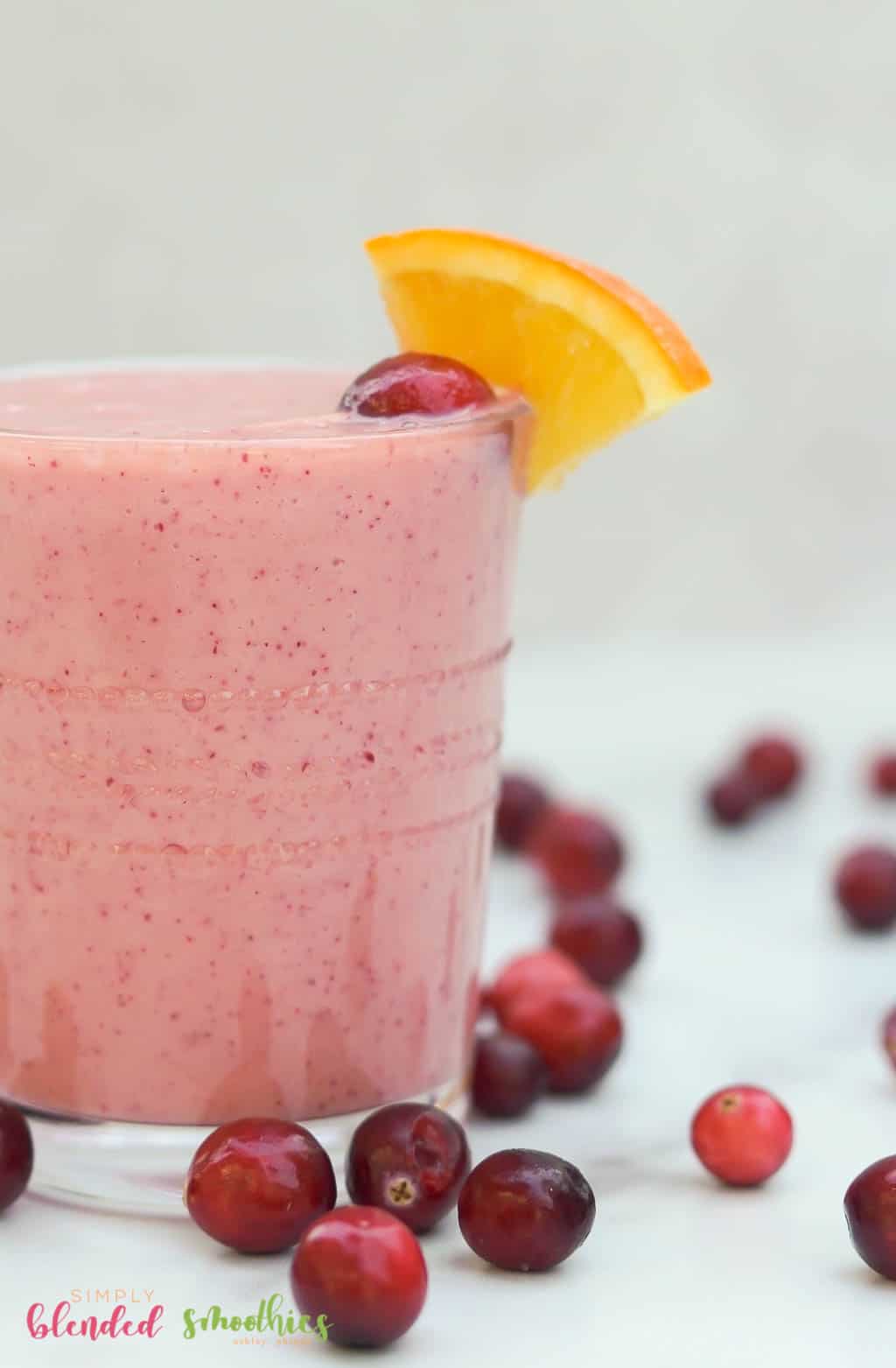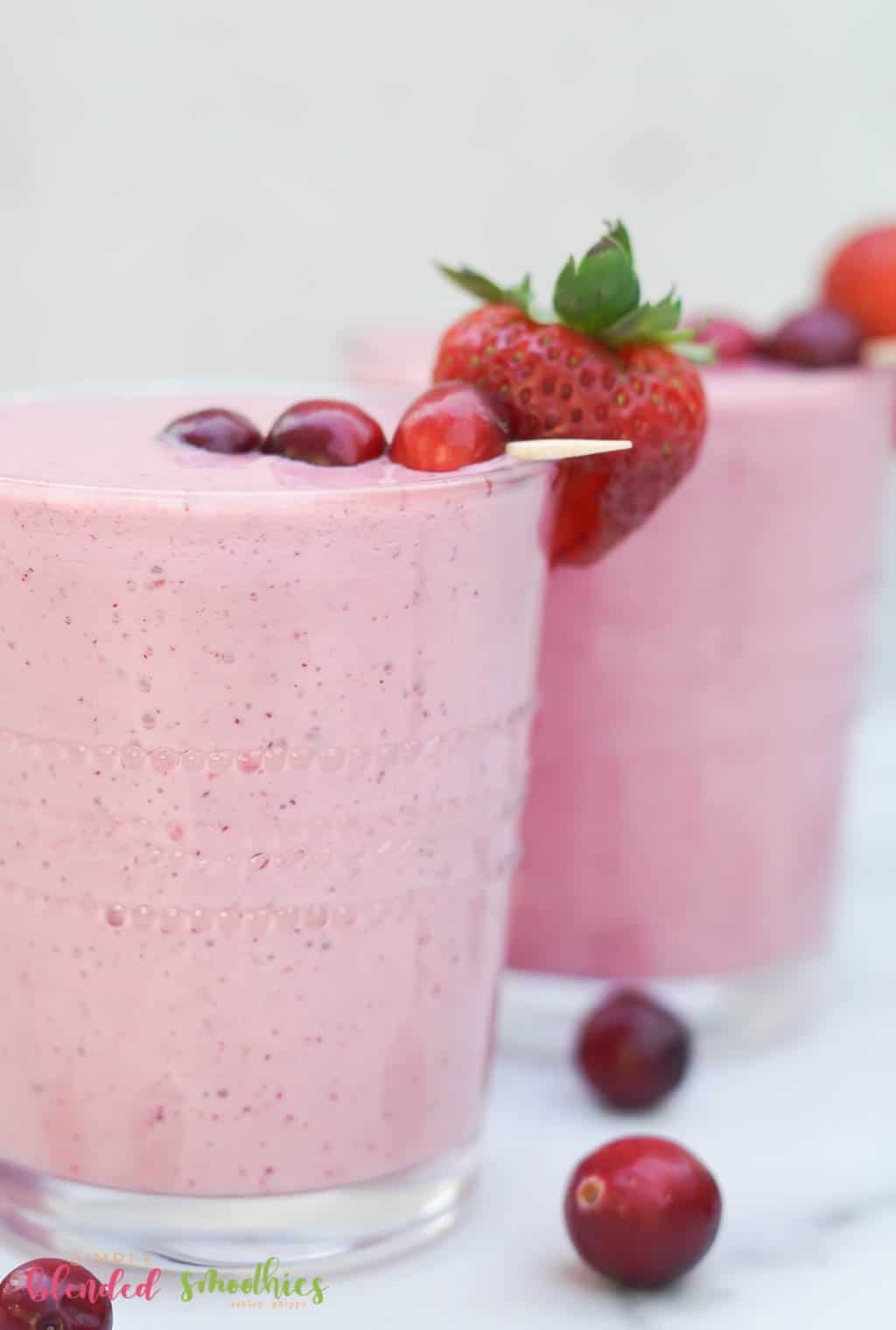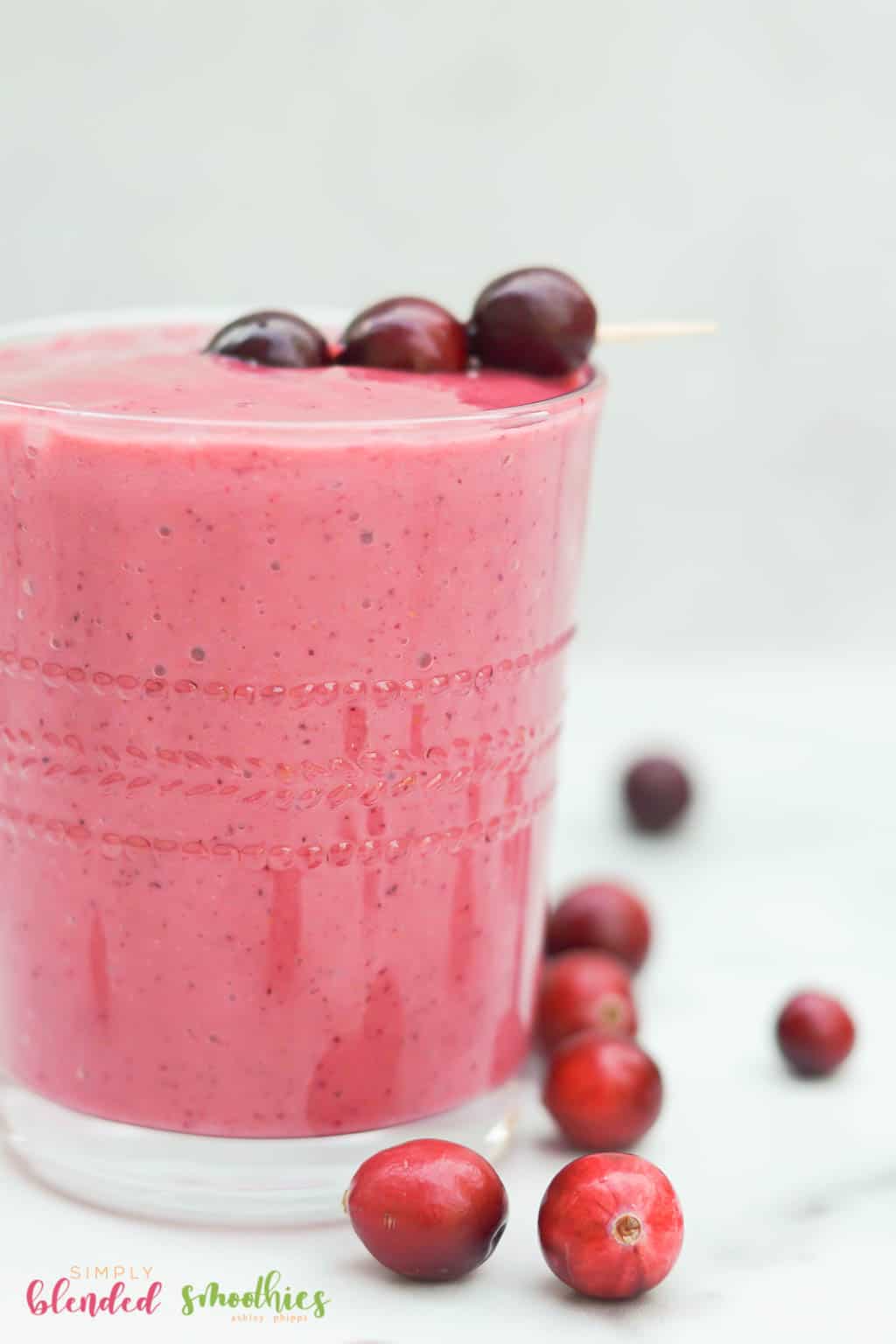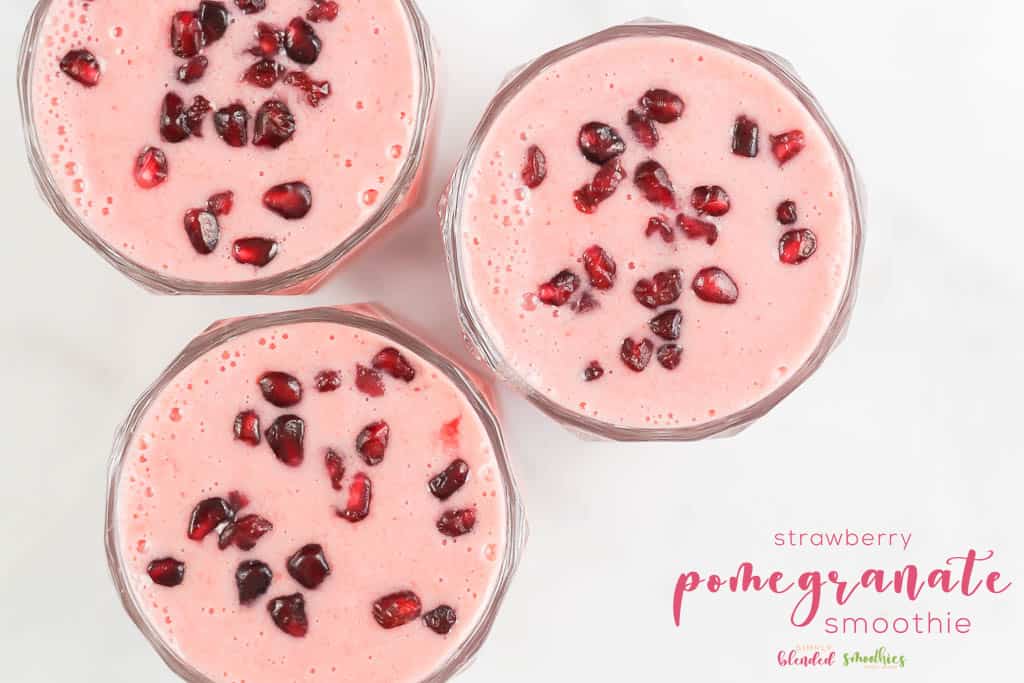 Strawberry Pomegranate Smoothie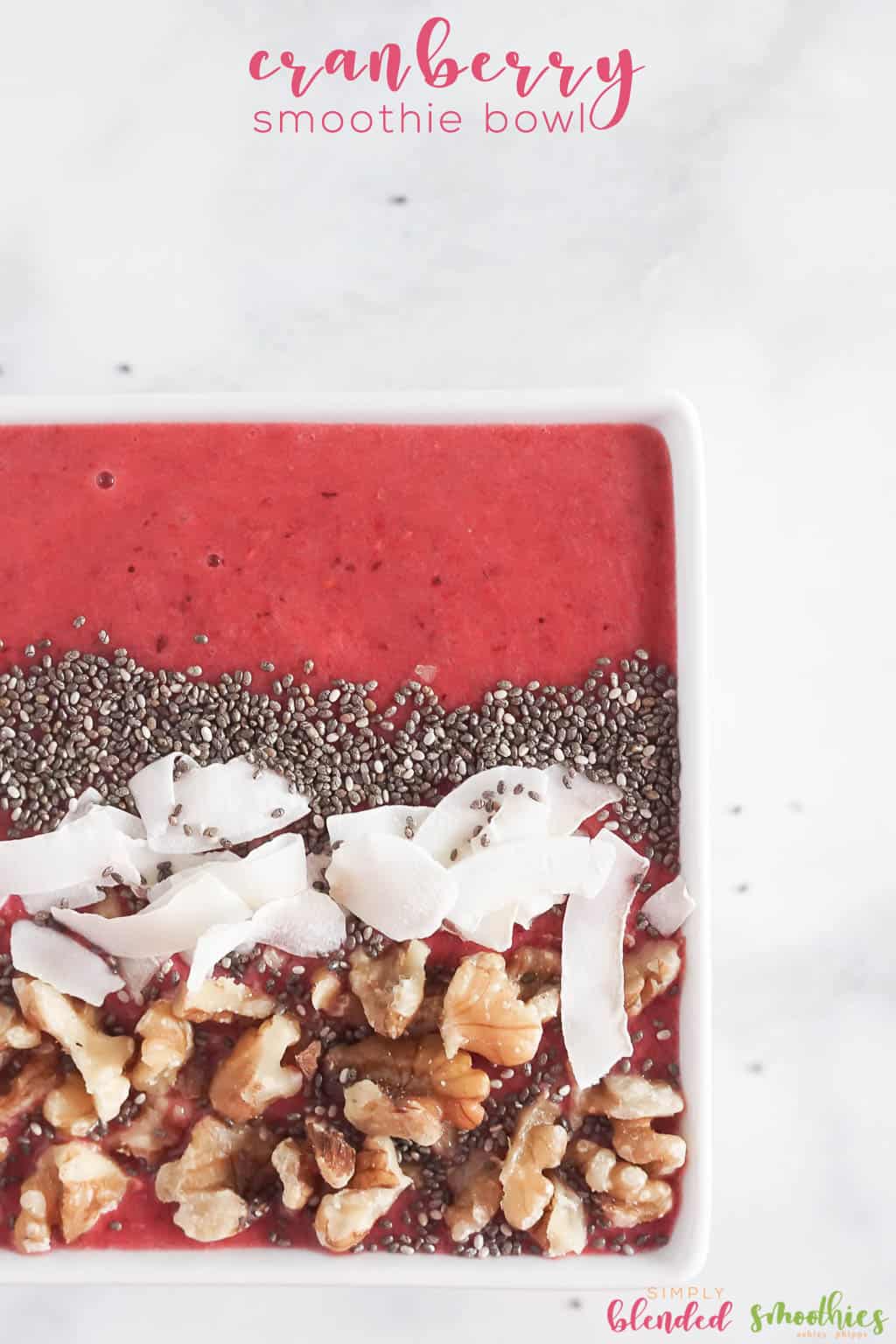 Cranberry Smoothie Bowl Recipe