Smoothies are my every-day BFF but when I want something sweet, I love a yummy milkshake like this rich Malted Milkshake! It is delicious yet not to rich, the perfect milkshake for dessert or a treat any time. (If you are looking for an ultra-rich milkshake recipe, check out my Oreo Milkshake.)

Affiliate links included for your convenience. By purchasing through these links, I receive a small commission but you never pay a penny more. Thank you for supporting my blog.
Malted Milkshake
Malted milkshakes sound like something fancy and reserved for a shake shop, but they are actually super easy to make in your own home!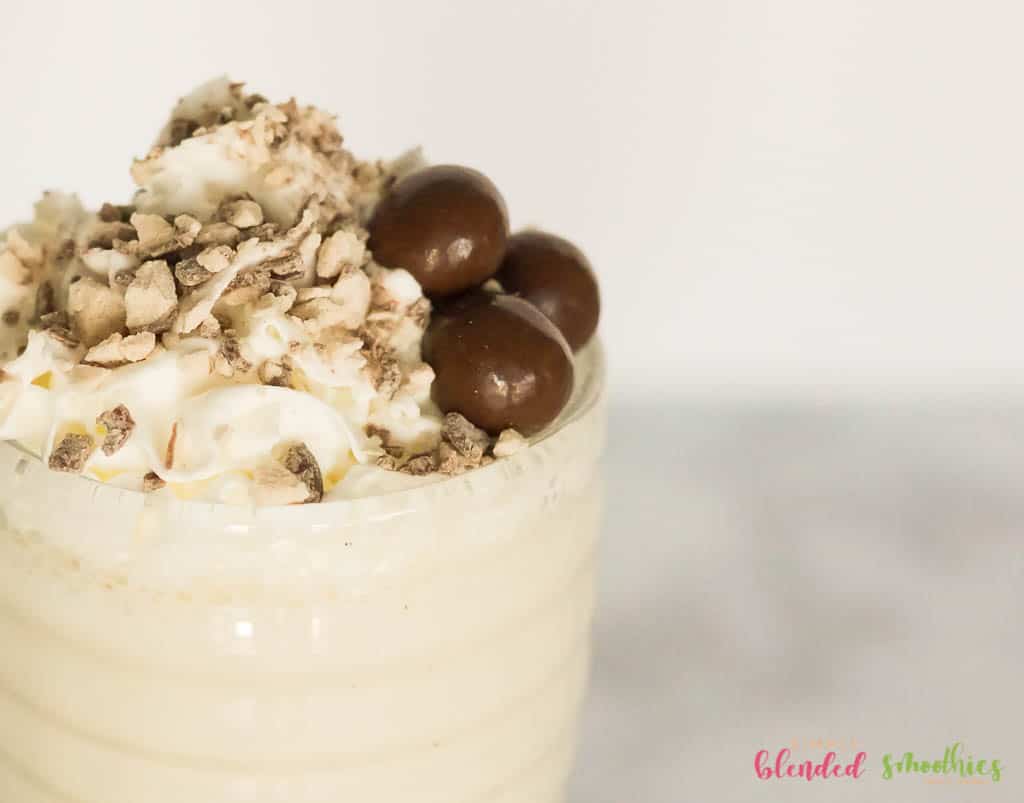 What is a malted milkshake?
A malted milkshake is simply a milkshake with malted milk powder in it! Malted milk powder is dried milk powder, malted barley, and wheat flour. It adds a toasted, nutty, rich flavor to any milkshake recipe. You simply blend your malted milk powder with your ice cream, milk, and other milkshake ingredients and you can create a yummy malted milkshake!
What is the difference between a malt and a shake?
Both malts and shakes are made with ice cream and milk and other optional items such as syrups and toppings. But a malt also includes malted milk powder. It is so easy to turn any shake into a malt by simply adding malted milk powder to it! Or turn any malt into a shake by leaving the malted milk powder out of it!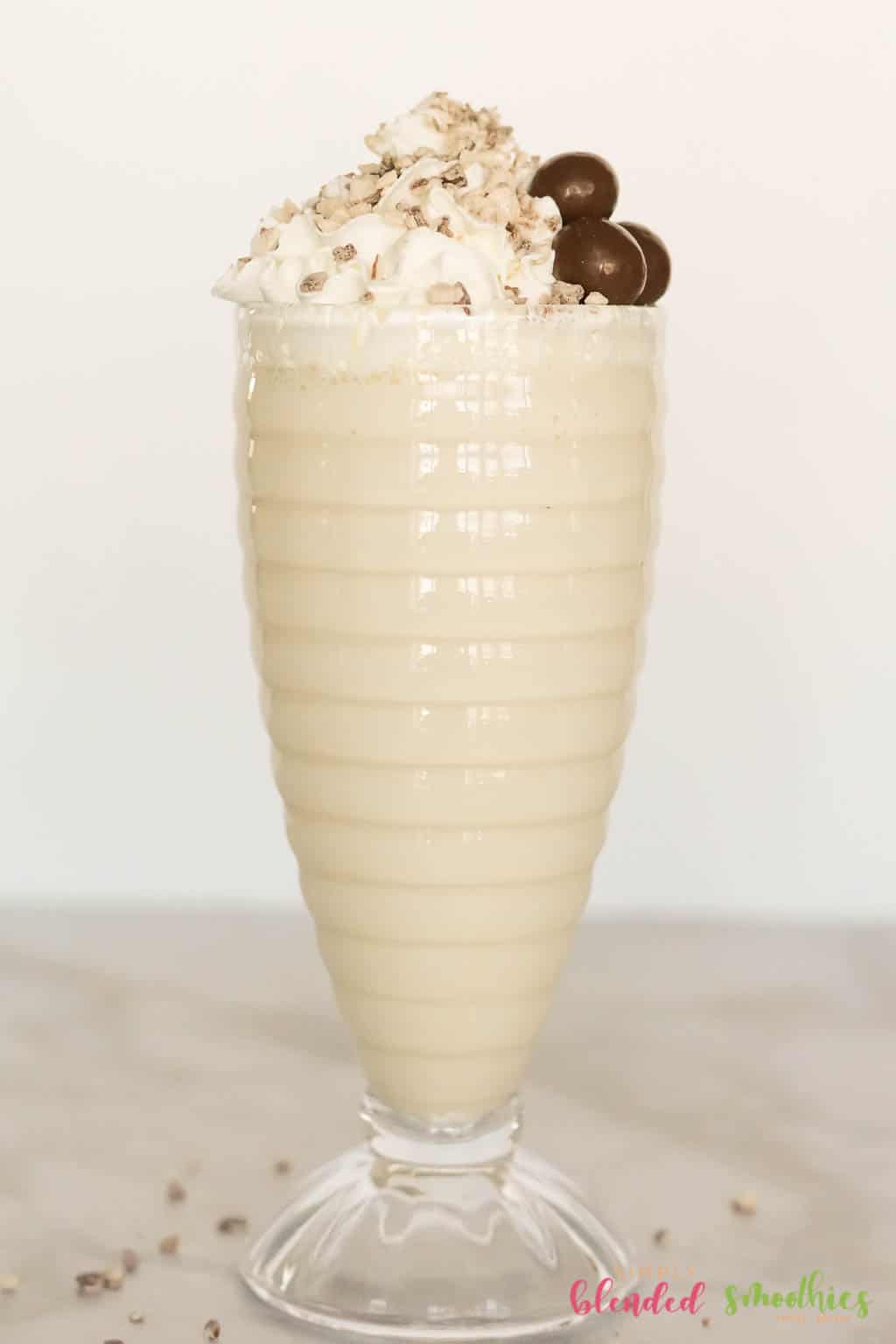 What exactly is malt?
After barley has been dried, allowed to spout, air-dried again and then heated in an oven, the left-over product is malted barley which is an ingredient used in malted milk powder.
Is a malt thicker than a milkshake?
Not necessarily. A malt uses the exact same ingredients as a milkshake plus the addition of malted milk powder. The malted milk powder adds sweetness and richness in flavor, but it does not add thickness.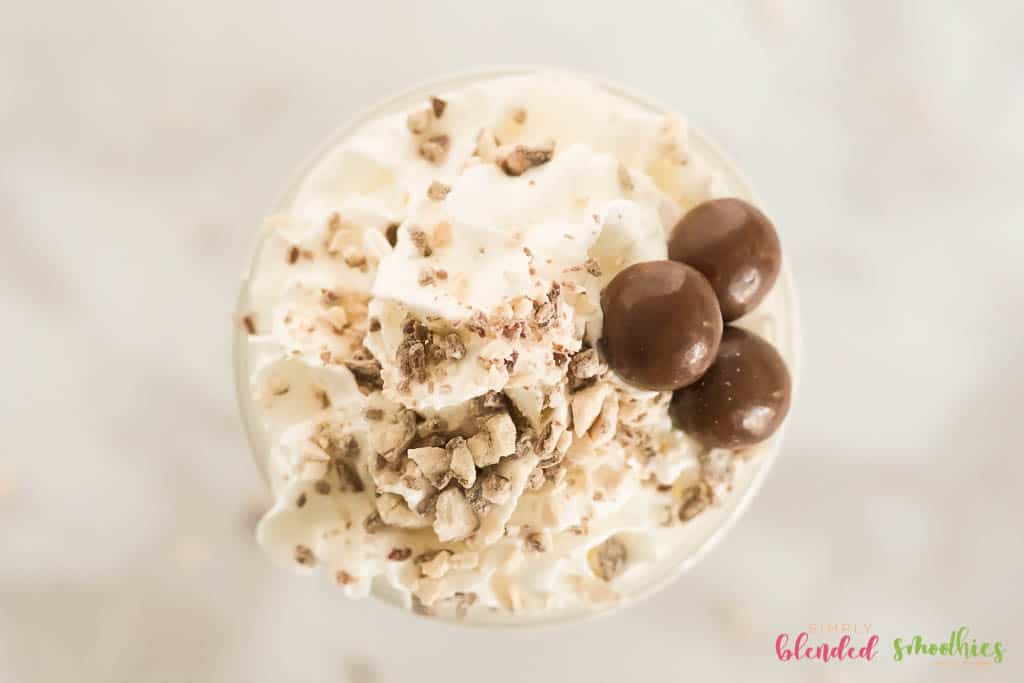 What does malt taste like in a shake?
Adding malted milk powder to a shake can add delicious richness in any shake recipe. It can add a sweet and nutty flavor to your base milkshake and goes best in vanilla and chocolate milkshakes in my opinion. Which malted milk powder can be added to any flavor of shake, the simplicity of vanilla or chocolate allows the malt flavor to really shine through.
What does malted shake mean?
Whether you call it a malt, a malted shake or a malted milkshake, the tasty dessert drink is the same thing! It is simply a milkshake with the addition of malted milk powder in it.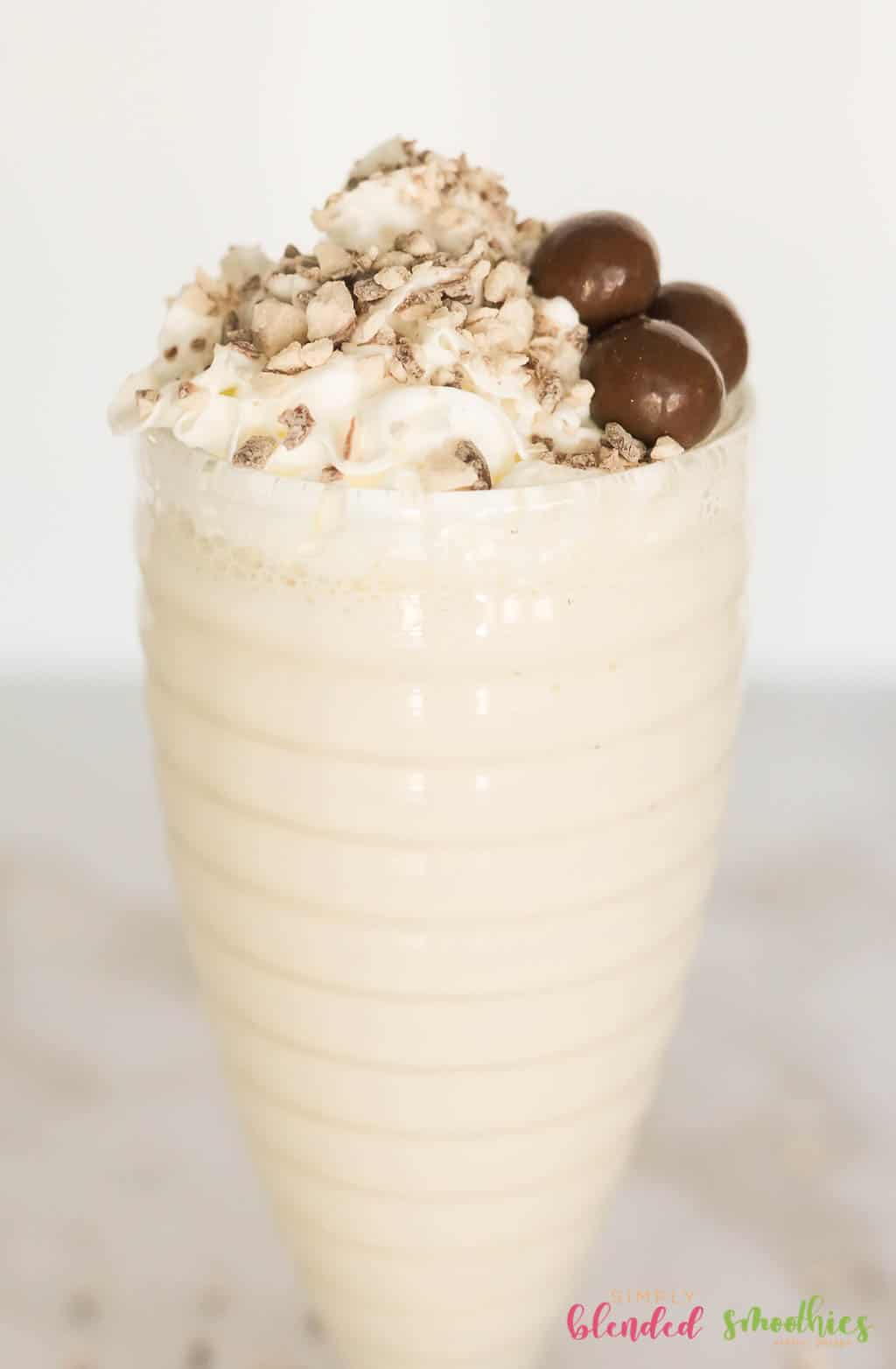 Is malt a liquor?
Malted liquor is a beer with high alcohol content in it. This is not to be confused with the malt from malted milk powder that is used in milkshakes. Malted milkshakes do NOT contain alcohol.
What blender is best for smoothies and milkshakes?
There are many blenders you can use for making smoothies and milkshakes, but I personally own the Vitamix 780 and think it is simply the best. I get smooth, consistent results every single time which is exactly what I want for all my smoothies! You can buy your own Vitamix 780 HERE.
If you are hoping to make a milkshake and keep any bits and pieces in it, I do not recommend using a blender. I recommend snagging this milkshake maker because of its good ratings and reasonable price: Classic DrinkMaker.
It is not a commercial milkshake maker, but it gets the job done at a fraction of the cost and is better for making milkshakes then a blender if you want to keep the integrity of color and if you want a thicker shake.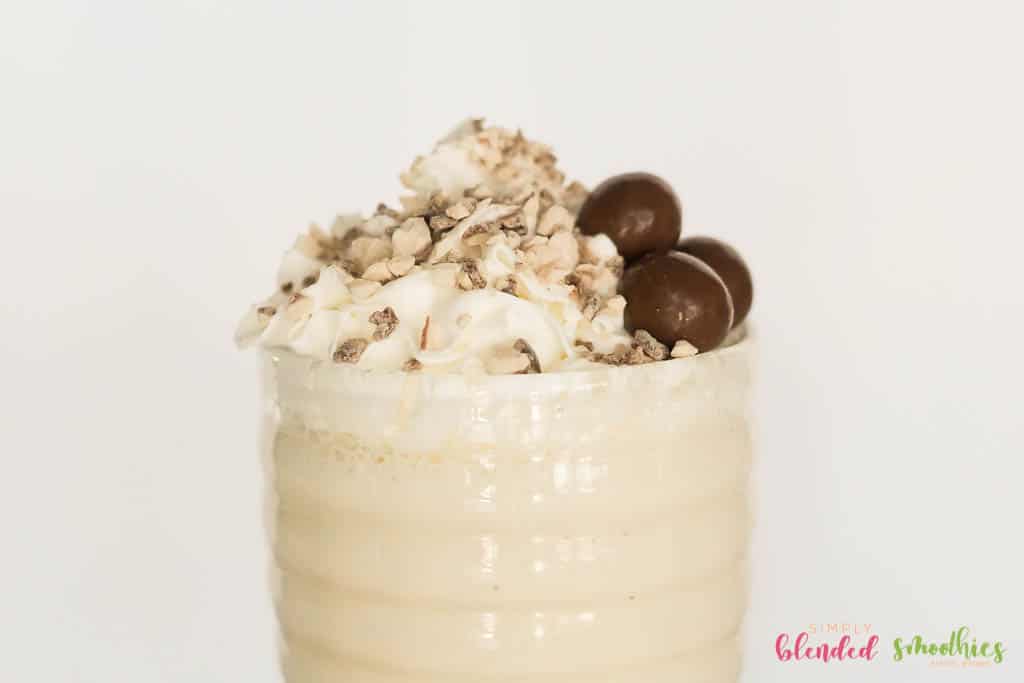 Malted Milkshake Recipe
Ingredients:
6 scoops Vanilla Ice Cream
½-1 cup Milk
5 Tablespoons Malted Milk Powder
Whoppers Malt Balls (optional)
Whipped Cream (optional)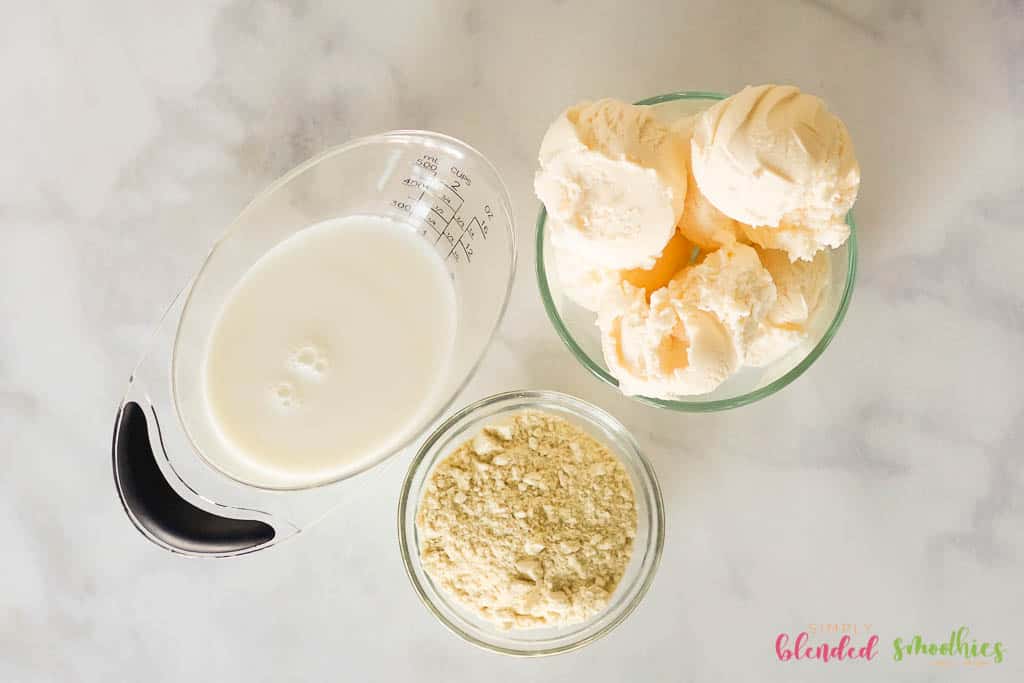 Directions:
Place all of your ingredients into your blender.
Blend until smooth.
Top with whipped cream, crushed malt balls, and whole malt balls if desired.
Serve immediately.
Snag the printable recipe below:
Yield: 1
Malted Milkshake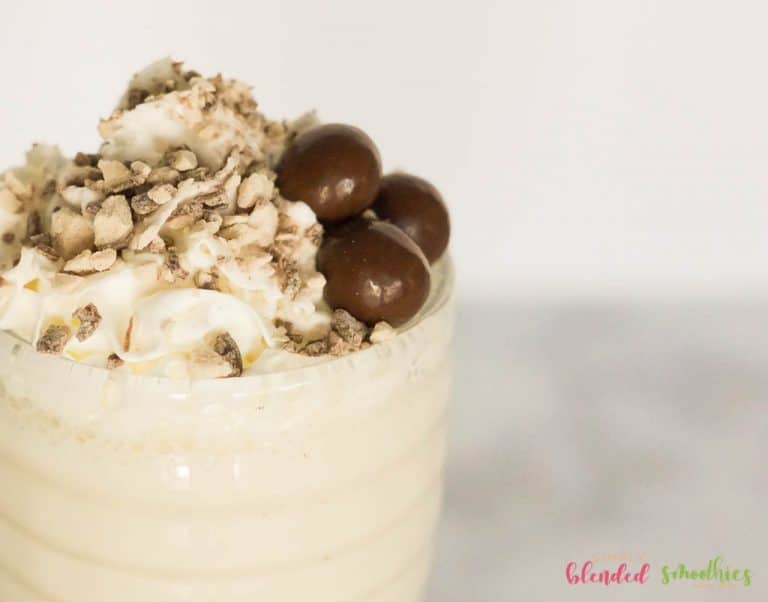 This delicious and easy to make malted milkshake recipe is a delicious and rich flavored milkshake perfect for a treat any time or for a yummy dessert!
Ingredients
6 scoops Vanilla Ice Cream
½ cup Milk
5 Tablespoons Malted Milk Powder
Instructions
Place all of your ingredients into your blender.
Blend until smooth.
Top with whipped cream, crushed malt balls, and whole malt balls if desired.
Serve immediately.
Recommended Products
As an Amazon Associate and member of other affiliate programs, I earn from qualifying purchases.
Nutrition Information:
Yield:
1
Serving Size:
1
Amount Per Serving:
Calories:

1314
Total Fat:

51g
Saturated Fat:

31g
Trans Fat:

0g
Unsaturated Fat:

16g
Cholesterol:

185mg
Sodium:

580mg
Carbohydrates:

191g
Fiber:

8g
Sugar:

154g
Protein:

23g
Nutrition information isn't always accurate.
You might also enjoy these milkshake recipes: