This Red Velvet Milkshake is so decadent and delicious and it tastes just like a yummy red velvet cupcake! You're going to want to make enough to share with everyone. This beautiful red flavor and mild chocolate taste is a great alternative to my Chocolate Milkshake. Keep reading for all the details.
Affiliate links included for your convenience. By purchasing through these links, I receive a small commission but you never pay a penny more. Thank you for supporting my blog.
Red Velvet Milkshake Recipe
I know that not everyone loves red velvet, but my friends who do love it, LOOOOOOOOVE it!
No matter which camp you fall into, this mild chocolate milkshake is still very delicious and such a fun and beautiful shake.
I made enough for one large glass, but it wasn't enough for our family to share. I would definitely double or triple this for my family of 5. But we love milkshakes around here.
Red velvet milkshakes are delicious anytime but are especially perfect for Valentine's Day. Add a few heart-shaped sprinkles on top and serve this to your family for a fun holiday treat.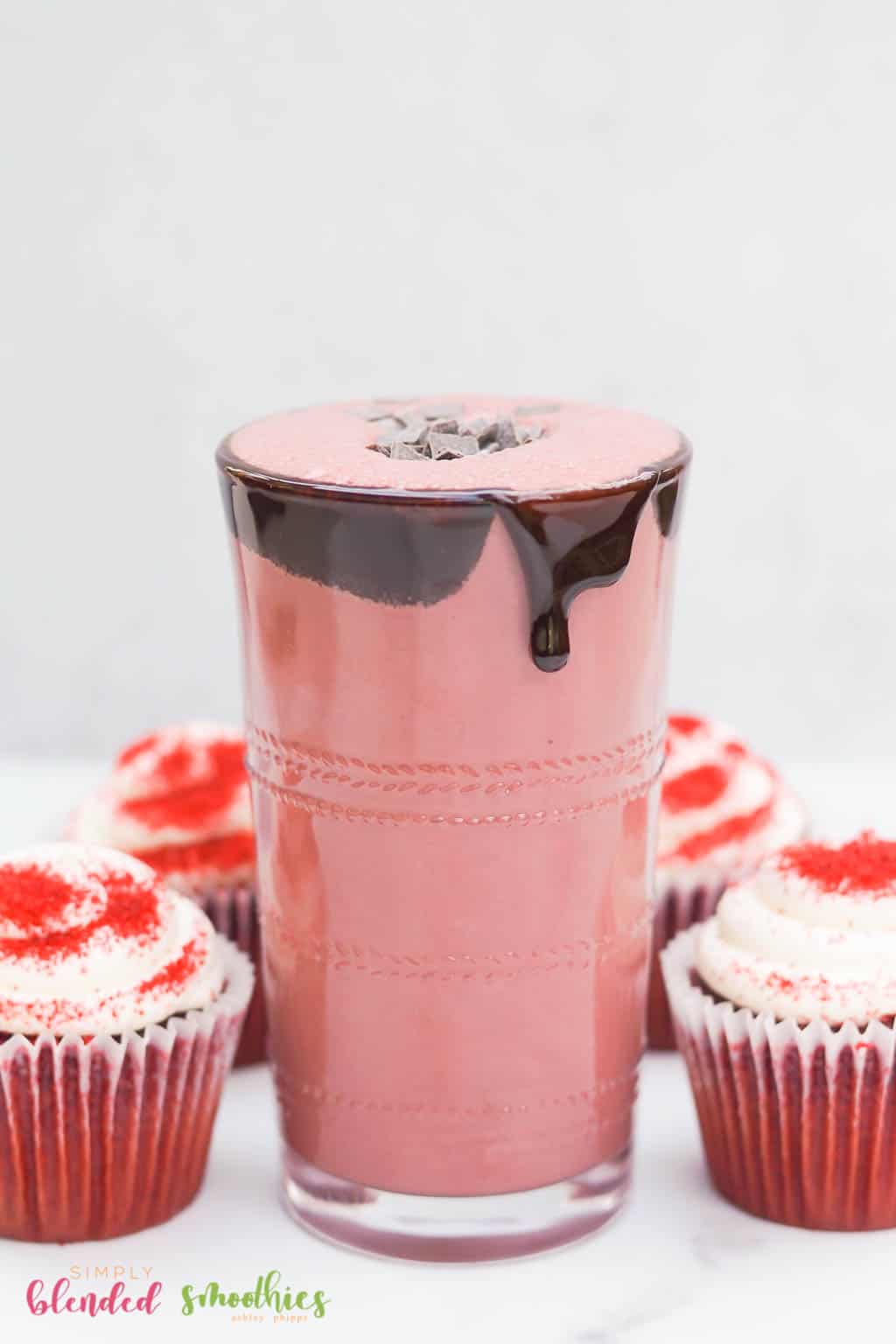 How do you make a red velvet milkshake?
Making a red velvet milkshake is so easy. You will simply add chocolate ice cream, milk, cream cheese, and red velvet cake mix into a blender and blend until smooth. It only takes a few minutes to make!
If you want to top it with chocolate syrup or chocolate flakes you can definitely do that. My family also loves whipped cream on it. Yum yum yum.
What is red velvet?
Red velvet cake was originally created with a mixture of non-dutch cocoa, buttermilk, vinegar, coffee, and other ingredients. The buttermilk and vinegar would have a chemical reaction that brought out the red colors in the non-dutch cocoa. So the red color was originally created naturally.
However, in the mid-1900's that all changed and the recipe began being created with red food coloring. A lot of food coloring. It still does contain cocoa and has a mild chocolate flavor. And has more of a bright red color due to the food coloring.
Can I make this recipe with vanilla ice cream instead of chocolate?
Of course, you can swap out vanilla ice cream for the chocolate ice cream. But since there is cocoa in red velvet, I actually prefer to accent that chocolate flavor and use chocolate ice cream instead.
And if I am being honest, chocolate is just better then vanilla, so it is definitely the way to go for this particular recipe.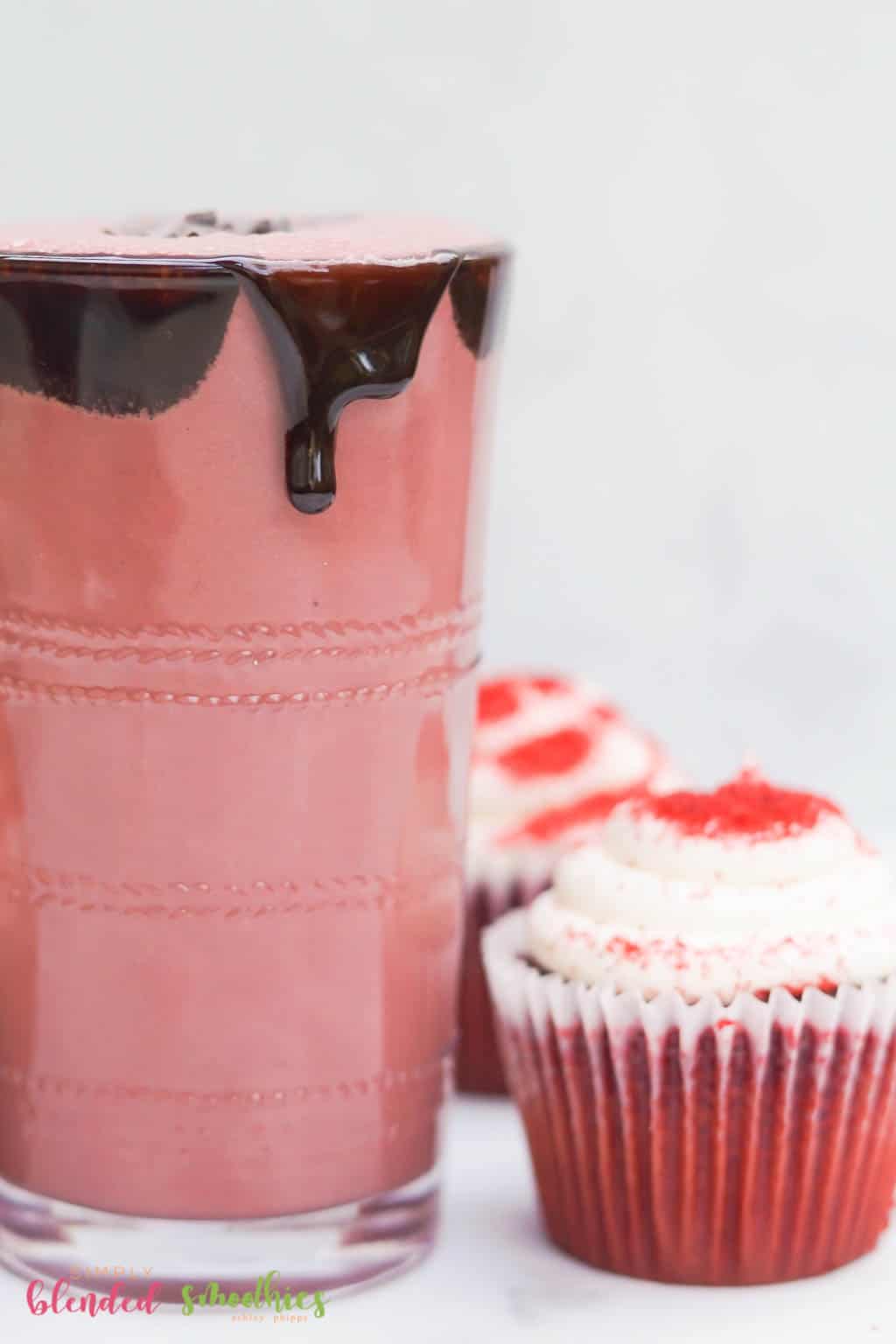 Can I use red velvet cake or cupcakes in this milkshake?
Of course, you can. Throw a cupcake in that blender or crumble some cake and put it on top of your milkshake. But here is the thing, you don't need to go through the effort of making a cake or cupcake just to make this milkshake. All you need is the red velvet cake mix powder.

What blender is best for smoothies and milkshakes?
There are many blenders you can use for making smoothies, milkshakes and frozen drinks, but I personally own the Vitamix 780 and think it is simply the best. I get smooth, consistent results every single time which is exactly what I want for all my drinks! You can buy your own Vitamix 780 HERE. It is my favorite and I know you will love it too!
Ready for this amazing recipe? Ok. Let's go!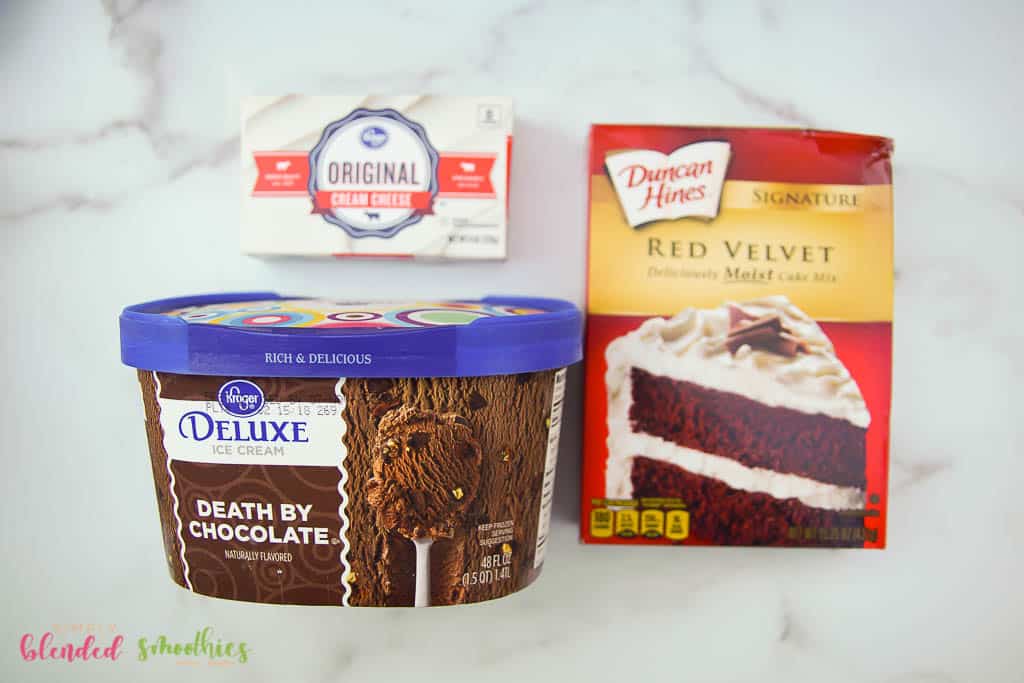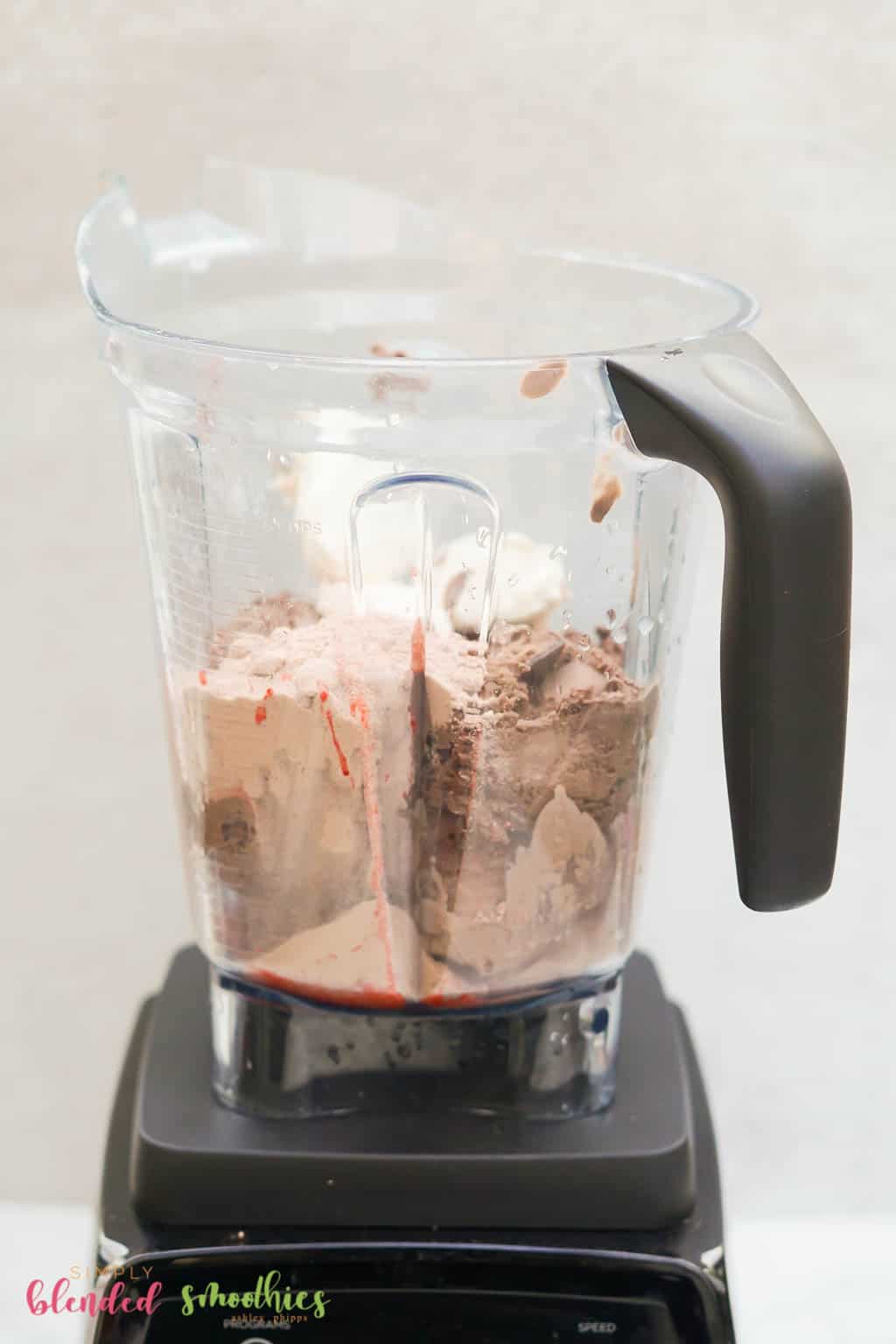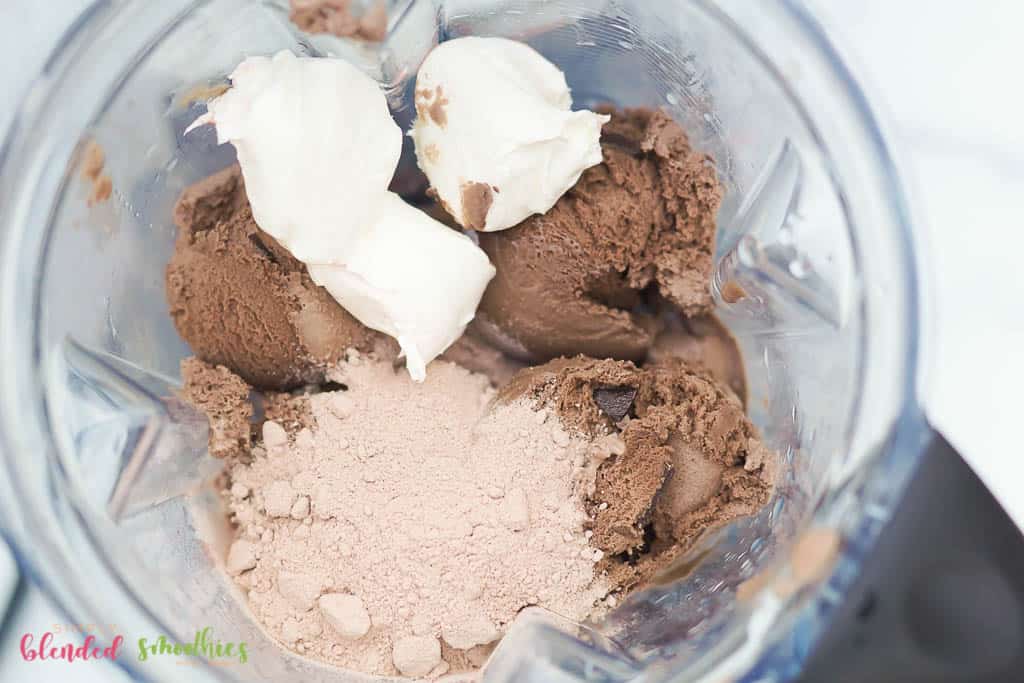 Red Velvet Milkshake
Ingredients:
6 scoops Chocolate Ice Cream
½ cup Milk
3 Tablespoons Cream Cheese
4-5 Tablespoons Red Velvet Cake Mix
Chocolate Syrup (optional)
Chocolate Flakes (optional)
Directions:
Place ice cream, milk, cream cheese and red velvet cake mix in your blender.
Blend until smooth.
Garnish with chocolate syrup and chocolate flakes if desired.
Serve immediately.

Snag the printable recipe below:
You might also enjoy these posts: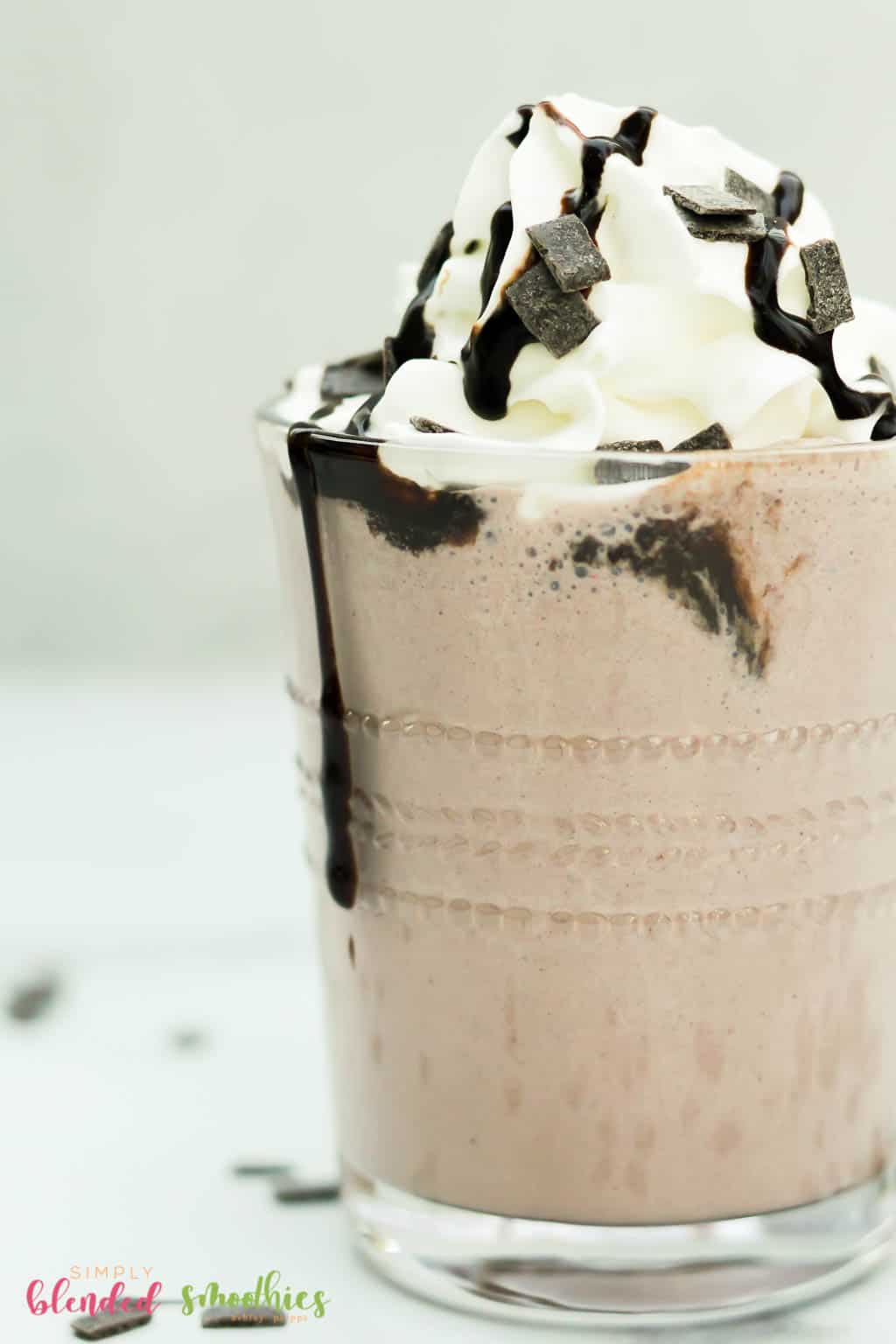 Easy Frozen Hot Chocolate Recipe