With February around the corner, coming up with the perfect chocolate covered strawberry smoothie bowl recipe has been on my mind! I love making smoothie bowls for breakfast, brunch or even a late night snack, but I wanted to make one that was a little extra special. I wanted to combine my love for chocolate covered strawberries and strawberry smoothies and create a delicious, delectable and scrumptious strawberry smoothie bowl that was something extra special, but still very healthy! And I think I hit the nail on the head with this one. Keep reading for more information and for the complete recipe for my Chocolate Covered Strawberry Smoothie Bowl.

Affiliate links included for your convenience. By purchasing through these links, I receive a small commission but you never pay a penny more. Thank you for supporting my blog.
Creating a delicious strawberry smoothie this time of year, when strawberries aren't truly in season, can be a challenge. I find that the strawberries from Costco are usually sweeter than the ones from my local grocery store.
But if you can't find any that are sweet enough, add a touch of honey to your recipe and you will get the perfect sweetness you need for this recipe.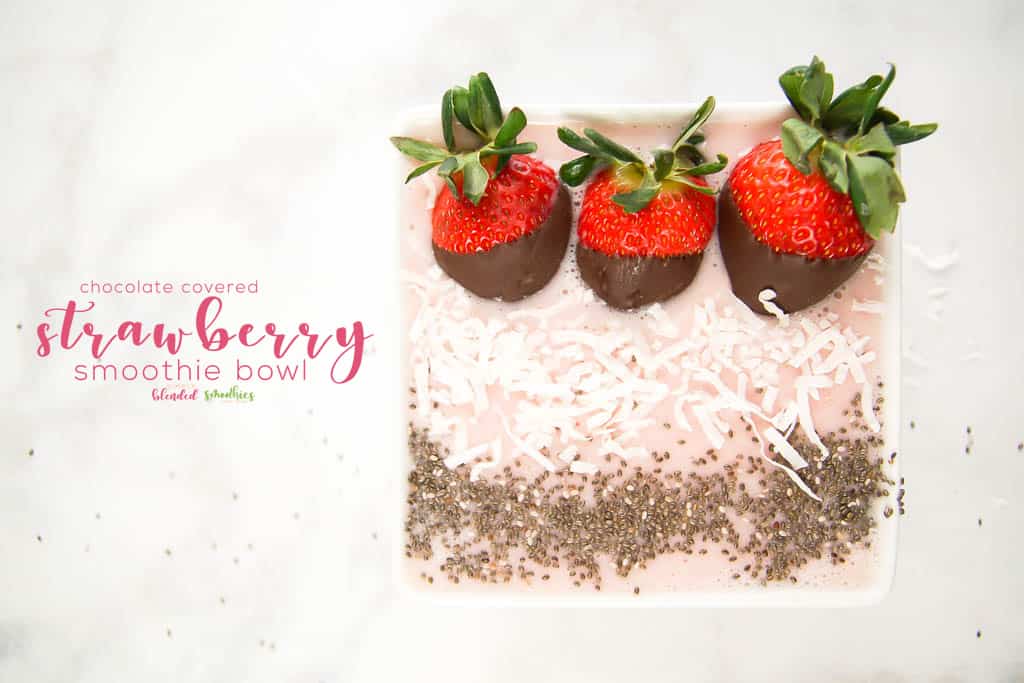 What blender is best for smoothies and milkshakes?
There are many blenders you can use for making smoothies, milkshakes and frozen drinks, but I personally own the Vitamix 780 and think it is simply the best. I get smooth, consistent results every single time which is exactly what I want for all my drinks! You can buy your own Vitamix 780 HERE. It is my favorite and I know you will love it too!
Chocolate Covered Strawberry Smoothie Bowl
Ingredients:
2 cups Strawberries (without the leaves)
1 container Vanilla Yogurt (I used Silk Soy yogurt for a dairy-free alternative)
1 cup Almond Milk (you can sub regular milk or your favorite alternative)
1 teaspoon Honey
½ teaspoon Vanilla Extract
1-2 cups Ice
Plus more Strawberries for dipping
Semi-Sweet Chocolate Chips
Vegetable Oil
Coconut Flakes
Chia Seeds

Directions:
Prepare chocolate covered strawberries by combining chocolate chips and oil in a microwave-safe bowl. Check out this post HERE to see how to melt chocolate for dipping. And then dip washed and dried strawberries in chocolate and place in the fridge to set.
In your blender combine strawberries, milk, yogurt, and ice (I start with 1 cup and then add more if needed) and blend until smooth.
Add Vanilla and Honey if needed for help bring out the flavor and sweetness of strawberries if needed and more ice if desired.
Blend until smooth.
Pour into a bowl.
Top with chia seeds, coconut flakes, and chocolate covered strawberries.
*Note that using dairy products will result in a more creamy texture where non-dairy alternatives will typically yield a less creamy texture.
You can catch the short video of how to make this chocolate covered strawberry smoothie bowl recipe below:
And if you love smoothie bowls, check out all of my smoothie bowl recipes HERE.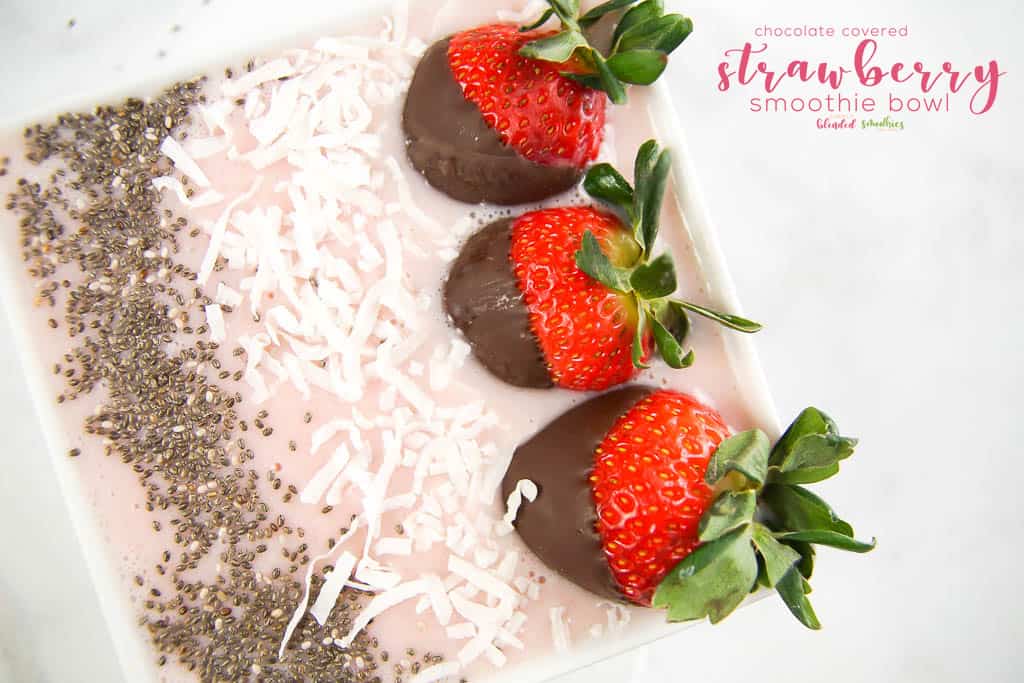 You might also enjoy: