Ever since our trip to Hawaii a few years ago (read about it here) I have been craving all things tropical and this Mango Smoothie is an amazing way to get lots of tropical flavor packed into a homemade easy and healthy smoothie recipe! My Green Pina Colada smoothie recipe is another favorite recipe that reminds me of our trip too (check it out here). But before you get lost in my many delicious healthy smoothie recipe archives, keep reading to snag the full Mango Smoothie Recipe below!

Affiliate links included for your convenience. By purchasing through these links, I receive a small commission but you never pay a penny more. Thank you for supporting my blog.
Mango Smoothie
Mangos are typically riped during the summer months (June, July and August) but you can often find mangos all year long in many grocery stores.
However, if you don't have fresh mangos easily accessible, or they aren't very ripe, you can easily use frozen mangos for this recipe!
In fact, I love using frozen mangos for this recipe and all my smoothie recipes because they are picked and frozen at their best so you will always have sweet mangos in your smoothies.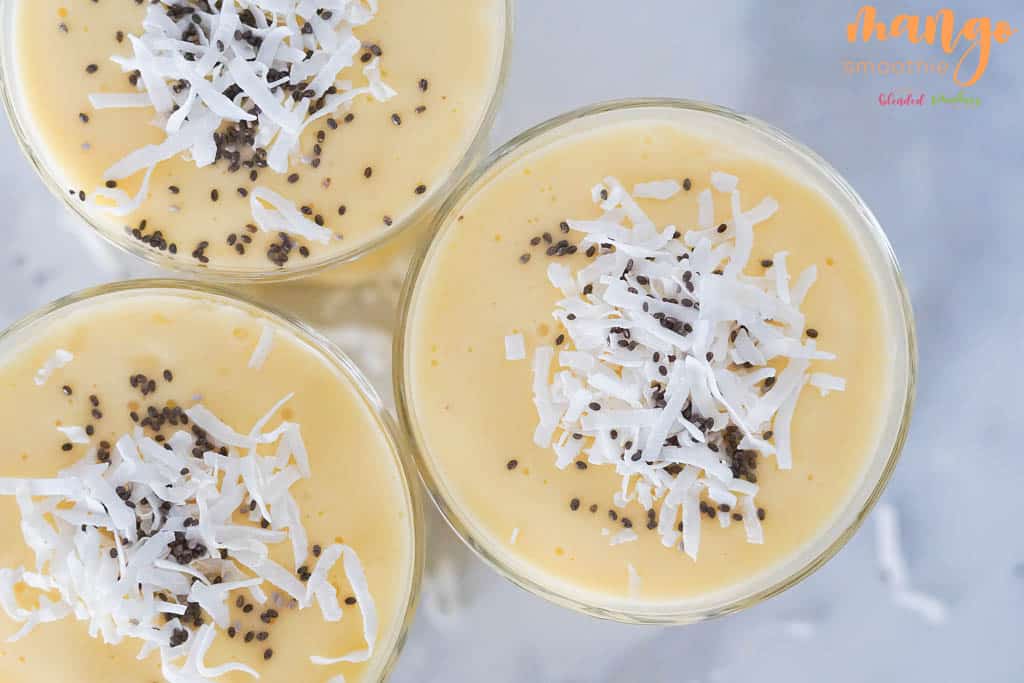 What fruit does mango go with?
Mangos are delicious fruits that can be combined with many other fruits. Some of my favorite fruits to combine with mango are:
banana
pineapple
coconut
melon
passion fruit
dragon fruit
kiwi
berries
citrus fruits
Mango is so versatile!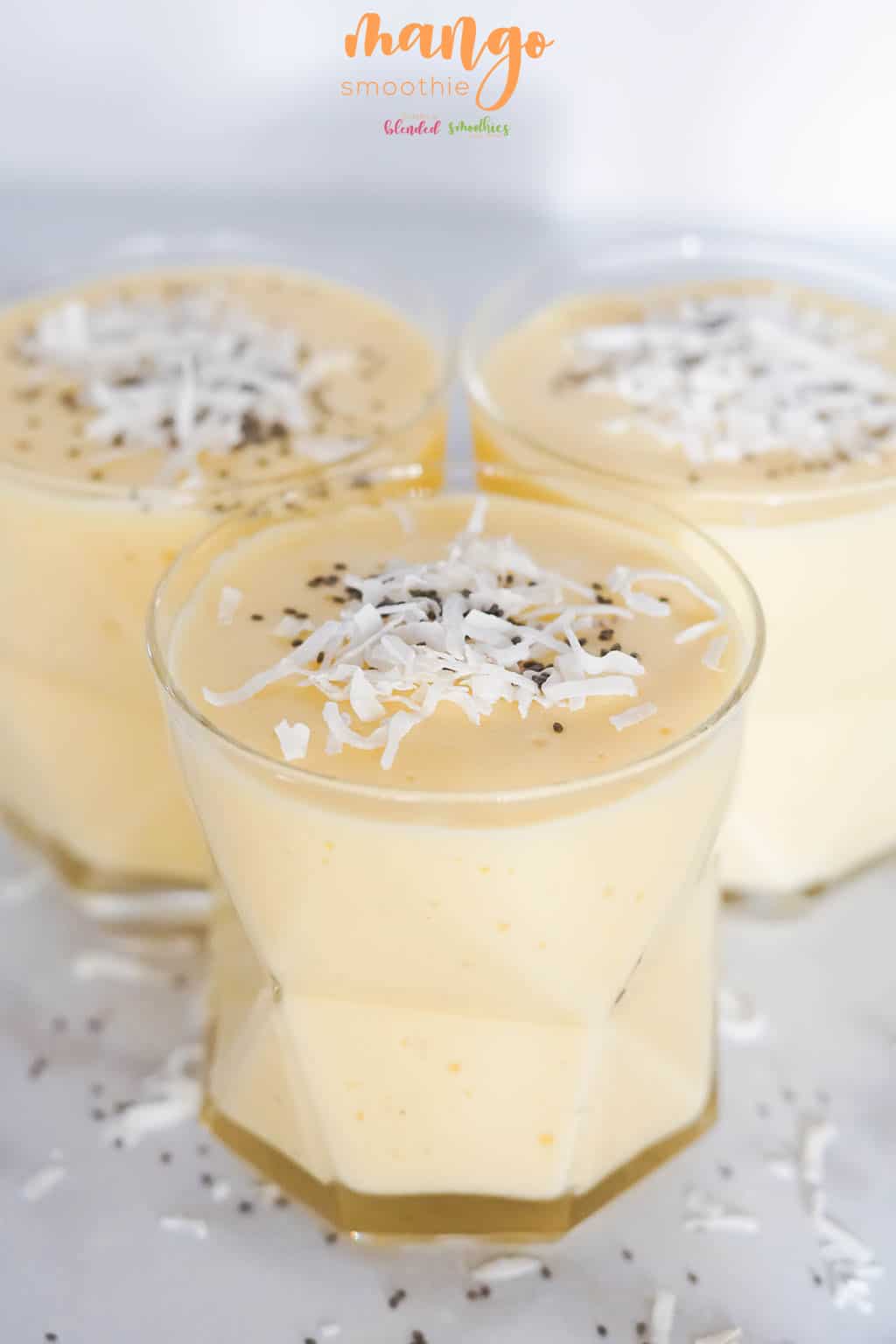 How do you make a thick fruit smoothie?
Making a thick fruit smoothie is easy! Here are a few tips:
Use frozen fruits whenever possible
Add ice to cool and thicken
Use as little liquid as possible
Use fruits like mangos and bananas as they will naturally thicken fruit smoothies
Add avocado for smoothness and thickness
Include pumpkin puree for a thickened, creamy smoothie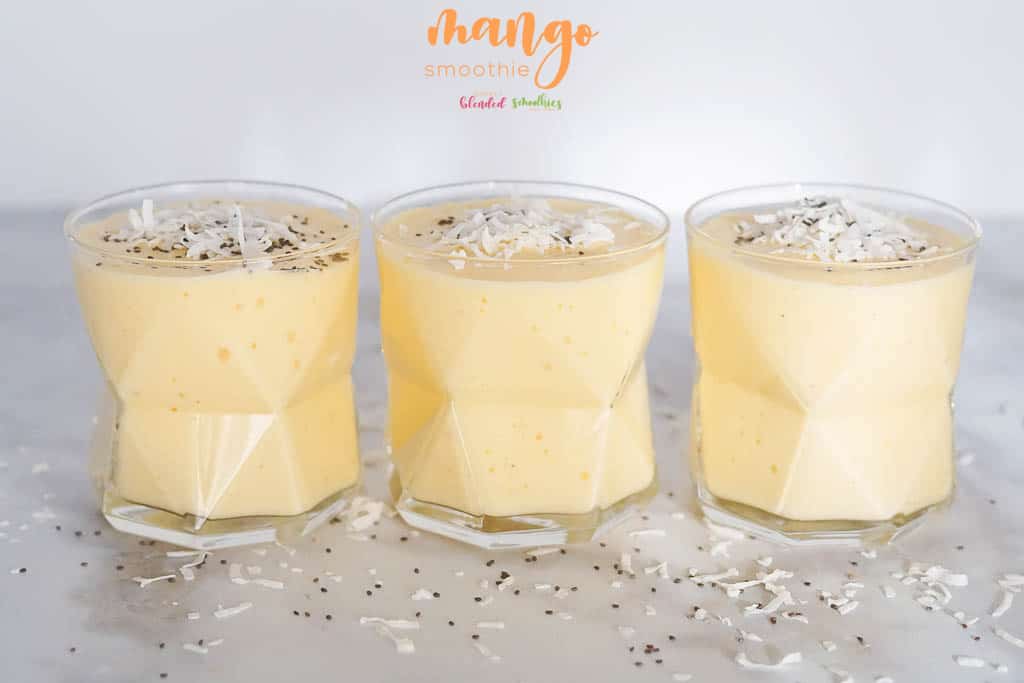 Are mangos good for you?
Mangos are full of fiber and contain Vitamin A, Vitamin C, Folate, Vitamin B6, Iron, Calcium, Zinc, Vitamin E and Antioxidants. Mangos are low in calories, but high in flavor, so they are a great fruit to add into your regular healthy diet.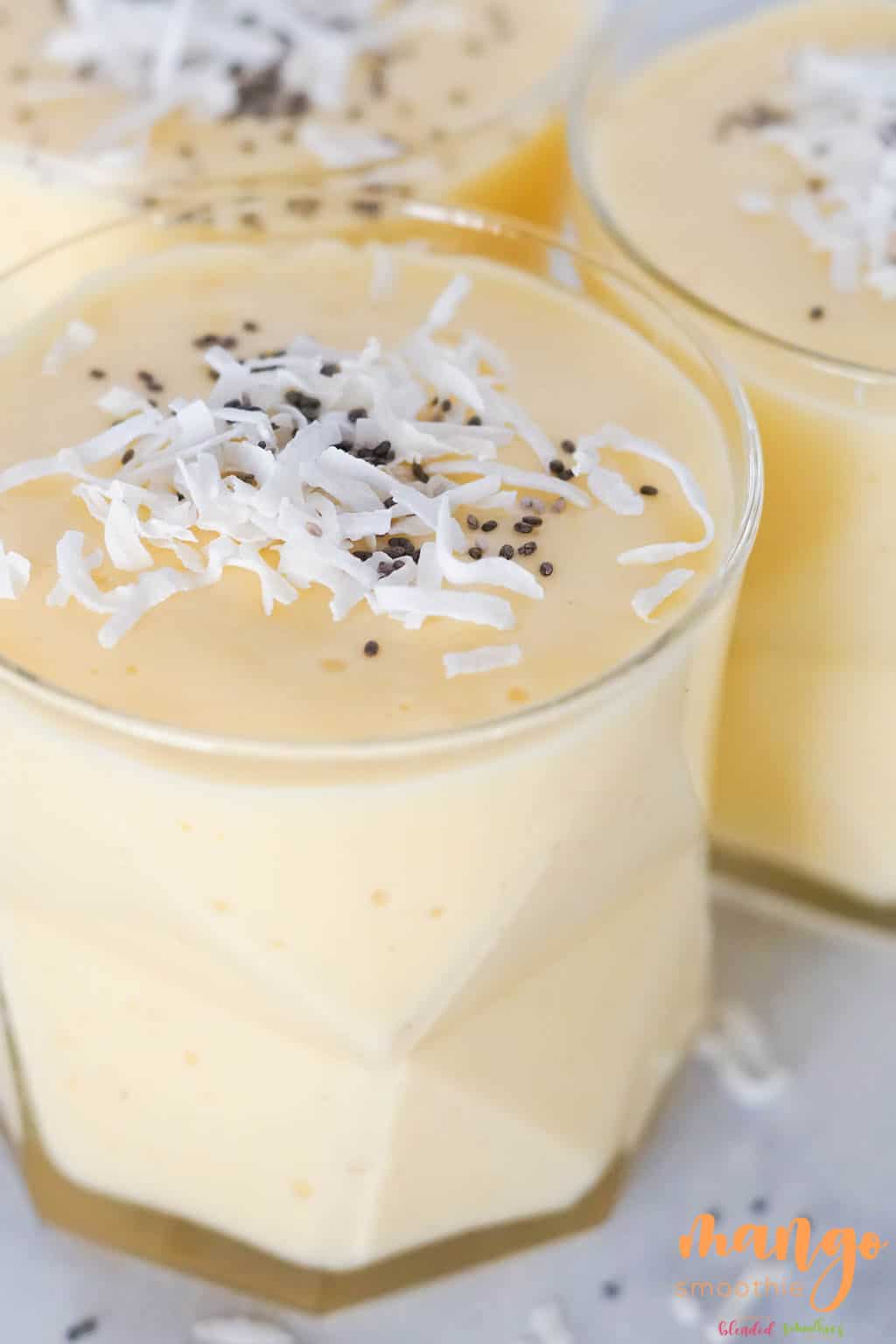 What blender is best for smoothies?
There are many blenders you can use for making smoothies, but I personally own the Vitamix 780 and think it is simply the best. I get smooth, consistent results every single time which is exactly what I want for all my smoothies! You can buy your own Vitamix 780 HERE.
Alright, are you ready to get going? This smoothie will blend together in just a few minutes and I love that I almost always have these ingredients on hand to make it.
This Mango Smoothie is a family favorite, and I love that I can keep the ingredients on hand at all times!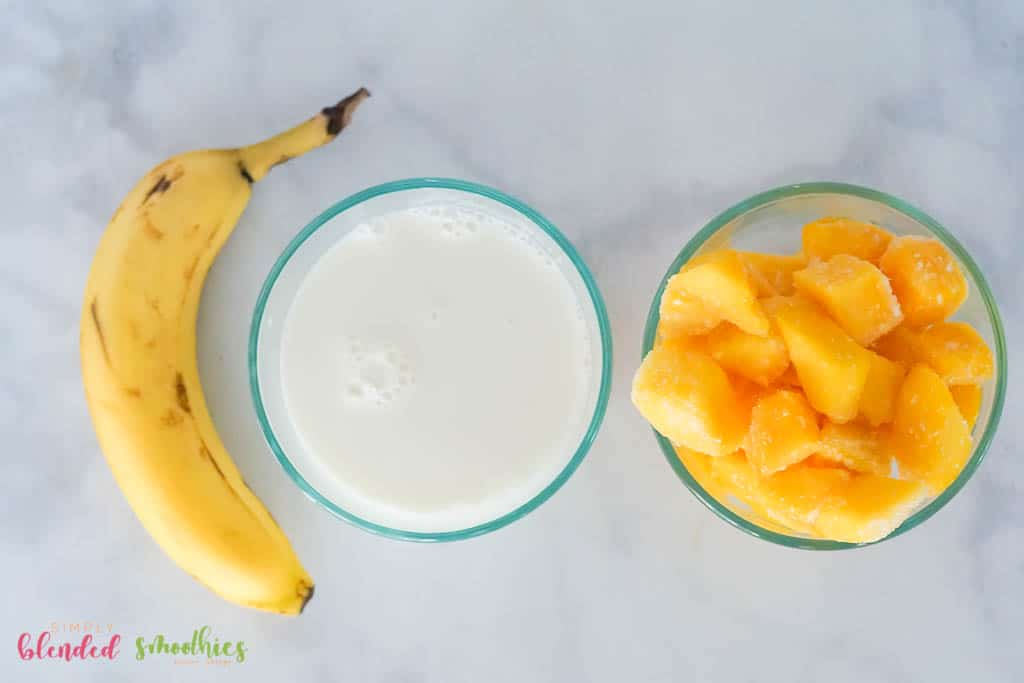 Healthy Mango Smoothie
Ingredients:
1 Banana, frozen
2 cups Mango, frozen
2 cups Milk
Optional Toppings: coconut, chia seeds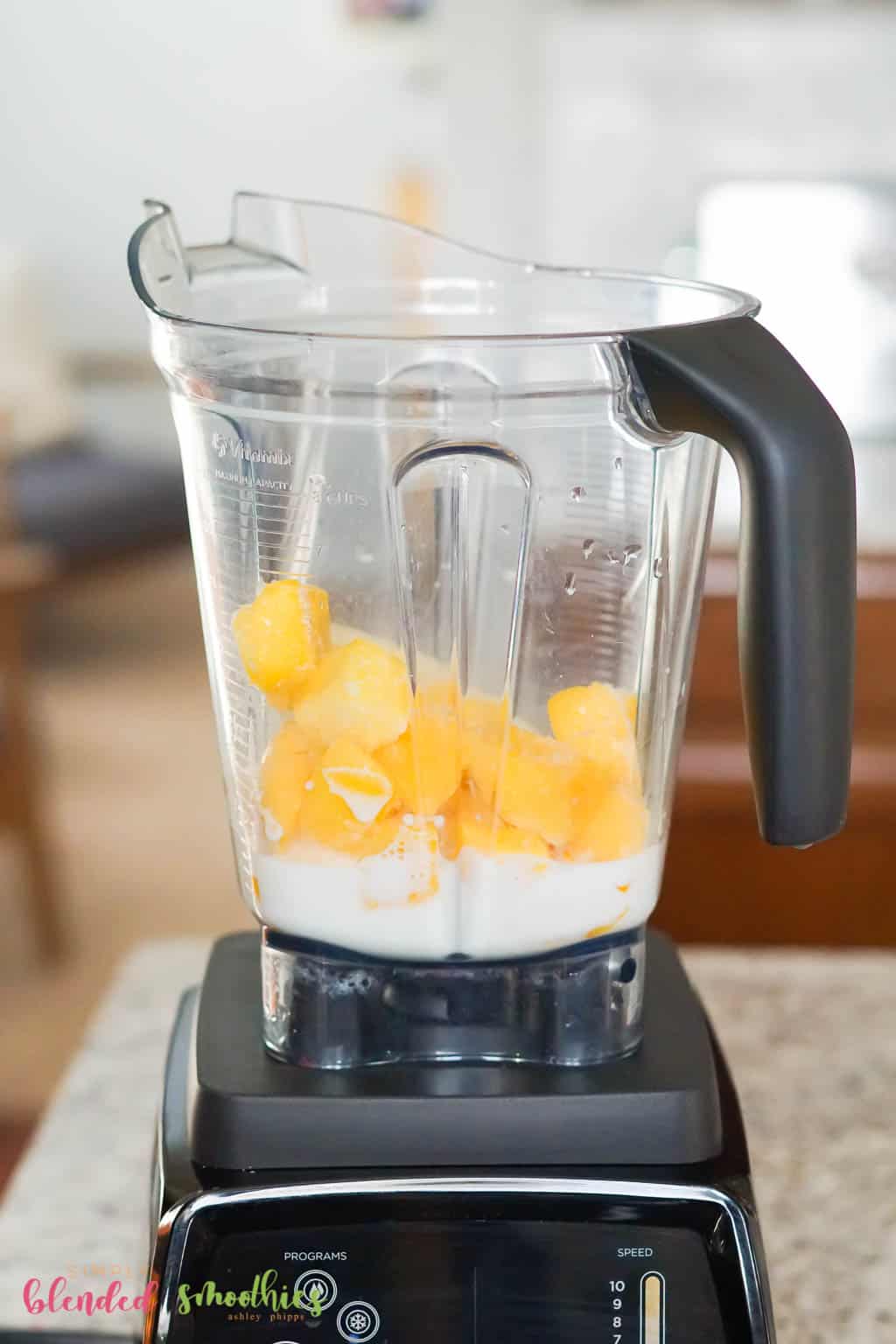 Directions:
Place all of your ingredients into your blender.
Blend until smooth.
Top with coconut and chia seeds if desired (I personally love the added flavor of these toppings on this smoothie!)
Serve immediately.
You can snag the printable recipe below:
You might also enjoy these recipes: