Today I am sharing a delicious antioxidant berry smoothie recipe that is so yummy and easy to make! If you are looking for another delicious smoothie recipe, you won't want to miss my Cranberry Smoothie Bowl recipe HERE. Antioxidants are so good for our body because antioxidants inhibit oxidation of cells. When your cells oxidate, you end up with free radicals. Free radicals are bad for our bodies because if there are too many of them in your body, your body can go into oxidative stress. And when that happens, your body becomes susceptible to so many diseases and illnesses. In short, eat your fruits, my friends! But I still find it hard to get enough fruits in every day for me and my family. So sometimes I have to get creative. We all love smoothies so I decided to create a smoothie recipe with a few ingredients that are known to have high amounts of antioxidants in them so that you can give yourself and your family a powerful dose of healthy fruit, protein, and antioxidants! So keep reading for my delicious antioxidant berry smoothie recipe, I am just sure you will love it!

Affiliate links included for your convenience. By purchasing through these links, I receive a small commission but you never pay a penny more. Thank you for supporting my blog.
Smoothies are so easy to make and a great way to get extra fruits and veggies into you and your family's systems. We drink smoothies all year long and my kids beg for me to make them for them all the time.
So we are sort of addicted to them around our house. And I am always trying new recipes and experimenting, and this antioxidant berry smoothie was such a hit with the whole family. I am sure your family will love it too!
Always remember that you can tweak ingredients a bit if you need to, but it may change the overall taste and texture if you do.
Using fresh fruits in your smoothies always gives you the most flavor, but that is not always practical. So I use a lot of frozen fruits for my smoothies.
The advantage to using frozen fruits is that you usually do not need to add any ice to your smoothies to thicken and chill them. If you do use fresh fruits, add a few pieces of ice to make your smoothie cold and thick.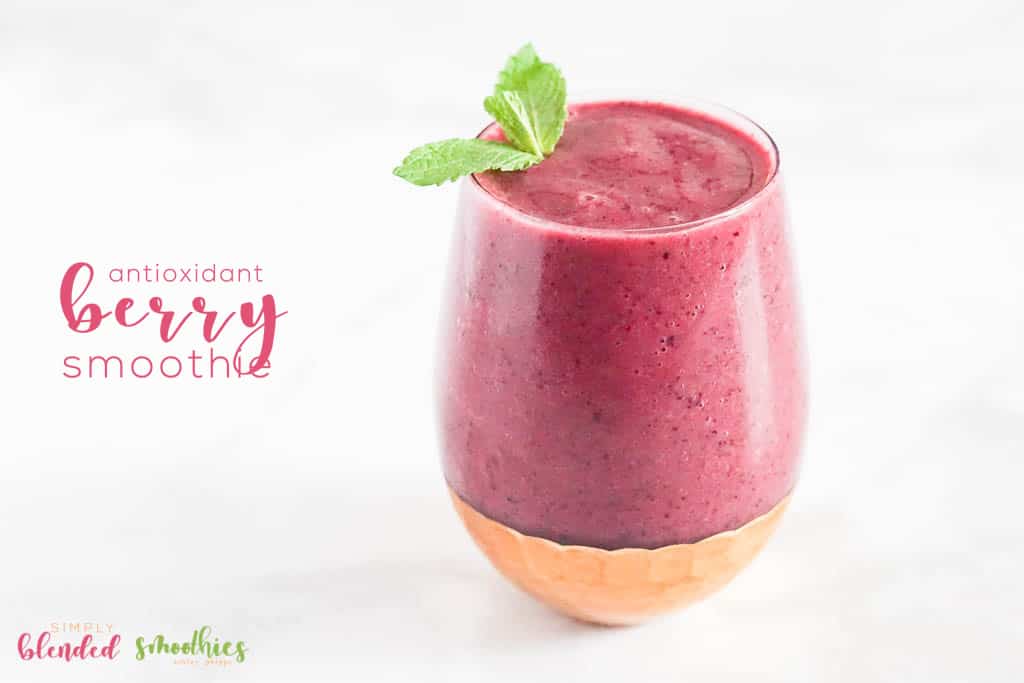 What blender is best for smoothies and milkshakes?
There are many blenders you can use for making smoothies, milkshakes and frozen drinks, but I personally own the Vitamix 780 and think it is simply the best. I get smooth, consistent results every single time which is exactly what I want for all my drinks! You can buy your own Vitamix 780 HERE. It is my favorite and I know you will love it too!
Delicious Antioxidant Berry Smoothie Recipe
Ingredients:
½ cup POM Pomegranate Juice
1 cup Blueberries
1 cup Cherries (pitted and de-stemmed)
1 Banana
1 container of Vanilla or Coconut Yogurt (I used So Delicious Dairy Free Coconut Milk yogurt, but any coconut or vanilla yogurt will work for this!)
Directions:
Place blueberries, cherries, banana, POM juice and yogurt in your blender.
If berries are fresh, add about 1 cup of ice. If berries are frozen, no ice is needed.
Blend until fully smooth.
Pour into a cup and enjoy!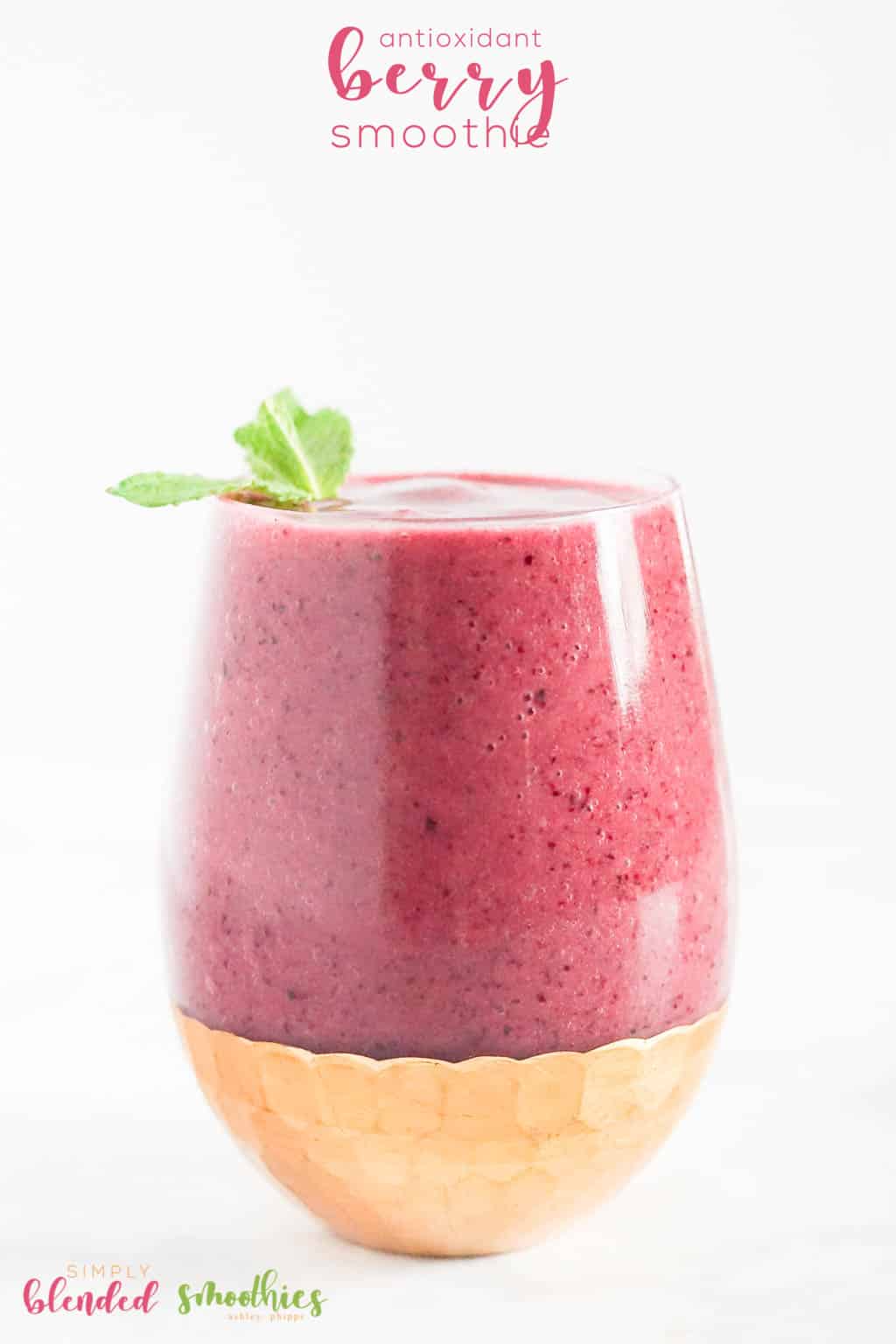 This antioxidant berry smoothie is full of flavor and packed with antioxidant-rich berries, protein from the yogurt and tastes delicious. It is a great way to start your day or a wonderful mid-afternoon snack.
I love to treat my kids to a smoothie when they come home from school because it is delicious and healthy but sweet enough to feel like a treat!
And it is packed with so many GOOD things for your body that this is really such a healthy smoothie recipe too.
You might also enjoy: